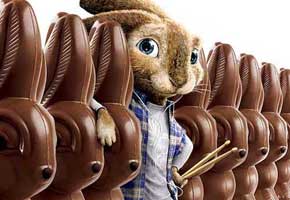 Universal Studios Hollywood is letting its hare down to welcome the loveable characters from Universal Pictures and Illumination Entertainment's eagerly-anticipated live action/CG-animated comedy "Hop" to its family-friendly program, "Hunt for 'Hop'.  The program will run in the park from now through May 1, 2011.
"Hunt for 'Hop' at Universal Studios Hollywood offers guests an exclusive opportunity to meet the film's characters when they join the theme park for a variety of interactive "bunny business" and activities.
E.B., the film's animated star, will make daily appearances to meet guests at a location adjacent to the theme park's popular Cartooniversal store, which will also sell a selection of "Hop" collectibles. E.B.'s Dad (a.k.a The Easter Bunny), Easter chicks Carlos and Phil and The Pink Berets (The Easter Bunny's royal guard) will join E.B. on alternating weekends.
As with any crafty mission, "Hunt for 'Hop' at Universal Studios Hollywood" will include a map designed to engage kids and kids at heart on a quest to explore a variety of theme park "Hop" spots, including a memorable photo-op location featuring E.B. "Hop" filmmaker and Illumination founder Chris Melendrani will also make a special video appearance on the behind-the-scenes Studio Tour to introduce guests to the film and its colorful characters.
A special look at the making of "Hop" will be featured at the theme park's NBC Universal Experience attraction, which showcases a collection of behind-the-scenes artifacts from a variety of past, present and upcoming Universal Pictures and NBC television productions.
Blending state-of-the-art animation with live action, "Hop" is a comedy about E.B. (voiced by Russell Brand), the teenage son of the Easter Bunny. On the eve of taking over the family business, E.B. leaves for Hollywood in pursuit of his dream of becoming a drummer. He encounters Fred (James Marsden), an out-of-work slacker with his own lofty goals, who accidentally hits E.B. with his car. Feigning injury, E.B. manipulates Fred into providing him shelter, and Fred finds himself with the world's worst houseguest. The film is helmed by Tim Hill, director of the blockbuster" Alvin & the Chipmunks" and produced by Chris Meledandri's Illumination Entertainment ("Despicable Me").
"Hop" opens in theaters nationwide on April 1, 2011. Check out www.iwantcandy.com for additional information.