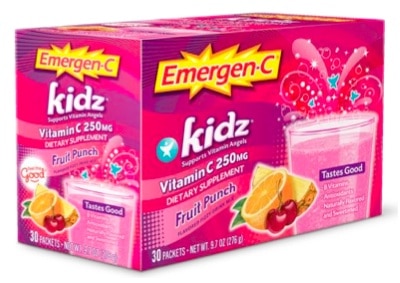 I am a huge fan of Emergen-C. I use it every time I travel by air, and it is a staple in my overnight bag. Emergen-C is great because it is packed with vitamin C-- which helps boost immunity and ward of illness.
It wasn't until recently that I found out that there was an Emergen-C for children called Emergen-C Kidz. Emergen-C Kidz comes in three kid-approved flavors, and has the same great fizziness as regular Emergen-C. My daughter was sent each of the flavors to test out -- Fruit Punch, Orange, and Grape -- and since receiving them, has started out each morning with a glass of Emergen-C Kidz.
At first, I didn't tell her what she was drinking to get her honest reaction. She started out with the Grape flavor mixed with 6oz of water and ice, and couldn't tell is what packed with vitamins to get her through the day. She loved the fizziness, and we continued the week alternating between the flavors. I finally gave in and told her it was Emergen-C Kidz, which didn't change her opinion of the product. She is familiar with regular Emergen-C because I drink packets of it all the time.
Emergen-C Kidz provides a whopping 250mg of vitamin C, plus antioxidants, B vitamins and electrolytes to keep kids feeling good everyday.
Another thing I love about Emergen-C Kidz is their partnership with Vitamin Angels and the Emergen-C Kidz Pledge--
For every box of Emergen-C Kidz sold, Emergen-C will donate 25 cents to Vitamin Angels, to provide essential nutrients to one child for one year, helping reduce childhood mortality worldwide. For every pledge, Emergen-C will donate an additional 25 cents to Vitamin Angels, which means your commitment to your family's health and wellness can help save a life too! You can take the Emergen-C Kidz pledge at Facebook.com/EmergenC.
While you're taking the Emergen-C Kidz Pledge, sign up for a free sample of Emergen-C Kidz!
Have your children tried Emergen-C Kidz? What do they think?
I wrote this review while participating in a campaign by Mom Central Consulting on behalf of Emergen-C and received samples to facilitate my review and a promotional item to thank me for taking the time to participate.