This is a Sponsored post written by me on behalf of Bright House Networks for SocialSpark. All opinions are 100% mine.
Between extra Christmas baking, and preparation for holiday meals and dishes to take to family gatherings, it seems like I am spending most of my time in the kitchen these days. One thing I've always wished I had in my kitchen is a TV. I would love to be able to watch it and have it on for background noise while I work in the kitchen.
Bright House Networks has a solution to my kitchen TV dilemma, and I'm guessing it will solve a "no TV" dilemma for many families. Bright House TV is both a free app and a Web site. You can use it to view live HD programming anywhere in your house on your iPad, iPhone, and most Android devices, as well as directly on your computer.
With Bright House TV, I can effectively Make Any Room a TV Room!!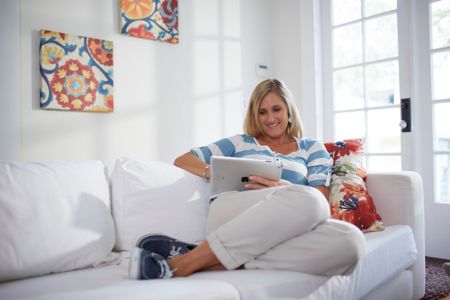 Bright House TV has a channel guide, just like my DVR box provides on my TV. One of the best features is that I can even set my DVR to record a show from the channel guide on my iPad.
There are currently about 250 channels available on Bright House TV, including A&E, Discovery, Lifetime, Nick, SyFy, CNN, Disney Channel, HGTV, History, Travel Channel, USA and premium channels such as HBO, Cinemax, Showtime and Starz. And more channels are being added each month.
To use Bright House TV, you need to set up a My Services account, and then you can download the app. Or, to view on your computer, go to https://bhtv.brighthouse.com.
For more details, check out BHTV's FAQ.