This post is brought to you by The Hass Avocado Board through a partnership with Mom It Forward. All opinions are my own.
My husband and I have been actively working on cutting sugar and unnecessary carbs out of our diets. It's a lifestyle change with the goal to positively impact our overall health. After just a month of eating primarily fruit, veggies and proteins, I've experienced increased energy and a decrease in blood pressure. I've also lost a few pounds.
While my diet is largely fruit and vegetable based, I am not avoiding fats. In fact, I'm probably eating more of them. The difference is that I'm consuming HEALTHY FATS, versus saturated fat that clogs your arteries. The one fruit that has gotten me through many of my cravings while providing a healthy dose of fats and nutrients is the Hass Avocado. I thought I enjoyed avocados before this lifestyle change (how can anyone resist guacamole?), but now I'm downright obsessed with them ... eating Has avocados on almost a daily basis!
One of my most useful discoveries has been that Hass Avocados can be used in far more ways than mashed in dips and sliced for toppings on a salad. The healthy monounsaturated fats, and nearly 20 vitamins, minerals and phytonutrients, make them an excellent substitute for mayonnaise in salad dressings, too!
Recently I came up with a smooth & creamy salad dressing to take the place of my beloved ranch dressing. With only a few ingredients, this fresh avocado dressing is easy to make and perfect on salads or as a veggie dip. You could even mix it with tuna for an awesome tuna salad ... it's just so yummy! Oh, and this recipe is gluten-free, vegan, paleo and whole30 approved!
Creamy Avocado Dressing Recipe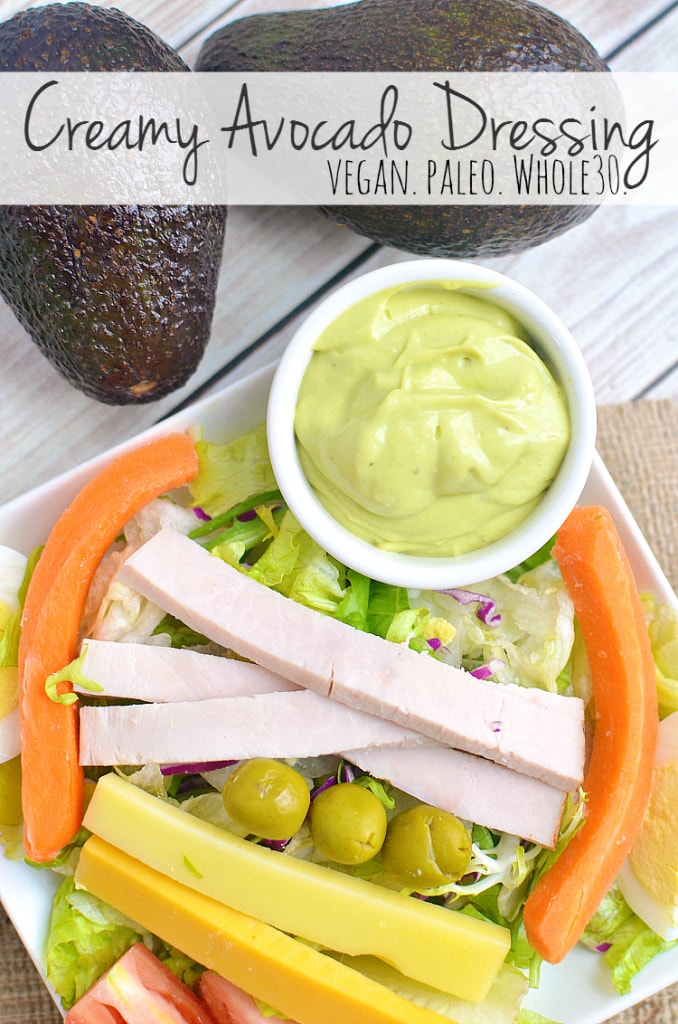 Creamy Avocado Dressing Recipe
Ingredients
1

ripe Hass Avocado

1

cup

coconut milk

from a can without added sugar

2

tablespoons

lime juice

1/2

tablespoon

chopped garlic

salt & pepper to taste
Instructions
Place all ingredients into a blender or food processor and mix until thoroughly combined. If you want a thinner dressing, add more lime juice. Lemon juice can also be used. Use immediately.
Did you know that one-fifth of a medium avocado (1 oz.) has only 50 calories and less than 1 gram of sugar? Fresh avocados are also cholesterol and sodium free, and a great source of fiber, potassium, iron, lutein & zeaxanthin.
Check out this video for even more facts about the wonderful avocado.
Did you learn anything new? For more info, nutrition facts and recipes featuring Hass Avocado, visit www.LoveOneToday.com and make sure to follow the Hass Avocado Board on Facebook and Twitter.