Thank you to NatureRaised Foods for sponsoring this article.  Learn how NatureRaised Foods is "Doing What's Right, Right from the Start™" in your area.
Over the past few years I have made a conscious effort to feed my family foods that are grown local or organically, all natural, and antibiotic-free. Fruits and veggies have never been a problem; there's an abundance of farmer's markets in our area that provide local produce at affordable prices. Hormone and antibiotic-free meat — especially poultry — that's been raised humanely, has been a lot harder to find.
Until now.
NatureRaised Farms® brand of fresh and frozen chicken products come from chickens that are raised cage free and their well-being is certified both under the USDA Process Verified Program and by Global Animal Partnership. All of their chickens are fed a 100% vegetarian diet and are never given hormones, steroids or antibiotics. The result is all natural chicken that I can feel good about feeding to my family— and best of all, I found NatureRaised Farms brand chicken at my local SuperTarget!
With access to fresh food, it only makes sense for me to make most our meals from scratch. I used to think cooking homemade meals was time consuming and expensive, but it's really quite the opposite.
Take, for example, this recipe I made up for Curry & Yogurt Marinated Chicken Drumsticks. It's a simple as tossing a few fresh ingredients and spices into a bag to marinate and then baking in the oven.
Curry & Yogurt Marinated Chicken Drumsticks Recipe
Ingredients:

6 NatureRaised Farms™ Chicken Drumsticks
1 container (6oz) plain Greek yogurt
1/2 lemon, juiced (approx 1 1/2 tablespoons)
2 tablespoons olive oil
1 tablespoon minced garlic
2 tablespoons curry powder
1 teaspoon paprika
1 teaspoon salt
1/2 teaspoon black pepper
two dashes cayenne pepper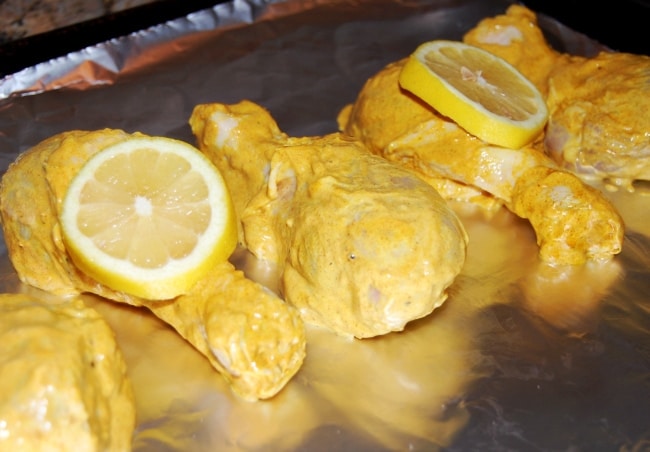 Directions:

To make marinade: combine yogurt, lemon juice, olive oil, garlic, curry, paprika, salt, pepper and cayenne in a gallon-sized Ziploc bag.
Add 6 NatureRaised Farms™ Chicken Drumsticks to bag; seal and toss so that the marinate thoroughly covers each piece.
Refrigerate from 30 minutes to 6 hours (I marinated for about an hour before cooking).
When ready to cook: Heat oven to 425 degrees. Transfer marinated drumsticks to foil-lined baking sheet. Bake 20 minutes on one side, then flip drumsticks and bake for another 20 minutes, or until chicken is completely cooked.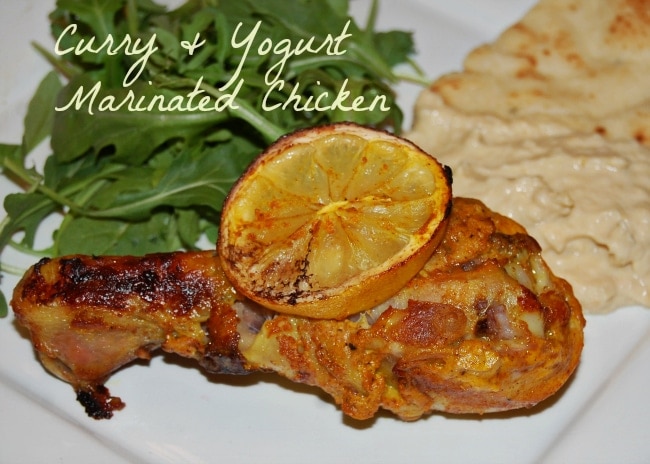 I realize curry powder may be foreign to many families, but I encourage you to give it a try. This curry & yogurt marinade is light and flavorful-- the dashes of cayenne add a bit of extra flavor without the heat. My daughter adored this recipe and I consider her to be very picky, especially when spices are involved.
To round out this Indian-inspired dinner, I served the curry & yogurt chicken with homemade hummus (so easy to make!), a side of fresh greens, and naan bread.
Is feeding your family food that's all-natural important to you?
Thank you NatureRaised Foods and Technorati for being sponsors of this article. All opinions expressed here are my own.