This is a sponsored post written by me on behalf of Daytona Beach Area Convention & Visitors Bureau. All opinions are 100% mine.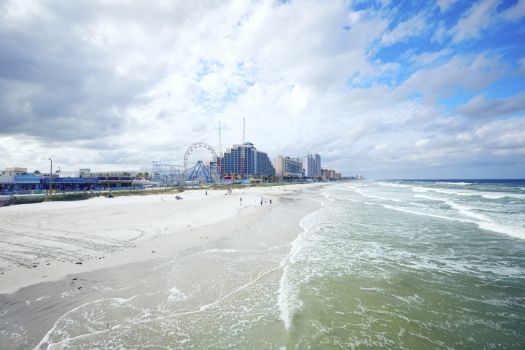 I've lived on the west coast of Florida all my life, so anytime I make my way over to the east coast, it's always a new experience. I started traveling to Daytona Beach when I was in my twenties— when I would make an annual trek with my friends to enjoy the great beaches (and waves!) on the Atlantic.
I have fond memories of the those spontaneous beach/surf trips to Daytona Beach with friends, but I'd much prefer to make memories with my own family now.
Daytona Beach is a wonderful family destination because of all the great amenities. There's beautiful white sand beaches, of course, but there's also a ton of accommodations and Kid friendly options making it an easy choice for families who want to get away for the week, or even just the weekend.
My family actually enjoys visiting Daytona in the fall, when the area is less crowded and the weather is (slightly) cooler. And did you know that Daytona Beach is the Festival Capital of Florida? Many fall festivals and events are happening throughout the season, giving us even more reason to visit.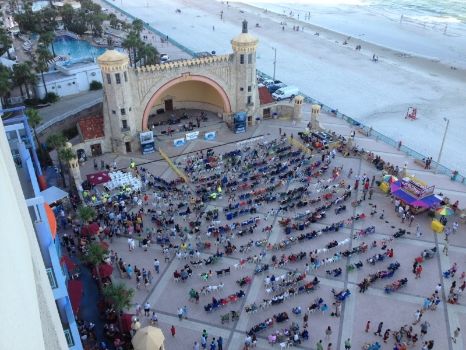 I've prepared a sample three-day vacation itinerary for families who are considering a trip Daytona Beach break. Take a look and tell me what you think ... The beach awaits!
Day 1
Check into the Hampton Inn Daytona-Shores Ocean Front. This hotel is located right on the beach, so you're never far from the surf & sand. Spend some time at the hotel and enjoy the great amenities. Go to the beach & get your feet wet before an evening of fun.
Enjoy some fresh seafood at one of the many local restaurants.
Hit the Boardwalk & Pier for a stroll under the stars. There's indoor/outdoor rides, amusements, and even an arcade!
Day 2
Wake up to a beautiful beach sunrise.
After breakfast, check the calendar for one of the many fall festivals. Both the Halifax Art Festival 2014 and the Riverfest Seafood Festival are coming soon!
Have some Outdoor Fun by visiting one of the many local state parks. Pack a picnic or some snacks to enjoy as you become one with nature.
Head back to the hotel to freshen up and enjoy another great meal in Daytona Beach.
Day 3
Take advantage of some of the Free Things to Do in Daytona Beach. Family favorites are taking a chocolate factory tour, visiting the Sugar Mill Botanical Gardens, and cooling off at Sun Splash Park.
Spend the rest of your vacation at the beach, maybe taking in some family-friendly water activities .. or just relax! The choice is up to you!
Have you thought about a family vacation to Dayton Beach? The location can't be beat— it's on the upper-east coast of Florida, making it a convenient drive for residents of Florida & Georgia. Daytona Beach International Airport makes it easy for non-locals to visit too!
Have you been to Daytona Beach with your family?