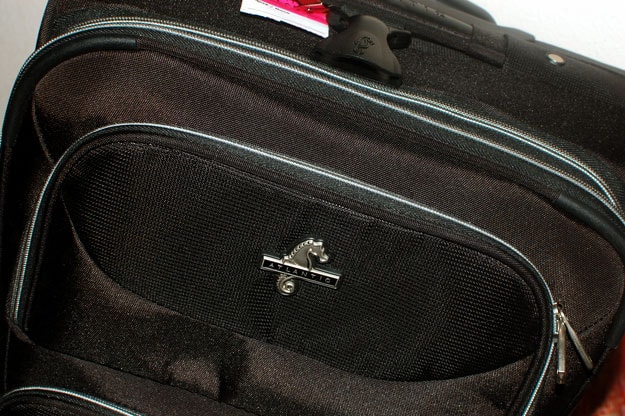 Over the past two years my carry-on luggage has taken a beating. I wasn't in the market for a whole new set since my most used piece is the 21" rolling suitcase --the regulation size for a carry-on on most airlines.
Luggage is not an everyday purchase for me, and seeing my current set was a wedding present, I was shocked at some of the prices retailers were asking for a simple carry-on bag. I wasn't looking for something cheap, because it is true you get what you pay for, but I wanted something sturdy and reasonable, with options to add on if need be.
I came across Atlantic Luggage when I posted about a contest they were hosting (now over), which was geared toward families. After looking further into the brand I realized they offered a collection of lightweight and affordable bags -- which was exactly what I was looking for!
I was offered the Atlantic 21" Expandable Carry-On Spinner Suiter to review. I've been using it for a few months now and I couldn't be more pleased. The Atlantic Compass 2 Carry-On was exactly what I was looking for. Due to its size, I've been able to carry and store it on every flight with ease. My favorite feature would have to be the 4-wheel spinners. Previously, I only had to two wheels on my carry-on, which did not spin. The difference has been dramatic! I can't believe how quickly I can get out of the plane and through the airport with the addition of two wheels that spin 360 degrees. I will never purchase another piece of luggage without this feature.
Here are a few more details on the 21" Compass 2 Spinner from Atlantic Luggage:
Rugged, high-sheen polyester fabric provides exceptional resistance to wear and tear.
Honeycomb Framing System and EVA foam construction provide exceptional lightweight durability.
Skid guards, wheel housings and corner guards protect against potential damage during travel.
Self-repairing zipper system ensures flawless operation and consistent closures.
Large rear wheels make Spinners extra flexible, switching effortlessly from rolling upright beside you to being pulled behind.
Large zippered front pocket provides storage for laptops, newspapers, magazines, paperwork, coats, sweaters and any last minute items.
Second front pocket provides quick access to a wallet, passport, iPod, keys and airline tickets.
Detachable Add-A-Bag strap provides multiple carrying and balancing options for additional totes and cases.
Carry handles on three sides make it easy to lift into and out of cars and airplane overheads.
Roomy main compartment expands 2½" maximizing space and packing flexibility.
Lightweight garment sleeve reduces wrinkling of clothes
Multiple interior pockets easily store electronic cables, power cords, iPod chargers or socks, ties and belts for handy retrieval.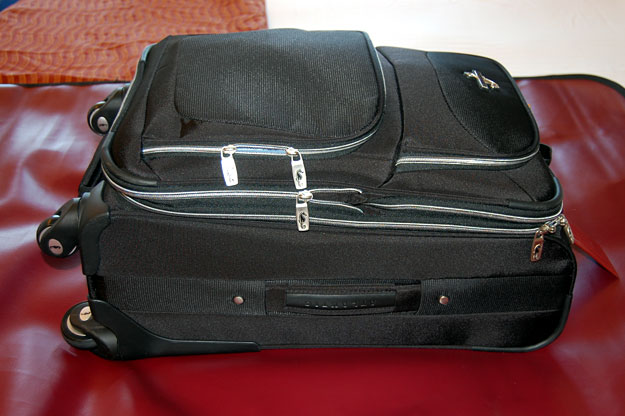 I've taken the Atlantic Compass Carry-On on a few trips since I received it. Recently, it passed the ultimate test on a 7-day cruise from Galveston, Texas. Yes, I brought only a carry-on for a 7-day cruise with flights.
My motto for packing is:  If it doesn't fit in a carry-on, I don't need it. I follow this motto for many reasons, but mainly because I'm cheap and I don't want to waste money on baggage fees, and I prefer to have access to my bag at all times.
Believe it or not, I packed more than I needed into my Atlantic Carry-On ... and I never wore the same thing twice!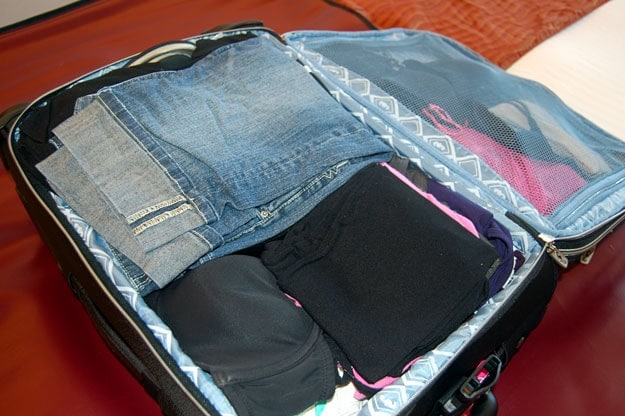 I was impressed with how much I got in there!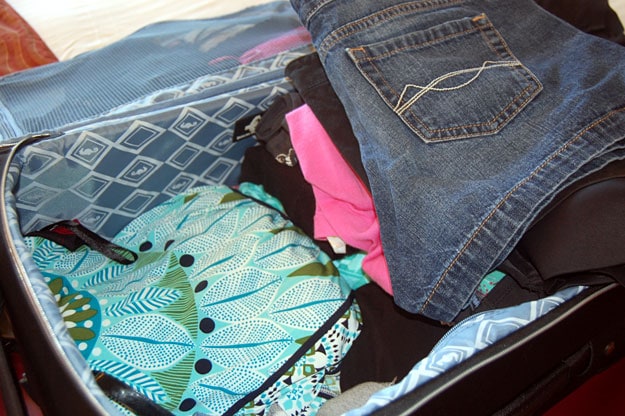 I'm loving my new suitcase so much, I'm going to purchase the matching shoulder tote, which can easily be snapped on to the top of the carry-on for easier handling.
The best part may just be the price. I found the Atlantic 21" Spinner on Amazon and the Shoulder Bag. With these two pieces, I will have no excuse for my luggage when I find a good travel deal from sites like Hotel Club Melbourne.