Back to School is here and so are these awesome Bento Box Ideas for Kids — Grab your supplies and get packing!
Bento boxes are a fun way to pack your kid's lunch for school. You get to stretch a bit of your own creative muscle, as much or as little as you'd like, while providing your child a nutritious and delicious meal. It's really impressive to see just how elaborate parents can get into a bento box theme. You can cut your food into shapes with cookie cutters, add picks of different characters, and even pack utensils that fit with the presentation. Some bento boxes are practically works of art!
If you have an eater that can be a little fussy, packing bentos for lunch might actually help. It makes lunch exciting, never knowing what cool and colorful theme or character is in store for them. They'll be engaged and excited to eat up all their goodies!
For the back to school season, I came up a list of 20 of the most creative bento boxes to help inspire your child's lunch—whether you have a toddler or a tween, you can make lunchtime special with these fun bento box ideas for kids.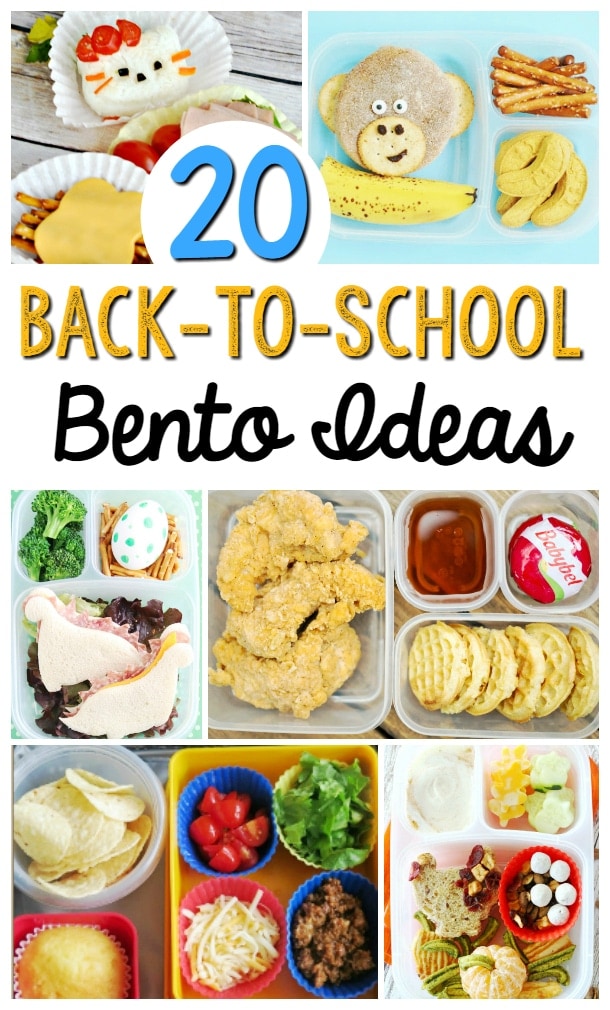 Back to School Bento Box Ideas for Kids
A Mom's Take - Dr. Seuss Lunch Box Idea
The Kitchen Wife - Peanut Butter and Jelly Sushi
Kitchen Fun with My 3 Sons - Monkey Bento
A Night Owl Blog - Lunchbox Ideas with Babybel
Wendolonia - Dinosaur Bento
Twin Dragonfly Designs - English Muffin Bento
Kids Activities Blog - Tackle Box Bento
Happiness is Homemade - Pac Man Bento
Totally the Bomb - Hello Kitty Bento
Shaken Together Life - Brunch Box
Kitchen Fun with My 3 Sons - Teenage Mutant Ninja Turtle Bento
Here Comes the Sun - Angry Birds Bento
Spaceships and Laser Beams - Pirate Themed Bento
Wendolonia - Stranger Things Bento
A Pumpkin and a Princess - Halloween Lunch Box
Belle of the Kitchen - Fall Themed Bento
Twin Dragonfly Designs - Crackers and Cream Cheese Bento
Wendolonia - Pokemon Bento
Kitchen Fun with My 3 Sons - Puppy Dog Bento
3 Boys and a Dog - Taco Bento
Bentgo Kids - Leakproof Children's Lunch Box
Youngever 7 Pack Color Lunch Box Container With Ice pack
YUMBOX Leakproof Bento Lunch Box Container for Kids
Want to get really creative with Bentos? Start with these Bento Box Supplies & Accessories!
Ipow Thicken Silicone Cupcake Baking Muffin Cups Liners Molds Sets,24pack
Kotobuki Plastic Egg Mold, Rabbit and Bear
CuteZCute Sandwich Cutter and Cookie Stamp Kit, Cuddle Palz
CuteZCute Animal Friends Food Deco Cutter and Stamp Kit
CutezCute Bento Eyes Design Food Pick (Set of 10), Black/White
Perfect Shaped Mini Cookie Cutters for Kids Set of 9 with Plastic Caps - Star Heart Flower Rabbit Mickey Mouse - Small Baking Shape Molds by KuXun (Red)
Yunko Bento Accessories Rice Ball Mold Onigiri Shaper and Dry Roasted Seaweed Cutter Set, Baby Panda
Kotobuki Condiment Containers for Bento Box, Mini, Animal Friends
CuteZCute Bento Ham Cheese Carrot Cutter, 14-Piece, Fun Shapes