I participated in a campaign on behalf of Mom Central Consulting for Sturm Foods, Inc. I received a promotional item and product samples as a thank you for participating.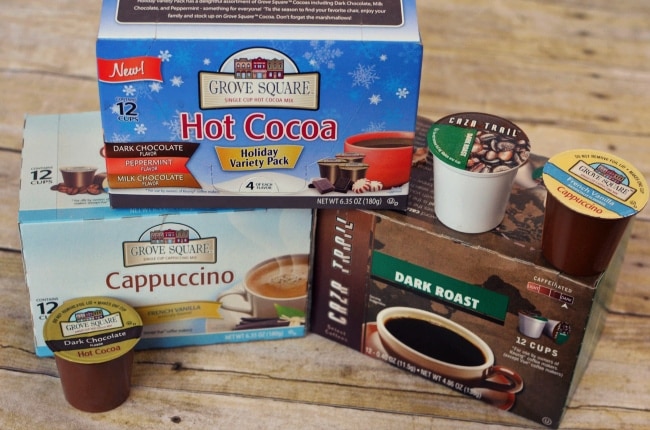 Winter is the perfect time to cozy up with a warm beverage. While we're not getting too many chilly days here in Florida, I still like to start my day with a hot cup of dark coffee, cappuccino or hot cocoa. Lately I've been using Caza Trail & Grove Square K Cups to get my morning fix, thanks to some samples I received from Mom Central.
Here's a look at each of the flavors.
Caza Trail Dark Roast Coffee — Right now I'm going through a dark coffee phase, where I'm using less creamer so I can taste more coffee flavor. I've had a tough time finding K Cups that were strong enough, but Caza Trail Dark Roast has satisfied my desire for a bold, rich cup of coffee. What impresses me the most about Caza Trail is the price for the quality. On Amazon, single K Cups come out to only $.50 each!
Grove Square French Vanilla Cappuccino — YUM! That's the best was to describe the French Vanilla Cappuccino from Grove. This was the first time I tried cappuccino in my Keurig and it won't be my last! This K Cup is creamy and perfectly sweetened.. it's a really tasty treat any time of day.
Grove Square Hot Cocoa Variety Pack — To be honest, I haven't tried all of the flavors in the Grove Square Hot Cocoa variety pack because my daughter has been drinking them all! I did try the original milk chocolate flavor and it was smooth and creamy. I love having these on hand for the holidays because it's so easy to pop one of the single servings into the Keurig for instant hot chocolate. This pack came with milk chocolate, dark chocolate and peppermint. I will be re-purchasing these, as well as the cappuccino cups, from Amazon.