This is a sponsored post written by me on behalf of Bahama Breeze. All opinions are 100% mine.
It seems there are "National" food and beverage holidays for every day of the year— but, in my opinion, the only one that really matters is National Margarita Day, February 22!
I've been enjoying margaritas since the day I turned 21. And if you asked me if I had a signature drink, the margarita would be it. The crazy thing about is that I'm not a huge fan of tequila ... unless it's mixed with lime juice and triple sec!
This year I'm celebrating National Margarita Day in preparation for Bahama Breeze Viva La Rita. What's Viva La 'Rita? Only the coolest celebration of the most awesome adult beverage in the world! You can get in on #VivaLaRita by entering my giveaway below!
From National Margarita Day (February 22nd) to Cinco de Mayo (May 5th), Bahama Breeze will be celebrating the margarita in a fresh new way that will put sunshine in your smile and get everyone ready for warmer weather. The celebration will include four new speciality margaritas, Friday night parties, giveaways and live music during Viva La 'Rita!
I totally get what Bahama Breeze is getting at with warmer weather- seriously, let's bring it on! Even though it's a bit chilly today (How is it below 60 degrees in Florida right now!?), I decided to kick off National Margarita Day with a delightful margarita recipe featuring fresh blueberries and lavender.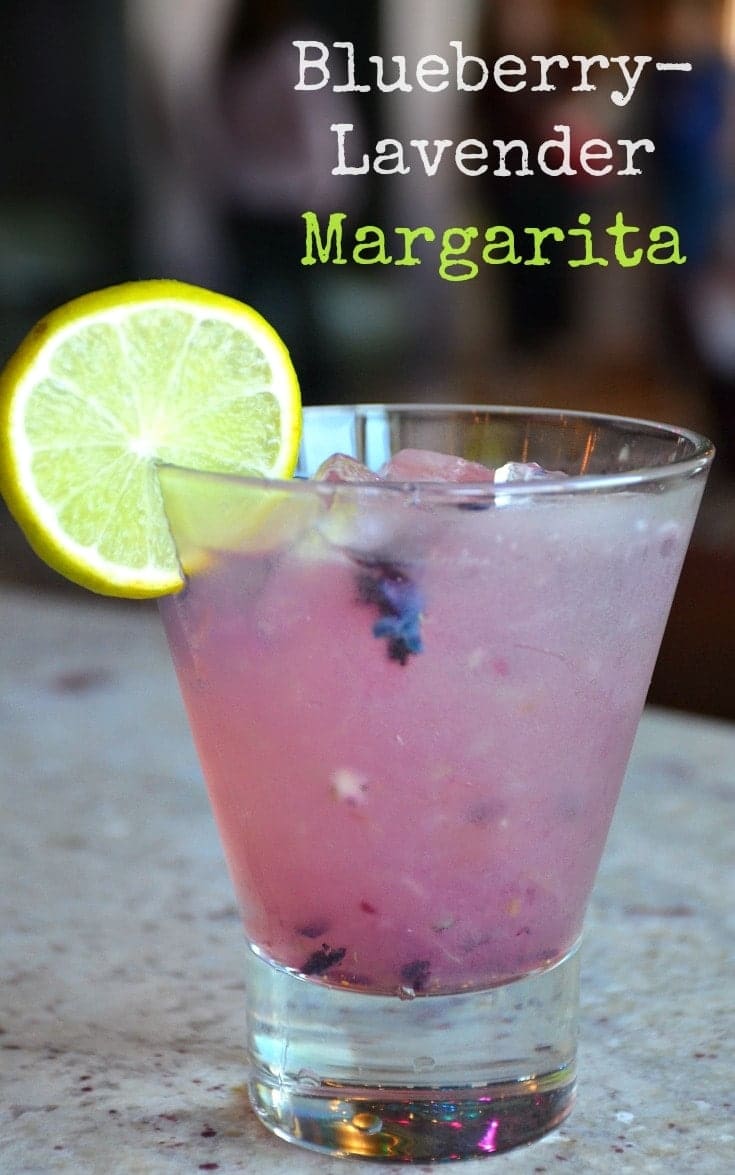 It's the perfect combination of sweet and tart, and I know you're just going to love it — because I sure do! The recipe is also known as the Corina-Rita, named after the mixologist who created it especially for me.
Blueberry-Lavender Margarita Recipe
Ingredients
1.25oz Tequila
0.5oz Triple Sec
1.5oz Fresh Lime Juice
0.5oz Lemonade
5-6 Fresh Blueberries, slightly crushed
0.5oz Lavender Syrup
Lime wedge for garnish
Sugar
Directions
Rim the edge of the glass with lemon or lime juice. Carefully dip the rim of the glass into a plate of sugar (optional).
Fill glass with ice.
Fill a cocktail shaker halfway with ice. Add tequila, triple sec, lime juice, lemonade, blueberries and lavender syrup to the shaker. Shake vigorously and strain the mixture into the glass.
Garnish with Lime  wedge. Enjoy!
Now that I've gotten my favorite margarita for National Margarita Day out of the way, I'm going to head over to Bahama Breeze for Viva La 'Rita! I'll have a follow-up post with pictures and a recap of my experience soon.