This is a sponsored post written by me on behalf of DuPont™ Corian®. All opinions are 100% mine.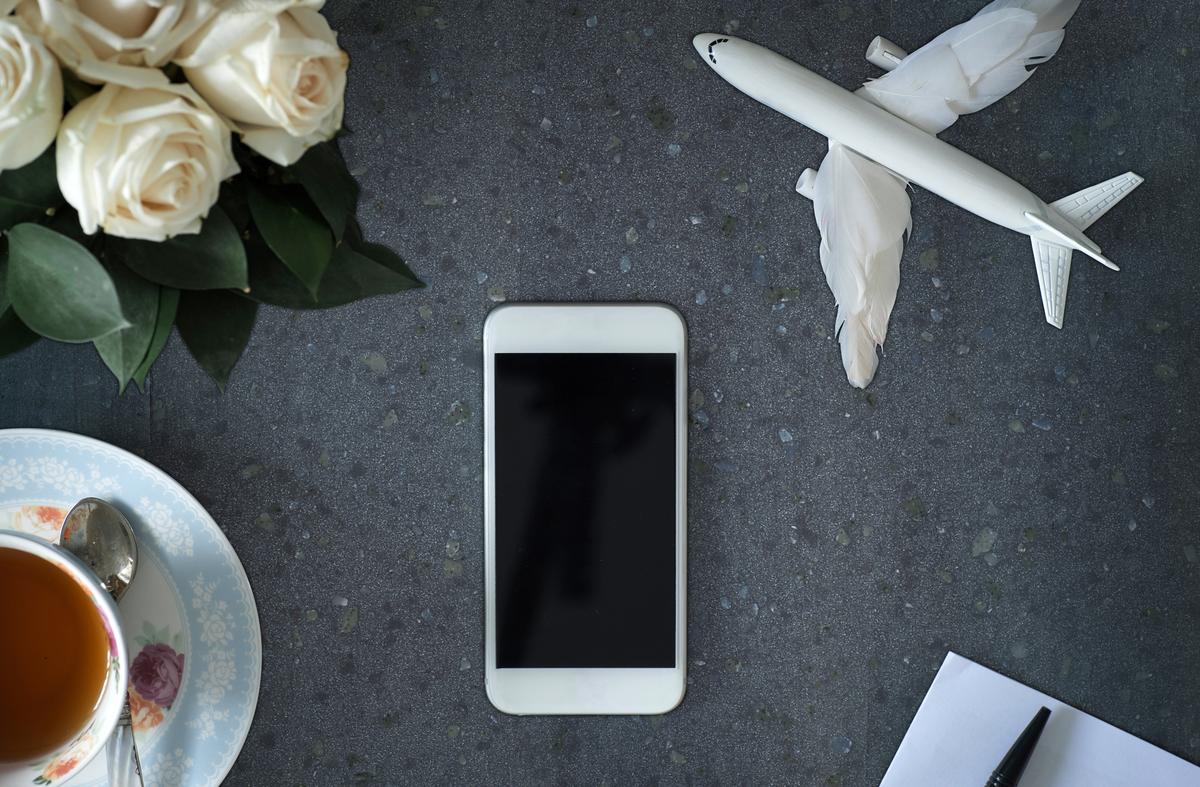 My husband and I are in the process of buying our first home. We still have a ways to go before actually signing the dotted line to home ownership, but I'm forever a planner (and a bit of a dreamer!) and I'm already remodeling and decorating this yet-to-be-found house or condo.
One of the things I know for sure is that whatever property we buy, the kitchen will need an upgrade—or at a minimum, my own personal touches. Recently I came across DuPont Corian® Countertops, and the concept really blew my mind.
What's Corian®?
Specially engineered to be both visually stunning and long-lasting, DuPont™ Corian® solid-surface material comes in 110 colors and patterns, and can be custom-cut and installed for limitless design possibilities.
DuPont™ Corian® solid surface is perfect for a range of kitchen and bathroom styles, from hi-tech to traditional, from coolly minimalist to warm and homey. Offering extraordinary design flexibility in a wide range of vibrant colors, Corian® is ideal for worktops, backsplashes and integral sinks. It offers inconspicuous seams and a sleek, easy-to-clean, nonporous surface.
But that's not all!
Besides a great looking countertop that's built to last, DuPont™ Corian® is now available with Corian® Charging Surface technology that allows you to charge your smartphone right on the surface! Crazy, right? You just set your mobile devices on the counter and it charges wirelessly - no cords! It's perfect for my tech-obsessed family, and I suspect the way of the future.
How Corian® Charging Surface Works
Hidden from view just below the Corian® Charging Surface, a transmitter safely transfers energy wirelessly to a receiver within or attached to your smart device. Charging stops when your device has reached maximum battery capacity. For residential applications, it is both PMA and Qi compatible (dual mode) to enable more device types than competitors, which are only Qi enabled. It also has a micro usb port which allows a customer to upgrade the unit as new firmware becomes available.
As phone technology changes, having a charging surface that offers both technologies means that it will be relevant longer. Nearly all smart devices can be charged with a charging ring (although some are already enabled so that you don't need one).
Step 1: Connect a receiver (a ring or charging case) to your smart device.
Step 2: Put your device on the charging spot and power up.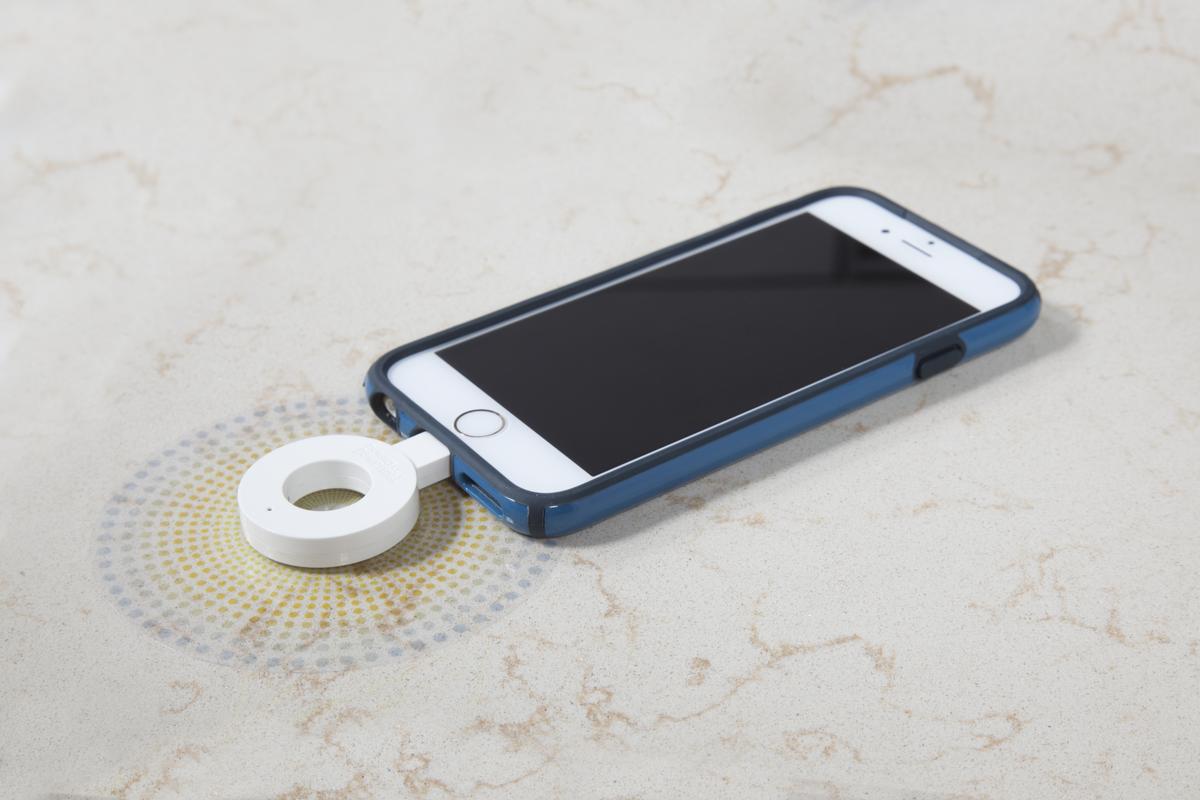 This charging surface technology is also available for integration in DuPont™ Zodiaq Quartz Surfaces.
I don't know about you, but the Corian® Charging Surface seems like a great solution for the constantly growing tech-world we live in. I want our first home to be on-trend, and DuPont™ Corian® looks to be stylish and efficient … you can't get much better than that!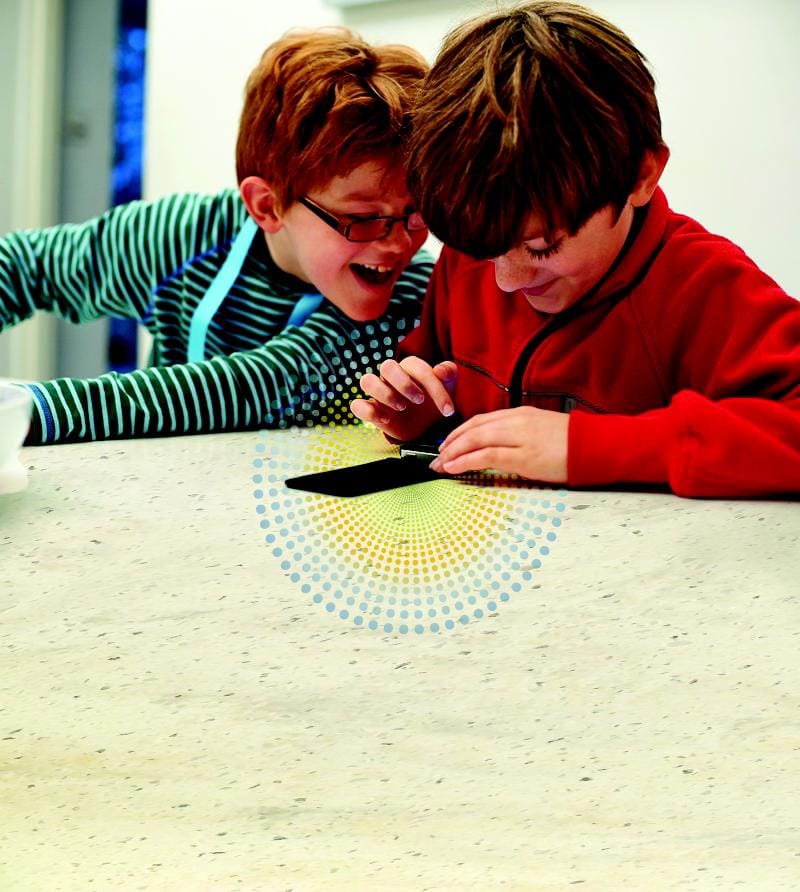 Additionally, Corian® Charging Surface is available for commercial spaces, and through DuPont's partner Powermat, networking capability is offered along remote diagnostics and push notifications.
For more information Follow Corian on Facebook and Corian Twitter.

What do you think about the Corian® Charging Surface

?