Eating well is not always easy. Life is hectic, and you often feel the need to commit to it daily, especially when the holidays roll around and there are sweet treats at every turn. Luckily, you can bake your own clean-eating cupcakes from healthy and customizable recipes. Don't tease your sweet tooth as you stick to a healthy lifestyle - indulge it with these convenient and delicious cupcake-in-a-jar recipes.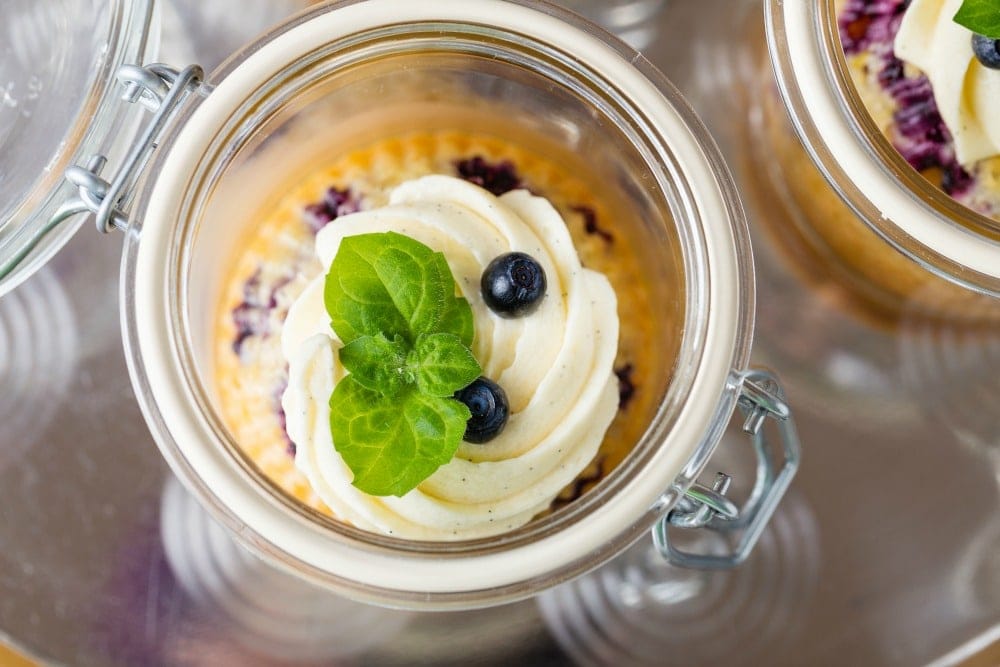 stock.adobe.com - © torriphoto
Cupcake-In-A-Jar Basics
Cupcakes are one thing, but bringing a mason jar into the mix will take this simple dessert to a new level. Cupcake-in-a-jar treats are perfect for any time you need to take your sweets on-the-go or use them as gifts to your loved ones or co-workers. Does this fun aspect make them any healthier? We can all dream!
Start with the standard process: bake your cupcakes in a cupcake pan with either a greased surface or paper cups. When they are cooled, take them out of the pan or cup and place them in a jar - a squat mason jar is the most popular option. Layer frosting and a second cupcake, if so you choose. As we mentioned, cupcakes-in-a-jar also make great gifts and can be assembled pre-baking for giving out to friends, family and colleagues. This is a great way to gift a sweet treat for every diet or allergy restriction.
We'll share some of the most delicious recipes for your cupcakes-in-a-jar.
German Chocolate Protein Cupcakes
This next step may seem like the tough part, but clean eating is so much easier than we'd imagine. A prime example is this recipe for German Chocolate Protein Cupcakes: protein-packed healthy cupcakes? These are so yummy that you'll forget you're eating healthy.
German Chocolate Protein cupcakes are baked with chocolate protein powder, coconut flour (lots of fiber!), and can be sweetened with applesauce. If you choose to make the frosting as well, you'll need more of that protein powder, dates, coconut, and pecans. These simple and healthy ingredients will make you glad you chose to indulge.
Strawberry Cupcakes
Fruit is a great clean-eating treat, and it is even better when you add cake in the mix! This recipe uses whole wheat flour, fresh strawberries (a whole cup and a half!), and whole milk or Greek yogurt, so you know that you're being good to your body. These strawberry cupcakes also pack a strong dose of protein by including whey protein powder. If strawberries aren't for you, choose another fruit: as long as it cures your sweet tooth!
Pumpkin Spice Cupcakes

stock.adobe.com - © quipu
With autumn in full-tilt, many of us are enjoying pumpkin everything. It only seems appropriate to celebrate crisp, cold weather and falling leaves with a batch of clean eating pumpkin spice cupcakes. With real pumpkin, whole wheat flour, and sweetened with honey and applesauce, these autumnal treats are perfectly served with hot apple cider and a warm blanket.
Even the pickiest eaters and strictest diets can enjoy the sweet treat of a cupcake. Even better, when it comes in a convenient and striking mason jar, you are practically begging to give them out as gifts. If you aren't much for baking, choose a local, small-batch bakery such as Sunflour Baking Company, that cares enough to both respect your diet restrictions and deliver the sweets that you crave.