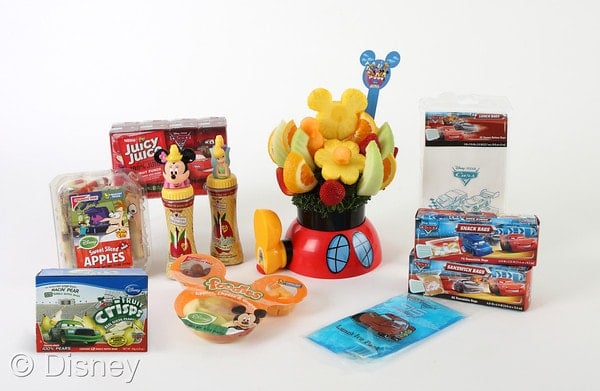 Healthy living is important to me, and in-turn, I try to instill the lifestyle onto my family. It's not always easy; especially with a child who has a mind of her own, and would rather eat sugary treats and salty snacks instead of fruit and vegetables. Sometimes it takes a little extra help from a familiar face to make the transition easier. That's why I'm excited to share an exciting program that will help parents and families incorporate more healthy habits into their busy lives.
The new program from Disney Consumer Products is called D-Lightful Living. Through a series of weekly challenges over the course of 12 weeks, D-Lightful Living: Animate Your Daily Routine will give parents tips inspired by fun Disney-branded products on how to help motivate their families to make simple and easy changes like eating more fruits and vegetables, improving oral care habits and preparing for cold and flu season.
Hosted on Disney Consumer Products's official Facebook page known as Disney Living, each week DCP will feature a video challenge from the "Go-To Mom," Kimberley Clayton Blaine – a mom blogger, child development expert and licensed child therapist. She will showcase simple tips and product suggestions to help other parents guide their kids toward a healthier lifestyle using products that feature their favorite Disney characters. The program will run weekly through the end of November.
Families can visit the D-Lightful Living page on Disney Living Facebook to find out information on each weekly challenge including tips from Blaine and information about relevant Disney-branded products to help succeed with each challenge. Parents can also download a checklist outlining all 12 weekly challenges and tack this up around the house to help track the family's progress.
Here's a peek at the weekly challenges:
Week 1: Make Smart Morning Choices
Week 2: Skin Care All Year Long
Week 3: Healthier Snacking at Back-to-School Time
Week 4: Take Care of Your Chompers
Week 5: Add More Servings of Fruits and Veggies to Your Diet
Week 6: Make Bath Time Fun
Week 7: Fight the Fall Cold & Flu
Week 8: Happy Halloween
Week 9: Age-Appropriate Beauty Tips
Week 10: The Right Road to Treat Street
Week 11: Grow Up Stronger
Week 12: Family Fun Meals
Parents who join in the online forum and share their own tips toward healthier habits are entered to win a weekly Disney-branded product prize package.