This post is brought to you by Filtrete and MomItForward. All opinions are my own.
Up until recently, I had no idea about the importance of regularly changing the heating and cooling system filter in my home. It wasn't until I developed severe allergies and woke up sneezing every morning that I started to investigate the cause. While our air filter wasn't to blame for my allergies (it was our cat!), it was extremely dirty-- potentially making my allergies worse. Since then, I've been religious about changing the air filter out every three months with a one from Filtrete.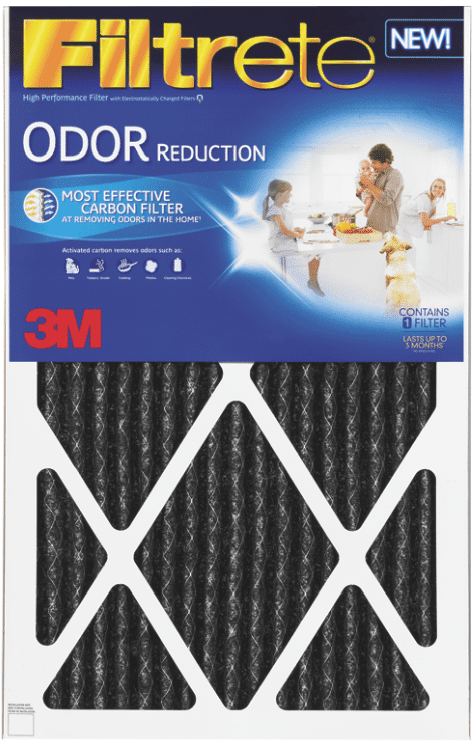 Filtrete brand from 3M makes a whole line of air filters to meet the needs of your home's heating and cooling system. From filters to reduce allergens to ones that help reduce odor -- there's a filter for every lifestyle and budget.
While I usually one of the "Best" quality air filters, Filtrete sent me one of their new Home Odor Reduction filters to try out this month. In addition to capturing microscopic allergens like pet dander, smoke, household dust and particles that can carry bacteria, the Filtrete Odor Reduction filter uses carbon to removes odor from pets, smoke, cooking, mildew, and cleaning chemicals. The filter is two-sided, with one side catching particles and the other side reducing odor.
Since I just installed my new filter, I can't yet comment on how it's working. I didn't notice any odor in our house before, and I certainly don't notice any now. The filter was easy to install and it feels sturdy -- a good sign for an air filter because it has to hold up to the dust and debris that it will ultimately hold over the course of three months. The Odor Reduction filter retails for $15.99 and can be found Target, Walmart, Lowe's and Costco. You can check www.FindmyFiltreteFilter.com for more locations.
Make sure to follow Filtete Filters on Facebook and Twitter to keep up-to-date on the latest from 3M.