These Fire Safety Tips are brought to you by First Alert. All opinions are my own.
Fire Prevention Month has come and gone, but that doesn't mean you should stop thinking about fire safety. Having a prepared home, in the event of a fire or another emergency, is one of the most important things you can do for your family.
When we moved into our new house last year we didn't have a fire prevention kit in place, other than the fire alarms that were already installed in the home. Two of my very first purchases were for a fire extinguisher and a carbon monoxide alarm. Just the thought of not having these items scared me— you really can't be too prepared when it comes to fire safety and your family.
First Alert, America's #1 most trusted brand in home safety, wants to make sure your family is super prepared in the event of a fire. They've created a fun infographic featuring the Super Prepared Family to show you the basics of fire safety and what tools you need in your home. You can check out all the info here, but I also want to go over a few fire safety tips and essentials that shouldn't be overlooked.
Fire Safety Tips for Your Home & Family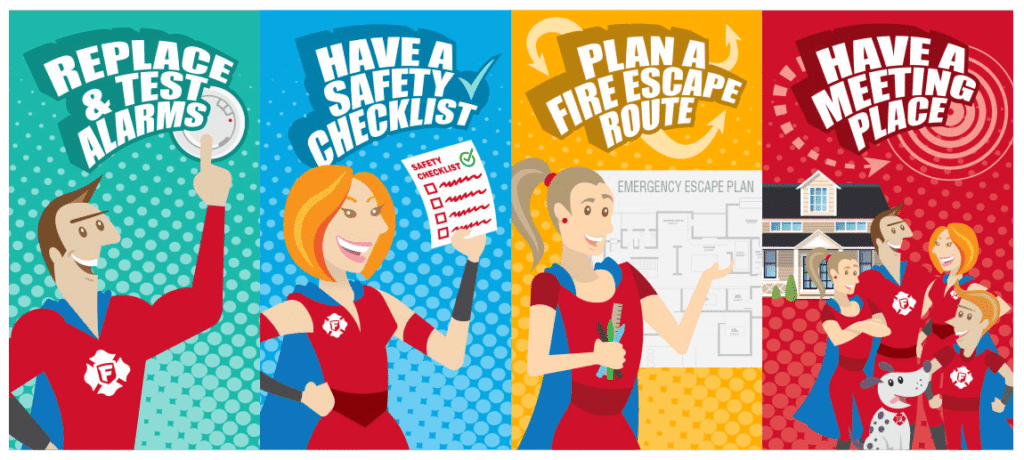 Replace and Test Alarms - When was the last time you tested or replaced your fire alarms? First Alert Smoke & Fire Alarms are designed to last 10 years, with a 10-year battery, so you don't have to change the batteries or listen to those annoying low battery alert "chirps".
Have a Safety Checklist - Both the US Fire Administration and the Red Cross have free printable fire safety checklists to help keep your family safe. Go over each section with your family to make sure your home is protected.
Plan a Fire Escape Route - In the event of a fire, you want to have a plan of action in place. You should have two ways out of each room, and know to crawl low to the floor when escaping to avoid smoke. Make a plan of action and practice it with your family.
Have a Meeting Place - It's important to have a meeting place near the front of your home, so that firefighters know you're out, in the event of a fire.
Want to know how many smoke alarms, carbon monoxide alarms and fire extinguishers you should have? Here's a handy guide—
Smoke Alarm
→ One on every level & near each bedroom
Carbon Monoxide
→ One on every level & near each sleeping area
Fire Extinguisher
→ One on every level, plus kitchen and garage

First Alert has everything you need for a super prepared home, including: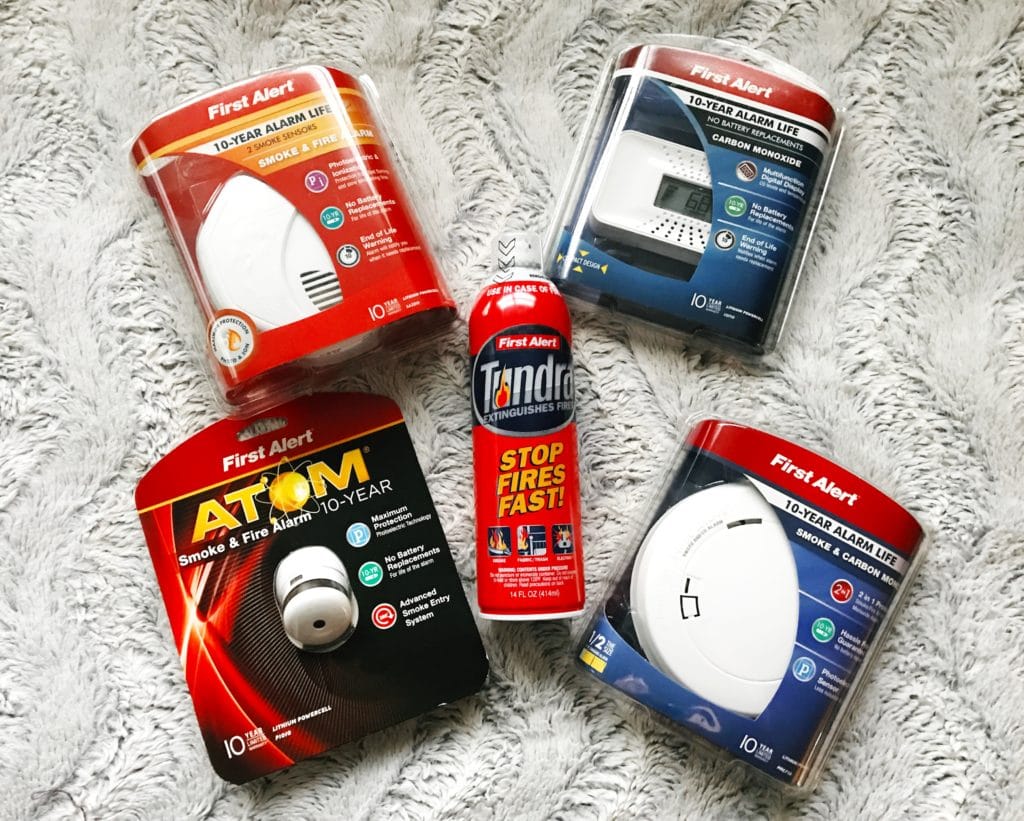 I personally love the Tundra Fire Extinguishing Spray from First Alert. The size of the can makes it very convenient to store in each area of your home, and the price is amazing compared to a traditional fire extinguisher. The First Alert Atom Smoke & Fire Alarm is also very cool with its modern look and compact size.
For more home safety products and fire safety tips to keep your family protected, visit www.firstalert.com.