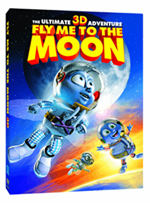 We recently received the new movie, Fly Me to the Moon, the first-ever animated movie created for 3-D!
Fly Me to the Moon is now available on DVD and features the voice talents of Kelly Ripa, Nicollette Sheridan, Christopher Lloyd, Tim Curry, Ed Begley, Jr., and the legendary astronaut Buzz Aldrin.
My daughter was ecstatic when she found out we were getting a copy to review, she calls this movie "Bugs in Space" and knew more about it then I did.
The cool thing about this movie is that it comes in both 3-D and 2-D (regular version) so you are not limited to just watching a 3-D movie.  The only negative thing I can say about this DVD is that it only came with 2 pairs of 3-D glasses,  I think it should come with 4, so the whole family can watch together. We worked it out and took turns watching the movie.
We really enjoyed this movie and the animation is wonderful. I can only imagine what this looked like in the theater.
The basic storyline is about a young housefly Nat, who is looking for adventure and hatches a plan to jet into outer space with his two best friends, I.Q. and Scooter. In their homemade space suits, they take a wild ride aboard Apollo 11 all the way to the moon. As their families watch at home, the three flies become the first insects ever to journey into space... but this is no ordinary thrill ride. After a potentially disastrous mechanical problem, these daredevil flies must save the day.
Fly Me to the Moon would make a great gift this Holiday Season for children both young and old.
For more information, to view trailer, photos, visit www.flymetothemoonthemovie.com
From Summit Entertainment
[rating:⅘] Only because of the 3-D glasses, the movie is wonderful!