This Fragrant Jewels review is written by me on behalf of Fragrant Jewels candles. All opinions are 100% mine.
I love burning candles. I actually feel like my home isn't clean if it doesn't have some scent wafting through the air— so needless to say, we go through a lot of them. The thing about candles is that I can never have enough and I'm always looking for new brands and scents to burn.
I had heard rumblings about a new type of candle with rings hidden inside the wax, which you retrieve once burned to a certain point. The concept sounded really fun, almost like a Cracker Jack box for adults! When Fragrant Jewels approached me about trying a few of their candles, I was immediately on board. More than just the allure of the chance to win a ring worth up to $10,000 (can you imagine!?), I was pulled into the fact that each candle was hand poured in California from a proprietary coconut wax blend, which has a rich, creamy texture. Candle aficionados, like myself, know this is the ultimate for a long cleaner burn.
Fragrant Jewels Review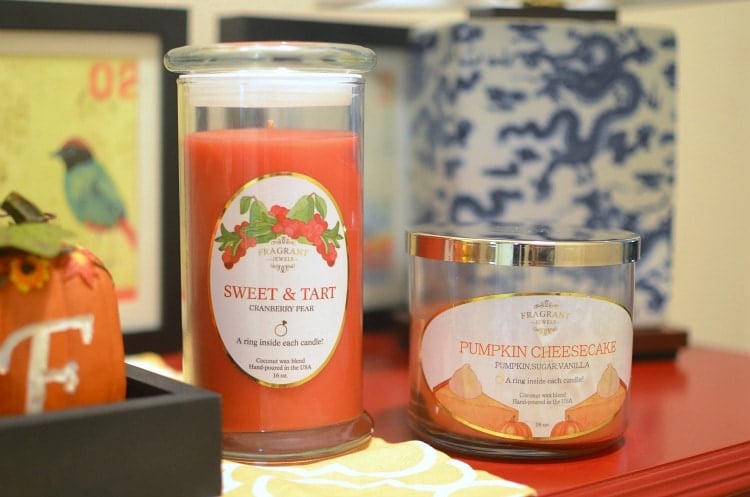 I chose two seasonal scents from Fragrant Jewels to test out; one for the fall season, a Pumpkin Cheesecake candle, and one for the Christmas holidays, Sweet & Tart cranberry pear. They both smelled divine right from the jar.
I first burned the Pumpkin Cheesecake candle, which smells as good as it sounds. I love that this scent is sweet— but not too sweet— without the spiciness of pumpkin pie (there is a pumpkin pie candle available if that's the scent you crave!).
Fragrant Jewels Rings -                                                    The Reveal
I burned my Fragrant Jewels candle for a few days before I began to see a bit of foil wrapping peeking out. At this point, I got a little impatient and dug out the baggie with a plastic fork … I just couldn't wait to see what the Fragrant Jewels ring would look like!
To my surprise, my Fragrant Jewels ring was both pretty and pink! And a perfect fit (as I requested my ring size in advance – an option when you purchase a Fragrant Jewels candle).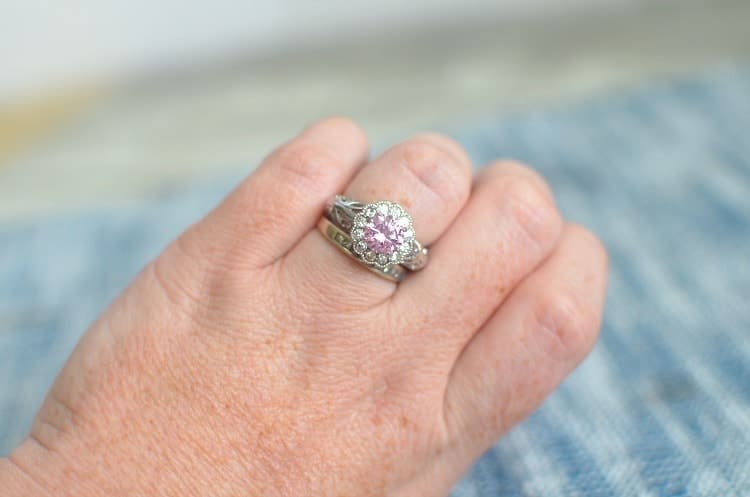 Fragrant Jewels Vault
I knew that my ring wasn't worth $10,000 or even $100, but I was curious to see the value the Fragrant Jewels vault set it at. Inside the baggie with the ring is a vault code which can be entered at FragrantJewels.com/Vault. I followed the instructions and according to the Fragrant Jewels vault, my ring is valued at $25.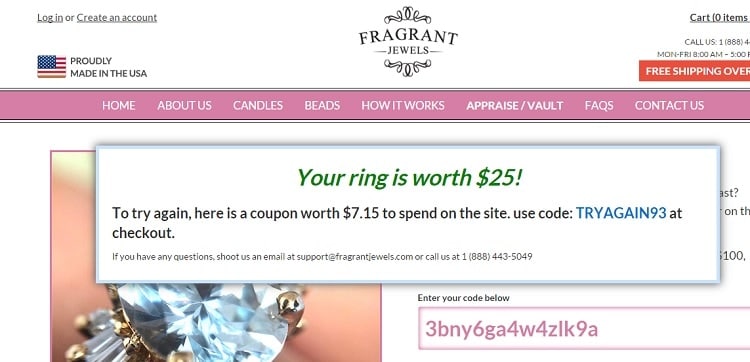 In the end, my daughter took the ring from me and has been wearing it for the last few days. She's already asked me to start burring the other candle, Sweet & Tart, a blend of cranberry and pear (which smells amazing for the holidays!)— But I'm trying to hold off a little bit as we haven't even made it to Halloween yet.
I can see how these candles can be addicting. Even though I don't expect to find a ring worth more than $25, there's excitement in not knowing what's inside until the big reveal.
Fragrant Jewels candles make fantastic gifts because it's essentially two presents in one! I know my mother and sister would both love the concept and scents of Fragrant Jewels and I'm considering purchasing them candles for the holidays. For the same price as other premium candles, you get the added bonus of finding a pretty piece of costume jewelry (or better!).
Take a look at Fragrant Jewels to see the full selection of candles and scents … you could win a ring worth $100, $1,000 or $10,000!
Mermaid Day Dream Candle with Ring Inside (Surprise Jewelry Valued at $15 to $5,000) Surprise Ring Size
Lavender Candle with Ring Inside (Surprise Jewelry Valued at $15 to $5,000) Ring Size 7
Birthday Cake Candle with Ring Inside (Surprise Jewelry Valued at $15 to $5,000) Ring Size 7
Pina Colada Candle with Ring Inside (Surprise Jewelry Valued at $15 to $5,000) Ring Size 7
Bath Bomb with Ring Inside Mermaid Daydream Extra Large 10 oz. Made in USA (Surprise)
Bath Bomb with Ring Inside Love Potion Extra Large 10 oz. Made in USA (Surprise)
Bath Bomb with Surprise Size Ring Inside Tranquil Serenity Extra Large 10 oz. Made in USA
Bath Bomb with Surprise Size Ring Inside Pink Himalayan Sea Salt Extra Large 10 oz. Made in USA