This post brought to you by Fresh from Florida. All opinions are 100% mine.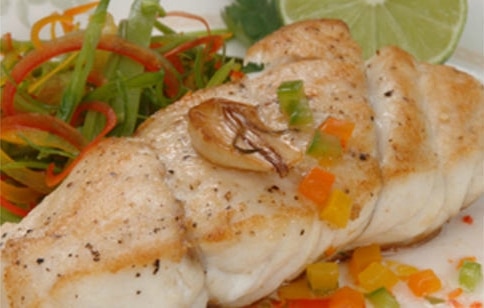 One of the greatest things about living in Florida is how easy it is to access fresh seafood. From fish and shrimp to crab and scallops, if it lives in the sea, we probably have it! One of my all-time favorite local catches is Grouper. If you've never had it, you need to book a trip to Florida ASAP ... it's that good! Grouper is a flaky, white fish with a mild flavor. It's truly a Florida staple that tastes great no matter how it's prepared.
Personally, I enjoy my Grouper either grilled or pan roasted. Because of its mild flavor, the fish pairs well with a variety of different seasonings, spices and/or sauces. A little salt, pepper and a drizzle of garlic butter is all that's really needed, but there are a lot of great recipes on the Fresh from Florida website that looks delicious.
One of the recipes that caught my eye recently was Key West Margarita Grouper.
Key West Margarita Grouper Recipe
Ingredients
4  6-ounce grouper fillets
1/3 cup tequila
1/3 cup orange liqueur
3/4 cup fresh lime juice
1 teaspoon salt
3 cloves garlic, peeled and chopped
4 tablespoons olive oil
3 medium tomatoes, diced
1 medium onion, chopped
1 small jalapeño, seeded and minced
4 tablespoons chopped fresh cilantro
1 pinch white sugar
salt to taste
1 tablespoon olive oil
ground black pepper to taste
Directions
In a mixing bowl, stir together tequila, orange liqueur, lime juice, 1 teaspoon salt, garlic, and olive oil. Reserve 1/2 cup of this marinade and set aside.
Place Grouper fillets in a shallow baking dish. Pour marinade from mixing bowl over fillets; cover and refrigerate for 1/2 hour turning the fish once.
For salsa, combine tomatoes, onion, jalapeno, cilantro, and sugar in a medium bowl; season to taste with salt and set aside.
Preheat the grill on medium-high heat. Remove fillets from marinade, brush tops with oil and season with black pepper.
Grill marinated Grouper fillets for 4 to 5 minutes per side until center is opaque and meat flakes easily with a fork. Transfer fish to serving plates.
In a small saucepan, heat reserved 1/2 cup marinade to a simmer; remove from heat and set aside. Drizzle warm marinade over the fillets and serve with salsa.
Sounds amazing, right!? I'm hoping to pick up some fresh grouper this weekend at the grocery store (our Publix has a variety of local catches) or farmer's market so I can try this recipe.
Do you have a favorite Grouper recipe?