This is a sponsored post written by me on behalf of Sam's Club . All opinions are 100% mine.
Now that summer is here, vacation season is in full swing. Millions of families will venture out on road trips to destinations near and far – I know we have a few short trips planned over the next few months!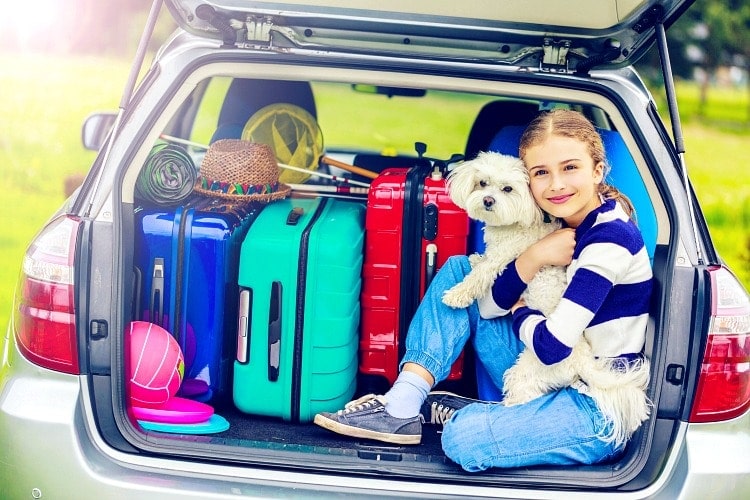 But before you head off on your next epic adventure, it's a good idea to get your tires checked. If you haven't replaced your tires in a few years, there's a decent chance you'll need an upgrade. Tires that don't have a good amount of tread are unsafe to drive – to keep your family safe on the road you want to keep your tires in tip-top shape! Here are a few tips from the National Highway Traffic Safety Administration.
Tire Safety Tips
✔ Check tire pressure regularly (at least once a month), including the spare.
✔ Inspect tires for uneven wear patterns on the tread, cracks, foreign objects, or other signs of wear or trauma.
✔ Remove bits of glass and other foreign objects wedged in the tread.
✔ Make sure your tire valves have valve caps.
✔ Check tire pressure before going on a long trip.
✔ Do not overload your vehicle. Check the tire information placard or owner's manual for the maximum recommended load for the vehicle.
✔ If you are towing a trailer, remember that some of the weight of the loaded trailer is transferred to the towing vehicle.
Sam's Club Dare to Compare Tire Event
To be summer-ready, stop by your local Sam's Club to get your tires checked and get an amazing deal on new tires during Sam's Club #DareToCompare Tire Event.
The Sam's Club Dare to Compare all-in tire offer is truly unbeatable. Sam's Club offers the best tire brands at the best all-in price, matching offer. These tire brands include: Michelin, Goodyear, BF Goodrich and Pirelli.
Not only does Sam's Club offer a fabulous price on tires, but they also include the Tire Installation Package with each tire purchase ($15/tire, $25/dually).
The Sam's Club Tire Installation Package* provides purchasing members with the following benefits and services for as long as they remain an active member of Sam's Club.
Tire Mounting
Tire Lifetime Balancing
Tire Lifetime Rotation
A Value Stem
No Charge Tire Lifetime Flat Repair
24-hour Emergency Roadside Service
* Complete terms and conditions of all Sam's Club warranties and services can be obtained at any Sam's Club Tire and Battery Center location.
How the "Dare to Compare" Offer Works
Bring a valid "all-in" quote from a tire sales and installation retailer to your Sam's Club Tire and Battery Center service counter. The quote must be printed on dealer/retailer letterhead and dated within the past 7 business days. The tire must be the same brand, same line, same load index and speed rating (service description) as the tire intended for purchase at Sam's Club. Sam's Club carries some club-specific tire lines – in these cases, Sam's Club will compare the club-specific tire line to the equivalent general-market tire line. Sam's Club considers the following tire lines to be equivalent and will price match accordingly:
Club-Specific Tire Model - General-Market Tire Model:
BFGoodrich Touring T/A - BFGoodrich Advantage T/A
Michelin Defender XT - Michelin Defender
Michelin X Radial LT2 - Michelin LTX M/S2
Plus additional savings on:
Michelin (5/14/2015 - 7/5/2015) $70 off set of 4
Pirelli (5/15/2015 - 7/12/2015) $80 Instant Savings
Goodyear (6/24/2015 - 8/31/2015) $70 off set of 4
What a perfect deal for upcoming summer road trips! Sam's Club works hard every day to save their members money on tires. Let Sam's Club help you save and get summer ready today! Their tagline is "We offer the best tire brands at the best "all-in" price, and we'll match it!*"
Do you have any road trips planned this summer?