One of my favorite summertime activities is picnics and barbecues with my family. Now that we've purchased a new home closer to my parents and sister, we have started hosting a lot more get-togethers. Most of the time, our cookouts focus around grilling meat basted in a thick sauce — which can often be heavy. Don't get me wrong, I love BBQ chicken and ribs, but when it comes to the sides, I like dishes that are light and refreshing in the summer months.
Right now one of my favorite things to make (and one of my family's favorite things to eat) is a fresh, chilled Greek pasta salad. It's the perfect dish for any summer party or gathering, and it goes with just about everything.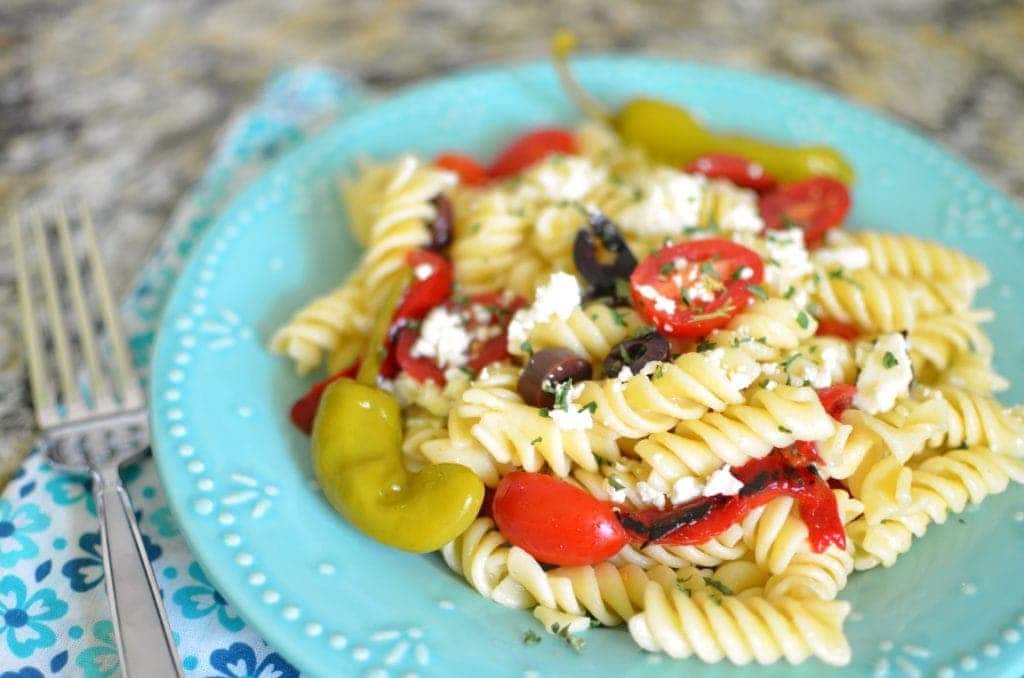 The key to any pasta salad is quality ingredients. My Greek pasta salad starts out with fresh tomatoes, feta cheese, olives and red peppers, marinated in a homemade vinaigrette. For this dish, I use Pompeian Smooth Extra Virgin Olive Oil because I prefer it over the peppery bitterness of traditional Extra Virgin Olive Oil — Pompeian Smooth Extra Virgin Olive Oil is well balanced with just a hint of spiciness.
The delicate flavor profile of Pompeian Smooth Extra Virgin Olive Oil makes it ideal for sautéing, sauces and stir-frying, as well as a perfect blend to enhance many of the light dishes of the Mediterranean Diet. And lke Pompeian Robust Extra Virgin Olive Oil, Pompeian's new Smooth Extra Virgin Olive Oil carries the U.S. Department of Agriculture (USDA) Quality Monitored Seal.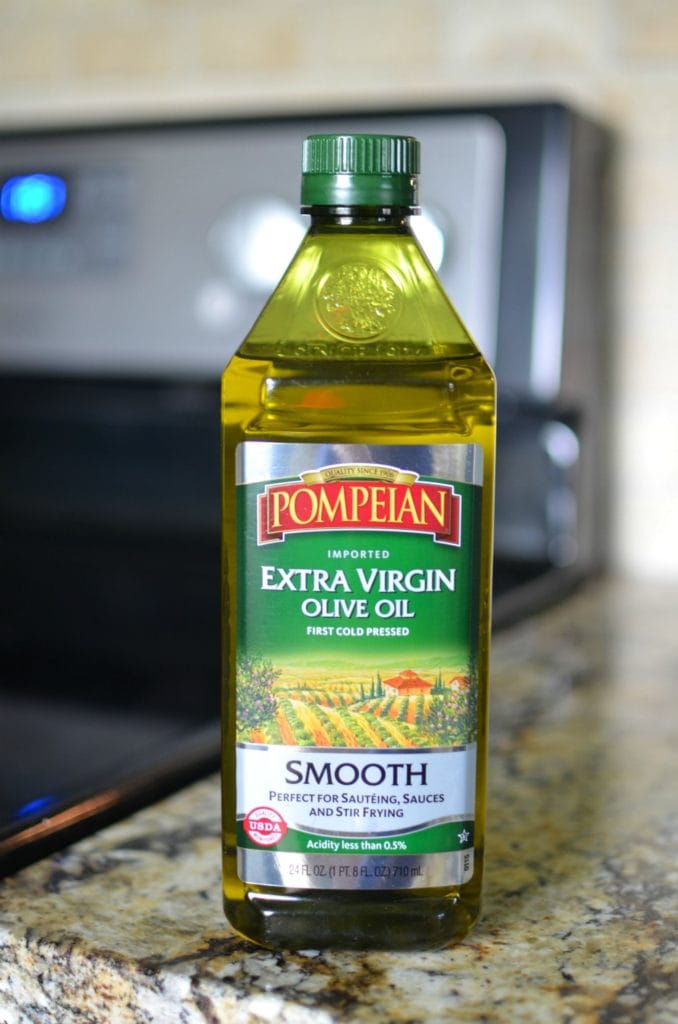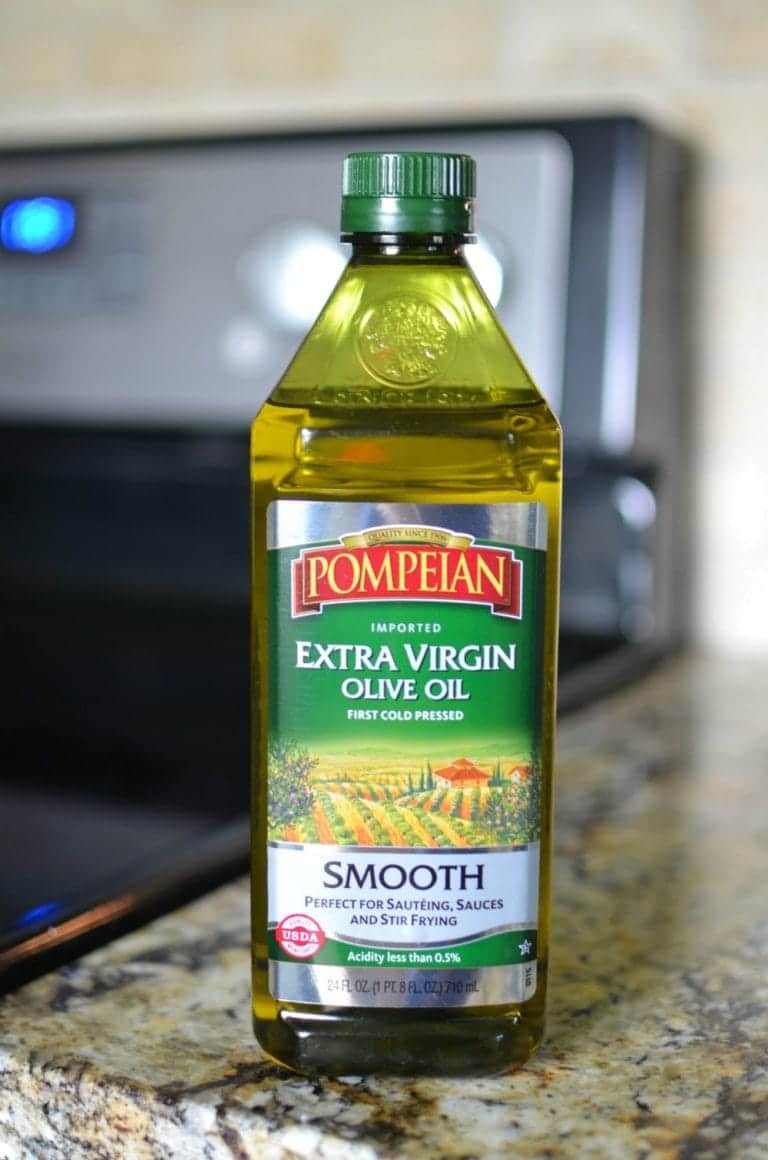 Here's my Greek Pasta Salad recipe so you can try it at your next picnic or barbecue. Feel free to double or triple it for summer potlucks— and don't forget to keep the leftovers... it tastes even better the next day!
Chilled Greek Pasta Salad Recipe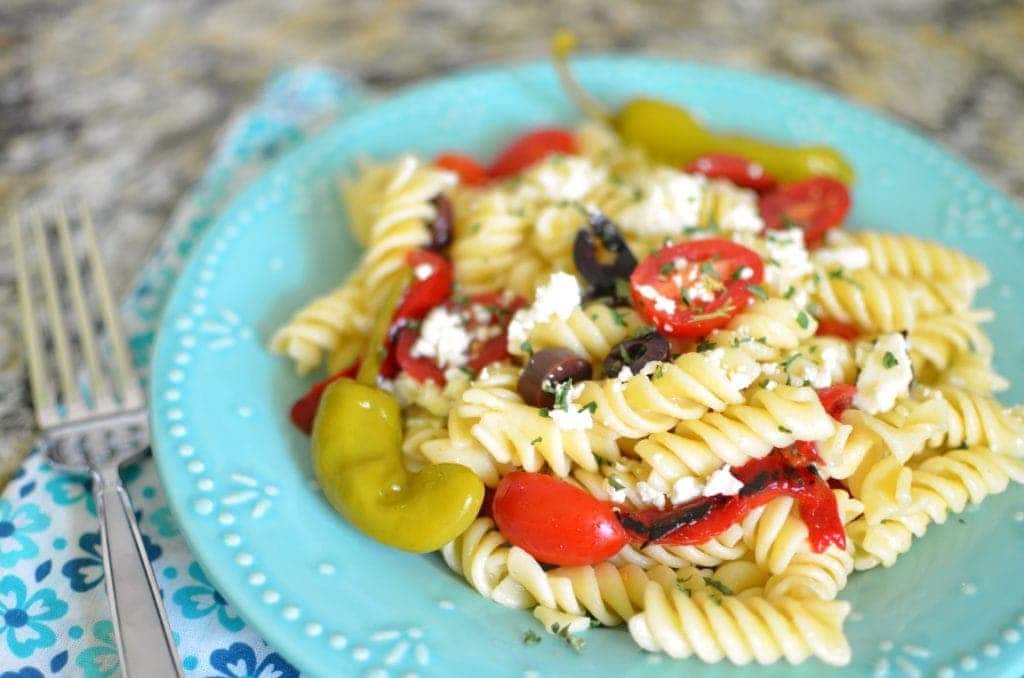 Greek Pasta Salad Recipe
Ingredients
2

cups

Rotini pasta

⅔

cup

Pompeian Smooth Extra-Virgin Olive Oil

¼

cup

Pompeian Red Wine Vinegar

10

cherry tomatoes

halved

½

cup

Calamata olives

sliced

½

cup

crumbled feta cheese

¼

cups

roasted red pepper strips

2

cloves

garlic

minced

Pepperchinis to taste

2

teaspoons

dried oregano

pinch

of dried parsley

salt and pepper to taste
Instructions
Cook pasta as directed until al dente. Strain and let cool.

In a small bowl, whisk oil, vinegar, garlic, oregano, salt and pepper. Set aside.

Combine pasta, tomatoes, olives, feta, red peppers and pepperchinis in a large bowl.

Pour Greek dressing over the pasta and mix together. Sprinkle with dried parsley.

Cover and chill before serving.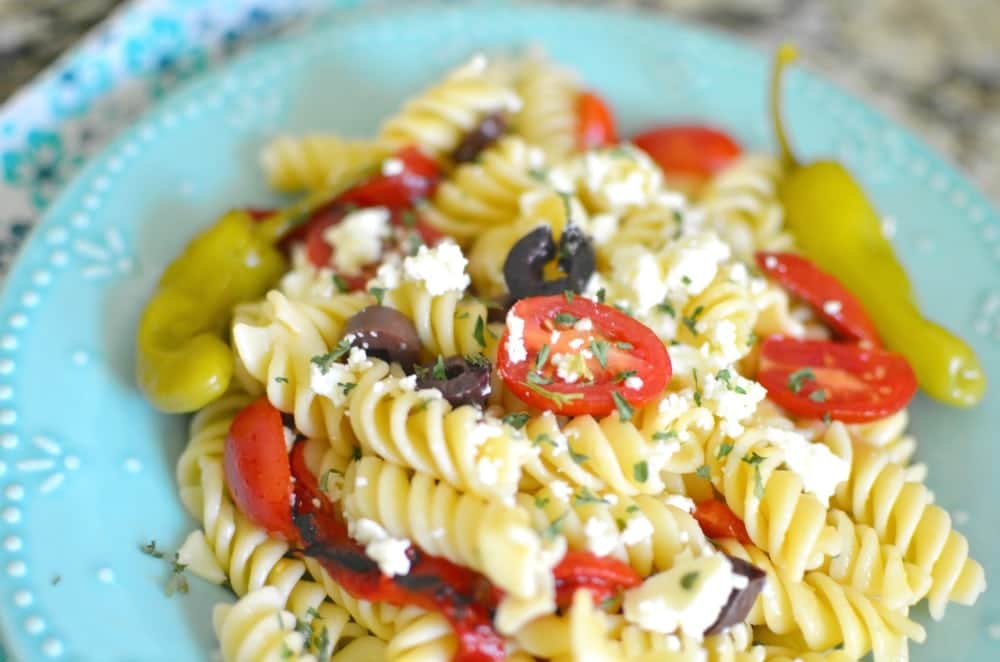 For more great summer recipe ideas featuring Pompeian Olive Oil visit www.pompeian.com.
Do you have a favorite chilled pasta salad?