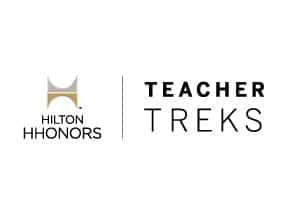 This post is brought to you by Hilton HHonors and Global Influence. All opinions are my own.
Teachers are amazing people -- on a daily basis, they influence and inspire young minds to become whatever they want to be. In middle school I had a favorite teacher who taught world history. She was an excellent story teller who would often share her adventures of traveling through Europe while we studied ancient Rome and the World War.
To this day I distinctly remember learning about Pompeii and how she brought in her own personal pictures of the site. Not having ever left the country, I was completely inspired to travel, and promised myself - even at a young age - that one day would visit Pompeii. It took almost two decades, but I finally visited the ruins last year with my daughter.
I really believe it wasn't just the topic of my favorite teacher's lessons that interested me, but her first hand knowledge, experience and personal stories that made me listen in class day after day.
Hilton HHoners Teacher Treks
Hilton HHonors, the loyalty program for Hilton Worldwide's 10 distinct hotel brands, knows that teachers can have a profound impact on their students' lives. That's why they created Teacher Treks -- a grant program that will give 15 teachers the opportunity to travel to the destination of their choice; ultimately enriching their curriculum and inspiring students to explore the world.
Right now, 30 finalists from eleven different states have been narrowed down -- you can help choose the winning 15 teachers by voting for your favorite finalist online from now until April 30, 2013 at www.hhonors.com/TeacherTreks. Plus, each time you vote (1x per day), you'll be entered to win one of 10 Hilton HHonors gift cards worth $250.
As a Hilton HHonors member, I'm ecstatic that this grant program is in place to help teachers travel to the destinations they teach about. I encourage you to vote for your favorite(s) of the remaining finalists while being entered to win a $250 Hilton HHonors gift card. It's really a win-win for everyone!
For more info on the 30 teacher finalists visit www.hhonors.com/TeacherTreks. Winners will be announced in May 2013.