As a parent of a tween, I can tell you that they're not always easy to buy for. Certain toys or games are deemed too "babyish", while others are too mature (or at least for my taste!). Thankfully, I can always rely on books from National Geographic Kids to provide countless hours of entertainment for the hard-to-buy for 8-12 year old.
National Geographic Kids teaches kids about the world and how it works, empowering them to succeed and make it a better place. It is the only kids brand with a scientific, education, and conservation organization at its core.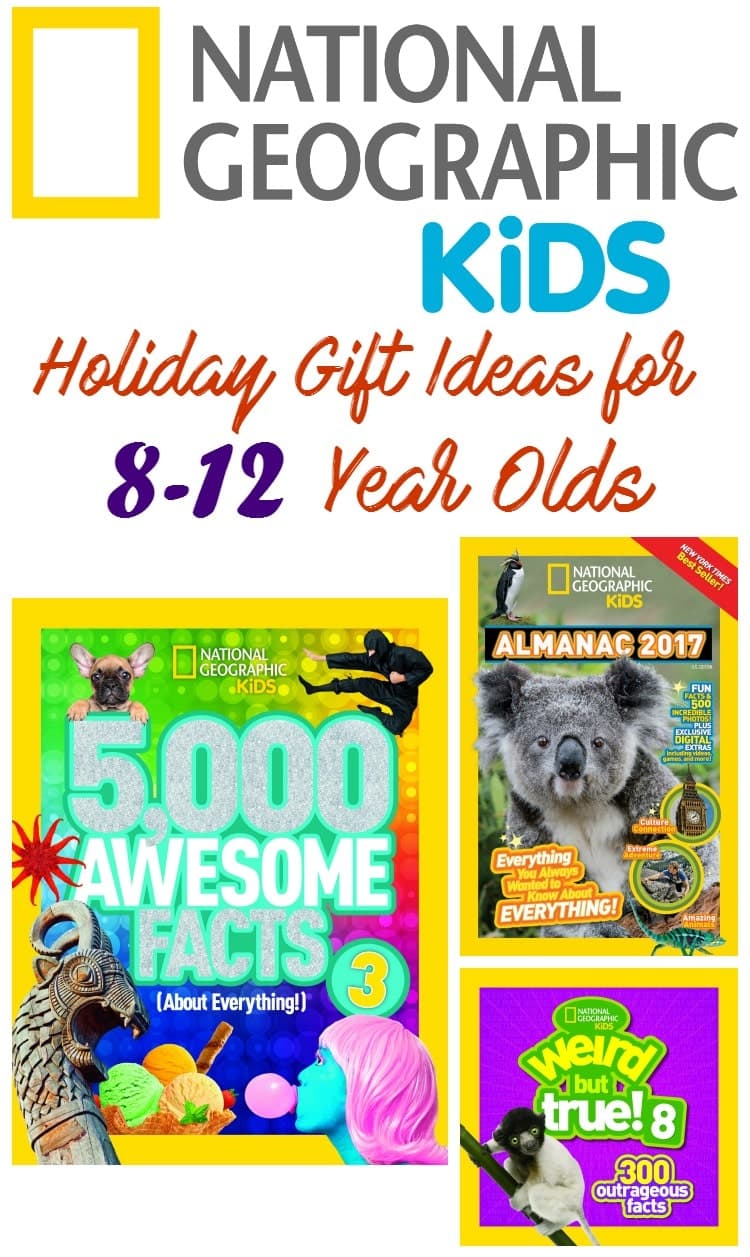 Holiday Gift Ideas for 8-12 Tweens
Find fascinating knowledge nuggets on all kinds of cool topics, from bubble gum and ice cream to the outer space and the North Pole! This book offers hours of unplugged fun for curious kids who love to be the trivia expert in the family. (Ages 8-12)
Get inspired for the year ahead with the most popular kids' almanac on the planet! It features 350+ pages of incredible photos, fun facts, news, activities, and features about animals, science, exploration, technology, culture, and more. (Ages 8-12)
The second annual Almanac Newsmaker Challenge invites kids create a time capsule for kids in 2050 that shows what life is like today. Just gather up to 10 "artifacts," photograph it, and share it on My Shot, the Nat Geo Kids online photo community. Get the details at: natgeokids.com/almanac.
Kids love Weird But True! The latest, greatest in this endlessly fascinating series – now with more than 20 titles – is full of 300 all-new wild and wacky facts and pictures. (Ages 8-12)
I gifted my daughter these books (thanks to National Geographic!) and she absolutely loved them! She poured over the 5,000 Awesome Facts book for days, making sure she updated me with random facts the entire time—Did you know more than 1 billion people in the world live in deserts!?
National  Geographic Kids is the #1 publisher of nonfiction books for kids, producing more than 100 titles per year. From board books to leveled readers to almanacs to the wildly popular Weird but True series, there are books for every young reader on your list.