Stressed over laundry? Here are some tips on How to Do Laundry Like a Pro and keep your clothes looking new and smelling fresh. This post is brought to you by EnviroKlenz. All opinions are my own.
Since becoming a parent, laundry has become the bane of my existence. That seems like an exaggeration, but the task is never-ending. I swear I have piles and piles of clothes and linens that always need to be cleaned, despite doing laundry on a daily basis.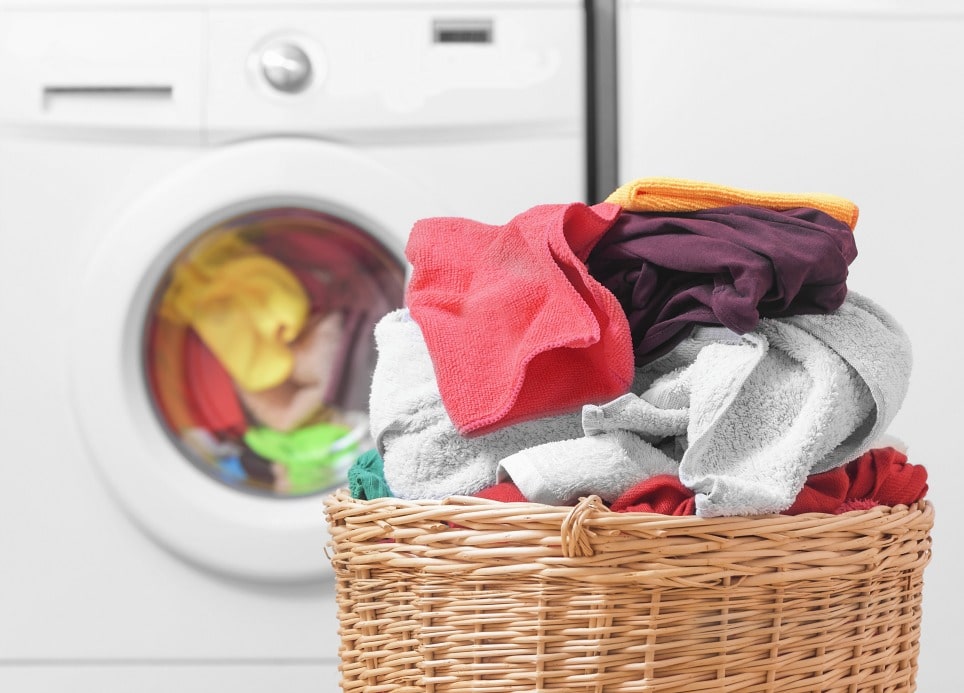 But...and this is a big one...my laundry game has come a long way since I took on the task of doing laundry for my family. I can't control a number of loads I do every week— school clothes, work attire, and linens have a set rotation that isn't ever going away. However, I have created a system through a lot of trial and error that makes doing laundry slightly less painless.
Here a few of my laundry tips and tricks that keep me sane when it comes to removing odors, stains and keeping clothing looking new.
How to Do Laundry Like a Pro
Use the correct amount of laundry detergent for each load
I know how easy it is to pour a little extra laundry detergent into the machine when clothes are super dirty. But as tempting that it is— don't. The amount of laundry detergent needed for a regular size load is much smaller than most think. Look on the side of the bottle for guidance, and fill the cup only to the line indicated. Regular size loads should only be filled to line 1 or 2. Using too much detergent can leave a residue, make clothing stiff, and even leave spots. Plus it wastes a ton of money— detergent is expensive!
Check the label
This seems like a no-brainer, but when you wash items for the first time, look at the label and follow instructions to keep clothing looking newer, longer. If there are symbols, use this laundry symbols chart as a guide: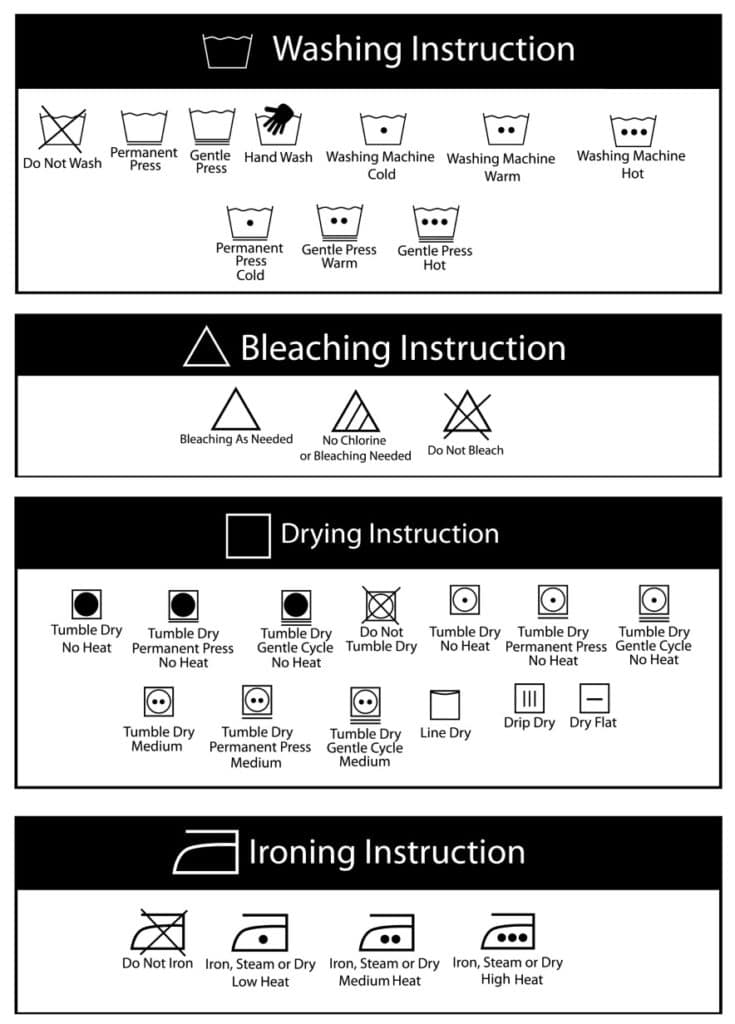 Use the proper cycle and water temperature
Pay close attention to what cycle the washer and/or dryer is on. It's super easy to put in laundry and use the last previous setting without a second thought. If the wrong setting is used, clothes are more likely to wear down and fade, and some garments could even be ruined.
When to use cold water for laundry: Use the cold water setting for colors that bleed, dark, delicate fabrics or items that are not heavily soiled. Cold water will do the least amount of damage to the fabric and it's the most energy efficient. If there is no tag, wash in cold water. Also, when washing laundry in cold water, liquid detergent is preferred.
When to use warm water for laundry: Warm water is the go-to for most laundry as it assists with removing dirt and stains without stressing fabric. Man-made fabrics (nylon, polyester, rayon blends), jeans and knits do well in warm water.
When to use hot water for laundry: Use the hot water setting when washing whites, towels, linens and heavily soiled items. This is the only setting that sanitizes, but it's also the harshest on fabrics, potentially causing fading and shrinkage.
For fabrics and clothing with strong odors, including pet odor, chemical smell, mildew, perfumes, and sweat, use EnviroKlenz Laundry Enhancer. This non-toxic, fragrance-free laundry must-have uses earth mineral technology to safely neutralize odors left in clothing or the machine itself. EnviroKlenz Laundry Enhancer works along with normal detergent to enhance its ability to remove tough odors that would normally be impossible to remove. And best of all, it contains no masking agents or fragrances providing you with clean and odor-free results.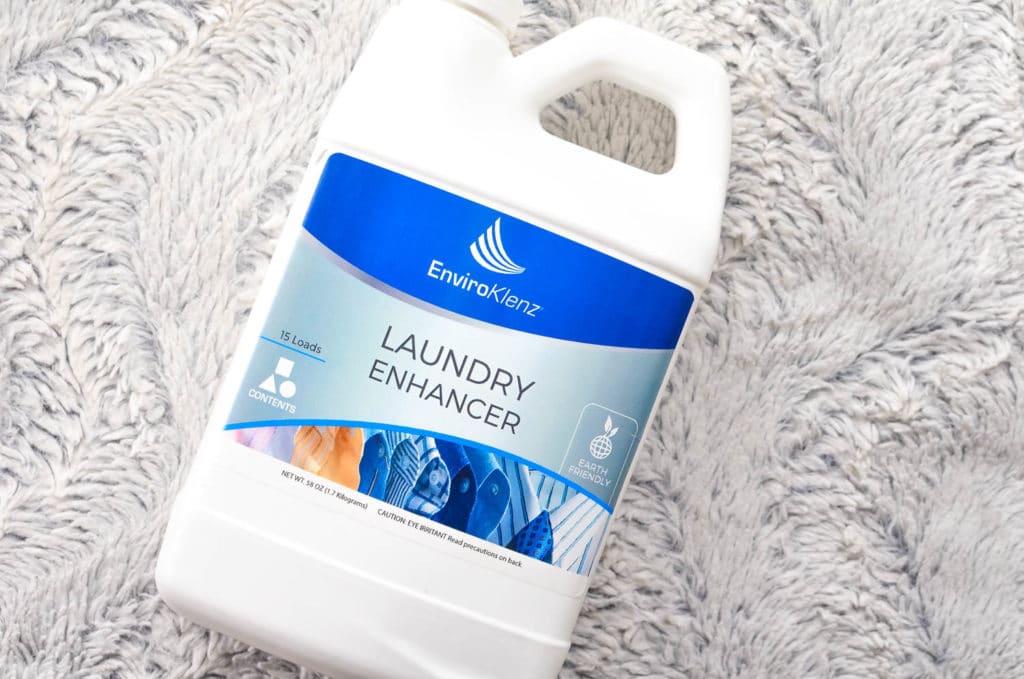 I've tried EnviroKlenz Laundry Enhancer myself and can attest to how well it works at removing odors. I used the laundry enhancer on some towels that smelled like mildew after a pool party— almost like magic the scent was completely gone after one warm cycle.
Keep up-to-date with washer/dryer maintenance
Washers and Dryers need to be tuned up just like a vehicle for optimal performance. Ideally, you should clean your washing machine twice per year. The lint filter should be removed and emptied after EVERY load. The dryer exhaust vent should be inspected and cleaned at least once a year — Built-up lint and dust in the dryer vent is one of the leading causes of house fires!
So there you have it, a few of my best tips for how to do laundry like a pro. If you want to try out the laundry enhancer I recommend from EnviroKlenz, I have a special coupon code for 15% off your entire purchase. In addition to the laundry enhancer, they have a Washing Machine Deodorizer & Cleaner to help remove the residue that builds up in your washer over time— all products from EnviroKlenz have no fragrances, toxic chemicals, or additional compounds, making them safe for you, your family and the environment.
Use code mommymusings15 to save 15% off your purchase at enviroklenz.com