Happy October!
In real life I would never use the term "Y'all". But since this is bloggy world, I find it perfectly acceptable 🙂
SO it seems fall is upon us, but you wouldn't know it here in Florida. I don't think we will notice a difference in the weather until after Halloween. I am already dreading my daughter's Halloween costume as it has long sleeves...it's cute though!
Fall is a season we have to make ourselves. To put us in the mood, hubby and I had a pumpkin beer tasting. I can't think of a better way to pretend it's not 90 degrees outside...
Enter our creamy, pumpkin-y, fall beers!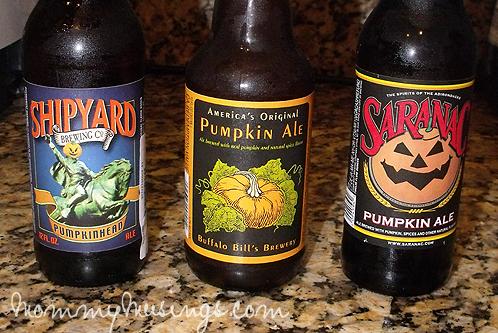 I am by no means a beer connoisseur- you'll have to check out my hubby's blog for a full taste profile on these beers. I actually rarely drink beer (I'm a cocktail girl for sure), but I am easily swayed by alcohol that tastes like pumpkin pie 🙂
Out of these three, Shipyard tastes the most like pumpkin. I am still on the hunt for the elusive Harry Potter Butterbeer knock-off, Pumking. I will find you!!
This is how we celebrate fall...beer and I bought a Febreze Fall Harvest candle.
What about you?