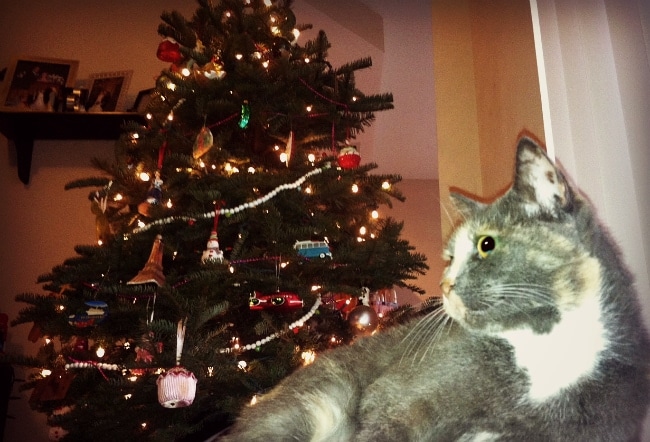 While most of us are busy putting up decorations, baking cookies, and preparing our home for the holidays, it's easy to forget that this time of year is the most dangerous when it comes to house fires. We all assume our home is hazard-free, but there are hidden dangers that can start fires that we don't even think about. For instance: Are all your light strings UL-approved? Are all of your extension cords out from underneath carpets/rugs? Do you have a working smoke alarm on each floor and in every bedroom? Is your fresh tree watered at all times?
Kidde, the world's largest manufacturer of fire safety products, is offering consumers a free online Holiday Home Safety Audit to bring awareness to vulnerabilities that may be present in the home.
I took the challenge after putting up all of our holiday decorations and here's how I fared: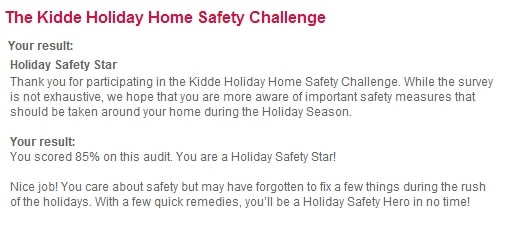 My results indicated that I was a Holiday Safety Star, and that I need to make a few minor changes to make my home worry-free for the holidays. When I filled out the survey, I knew exactly what I needed to work on. The first thing was candles --- I love to burn them. Even though I don't keep them lit when I leave the room, we have cats who could jump up and reach them, potentially starting a fire. The second was a fire escape plan. I know how important this is since I attended a fire safety event at my local Home Depot store, but since then, I haven't had time to sit down with my husband and daughter to put a plan in place -- this needs to be done ASAP! Also, I want to add a Carbon Monoxide Detector, even though it wasn't on the survey. We don't have one of these alarms yet, but it's at the top of my list to purchase along with battery operated candles.
This post is sponsored by Kidde. All opinions are my own.