This post is sponsored by Kolpin Powersports. All opinions are my own.
Do you love power and adventure sports, like riding ATVs? When I lived in north Florida me and my friends regularly went out to ride the trails. It was exhilarating and fun to be out in the forest among the trees and wilderness. Just me and my ATV. It's been awhile since I've been out riding, but I still have those memories and I hope to soon get a chance to live them again.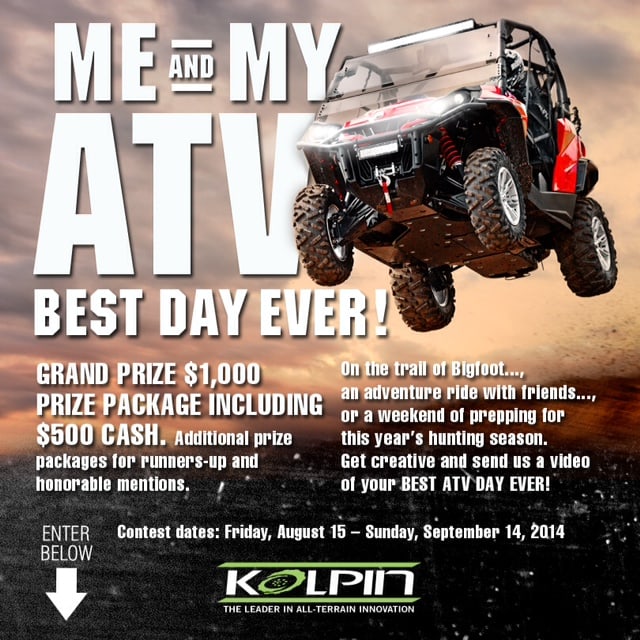 If you're an ATV lover, Kolpin Powersports has an awesome video contest where you could win a prize pack worth over $1000!
Here are the deets:
On Friday, August 15, 2014, Kolpin Powersports kicked off a social media video contest asking ATV fans to showcase their Best ATV Day Ever by submitting a video for a chance to win a Grand Prize pack from Kolpin worth $1,000.
The Grand Prize is $500 in cash plus a $500 Kolpin online gift card.  But if you don't win the Grand Prize, don't worry, there are nine other prizes being offered, including four Runner-Up prizes of $250 in cash plus a $250 Kolpin online gift card, and five Honorable Mention prizes, which earns winners a $200 Kolpin online gift card.  Gift cards are only available for redemption at KolpinPowersports.com.
Kolpin is making it really easy to enter the contest. Here's all you have to do:
The contest has one round of voting and the winner will be determined by a combination of social media fan votes and a judge's panel comprised of ATV and video buffs who will look for originality and video quality.
And here's a BIG TIP: Once your video is posted, quickly give your friends the URL - email it, text it, post it on your social channels – heck, do everything possible to get as many people as possible to vote for your video. But be quick about it, because voting ends at 11:59 CST on Sunday, September 14, 2014.
This awesome contest is sure to be entertaining, with hilarious, exciting or otherwise excellent videos, so even if you aren't planning on making a video yourself, be sure to visit the page early and often to vote for your favorites!
If you haven't heard of Kolpin Powersports, they're the industry leader in ATV and UTV accessories, offering universal accessories that work with every brand of ATV and UTV. Kolpin has been around since 1943, so you can trust their products, and rest assured that they're constantly innovating and engineering new equipment to add to their large assortment of other ATV and UTV accessories.
For more information about Kolpin Powersports, call them at 1 (877) 956-5746 or visit their website by clicking HERE.