This post is brought to you by Kellogg's Frosted Mini Wheats. All opinions are my own.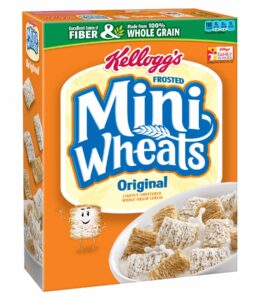 With summer quickly approaching, it's time to start thinking about fun (and educational!) activities to keep your kids busy during the day.
I know that I have a lot planned for my daughter during her summer vacation this year, including a few "firsts" -- one of them being her first sleepover, which is just as exciting for me as it is for her. We also have a couple vacations in the works, including a trip to New Orleans and two international cruises. With everything on the agenda, this summer is sure to be filled with many BIG DAYS.
To start each BIG DAY on the right foot, breakfast is a must. One of my daughter's favorite breakfasts is a hearty bowl of Kellogg's Frosted Mini Wheats with milk. Frosted Mini Wheats are packed with fiber and whole grains -- keeping kids full and focused -- so that they can tackle any BIG DAY.
Summer is the perfect time to encourage exploration, experimentation, and curiosity in children. Studies have shown that free, unstructured time gives young brains a chance to process and expand on what they learned throughout the school year. While we're traveling for a good part of the summer (exploring and trying new things), there are plenty of activities you can do with your kids at home to introduce fun, enriching BIG DAY experiences.
Outdoor Activities:
Backyard obstacle course
Neighborhood animal parade
Nature scavenger hunt
Camping in your backyard
Ride a bike without training wheels
Slip n' Slide/Water Balloon fights
Arts & Crafts:
Paper plate sundial
Marshmallow and toothpick buildings
Hand and foot print flowers
Sidewalk chalk drawing
Plant a flower garden
Build a volcano (this was always a favorite when I was a kid)
For more BIG DAY tips, visit www.Scholastic.com/PCBigDay.
Do you have any BIG DAYS planned for your children this summer?