This review and giveaway was made possible by Mamma Chia. I was compensated for my participation in this campaign, but all opinions are 100% mine.
I've been obsessed with chia seeds from the moment I first tried them. And if my memory serves me correctly, my first experience was at a sampling event at Whole Foods Market, where I tasted one of the original Mamma Chia beverages. It was that burst of fruit flavor with a tiny gelled seed that reminded me of tapioca, or a more refreshing bubble tea, that got me hooked. I purchased a few bottles to take home, and then I tried my hand at making my own chia fresca, eventually making the tiny chia seed a staple in our kitchen pantry.
It's been a few years, but now I put chia seeds in almost everything— I love the energy boost I get from just a single serving!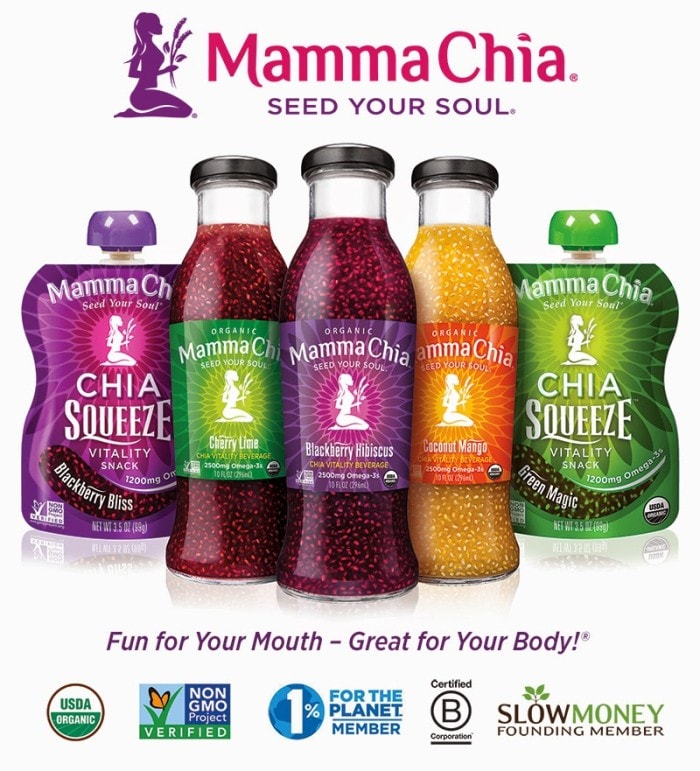 The founder and CEO of Mamma Chia, Janie Hoffman, fell in love with the magic of chia after discovering some of its amazing benefits, including increased vitality, energy and strength. In 2009, she took her love for the tiny chia and founded Mamma Chia — the first organic, chia-based food and beverage company. Now Mamma Chia offers a variety of products, including Organic Black and White Chia Seeds, Mamma Chia Organic Vitality Beverages, Mamma Chia Organic Chia Squeeze pouches, as well as the soon to be released Mamma Chia Vitality + Energy Beverages.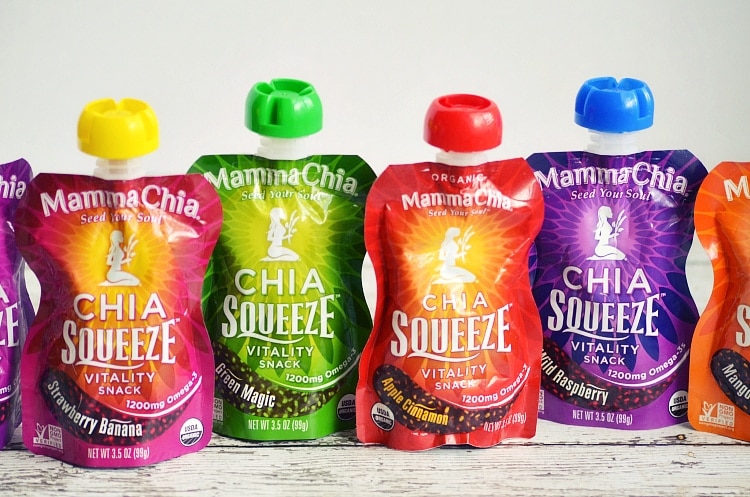 Being familiar with the Mamma Chia Vitality beverages, I already knew I would love the new Chia Squeeze vitality snacks. These on-the-go sized pouches are perfect when you need a pick me up— whether it's in the morning, before the start of the day, or during the afternoon when you're craving a tasty treat. Each serving of Chia Squeeze is packed with essential Omega-3s, protein, and fiber, making it a healthy and satisfying snack for all ages. There are currently 6 yummy flavors of Chia Squeeze— Strawberry Banana, Green Magic, Apple Cinnamon, Blackberry Bliss, Mango Coconut and Wild Raspberry.
It was really hard for my to pick a favorite because I enjoyed them all, but if I had to, my top choice would be Green Magic— a tasty combination of bananas and mangoes with kale, spirulina & chlorella. YUM!
You can find Mamma Chia Vitality Beverages and Chia Squeeze at retailers including Whole Foods, Target and Costco. To find a store near you visit www.mammachia.com/find-us, and be sure to follow the brand on Facebook and Twitter.