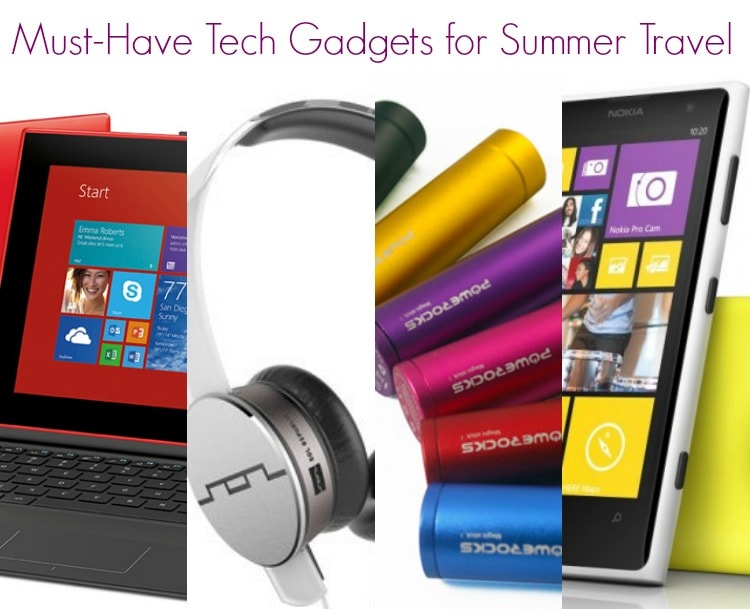 Summer is finally here! Hopefully that means you and your family have at least one exciting vacation on the horizon— whether it's across the state to visit loved ones, or half-way around the world to explore a new destination.
We all know that technology is essential for traveling, especially with children … Seriously, can you remember traveling with kids (or as a kid yourself) before the days of tablets and smartphones!? The latest tech accessories are designed to capture all of your family's greatest memories while keeping you entertained and connected with family and friends back home.
From long flight to road trips, here are a few of my picks of must-have tech gadgets for summer travel.
Nokia Lumia 2520 Tablet & Keyboard – I know, there are a million tablets on the market – so what makes the Nokia Lumia 2520 Tablet so special? For starters, it's installed with Windows 8.1, making it a dream to work with if you're one of over 100 million PC users. The Lumia 2520 syncs up with your existing Microsoft Office suite to make work & travel seamless. And if you're all about fun, the vivid 10.1-inch HD screen is perfect for streaming videos, playing games and using Skype. The optional keyboard (which, in my opinion, is a must) turns this tablet into the perfect traveling companion and, along with 4G LTE connectivity from either AT&T or Verizon, can replace a bulky laptop for the duration of your trip.
External Battery Chargers – If you have kids that are always on their devices, or, if you're like me, are constantly publishing photos and updates to social media, you know that smartphone batteries don't last more than a few hours. Don't be left to look for outlets or charging stations when you need more juice-- pack along a couple external battery chargers to keep you going from day to night. The Motorola Powerpack Slim 4000 is recommended for its sleek design and ability to charge multiple phones at once. And the Powerocks Magicstick comes in six colors if you want to show off a little.
SOL Republic Headphones –  When On-Ear headphones came back in style, I first didn't get the appeal. Then I got my own pair of SOL Republic Tracks HD and my life was changed for the better. Featuring SonicSoft speak pads and a V10 HD Sound Engine, these headphone are comfortable, cute and deliver amazing sound quality. Noisy flights are almost nonexistent when you put on these babies— the only downside? Everyone in your family will want their own pair! If you're absolutely against  the bulk of on-ear headphones, SOL Republic has a great pair of ear buds called Relays that stay comfortable for hours without falling out.
Nokia Lumia Smartphone – If you're on either AT&T or Verizon, Nokia has a smartphone that will make you want to ditch your iPhone (or any other model) ASAP. AT&T users have access to the 41-megapixel Nokia Lumia 1020— which can, literally, replace a hefty DSLR camera.  And Verizon users can upgrade to the new Nokia Lumia Icon— the ultimate device for capturing crisp, professional audio and video. Both of these smartphones feature elements that you won't find in an iPhone or any other phone on the market. Because they're enabled with Microsoft Windows 8.1, they sync easily with your home PC, laptop or, the  ideal pairing, with the above Nokia Lumia 2520 tablet.
What are your must-have tech gadgets for summer travel?