Outback Steakhouse has been one of America's favorite casual dining restaurants since 1988, when the first location opened in Tampa, Florida. As a native Floridian, I've practically grown up with the concept, dining at Outback more times than I'll ever be able to count. When I was in high school, most of my friends had part time jobs there, so it was very common to meet at Outback and get to-go food after work.
It's been fun seeing the progression of the brand over the years— from the addition of curbside take-away in 2007, to Outback launching their Facebook page, which now has more than 3 million fans, in 2009— Outback is always enhancing the dining experience for their guests.
Outback Steakhouse's newest addition is the launch of a new mobile app, which gives customers even more control over their dining experience.
Here are just a few features of the new Outback Steakhouse App with Mobile Pay:
Pay when you're ready. You no longer have to wait for the bill – guests can choose to pay right from their phone! If guests opt to use this exciting new feature, they can split the check, add a tip and securely store payment details for future visits.
Get steak faster. Get on the wait list before you even arrive and get notified when your table is ready - right through the app.
Pick Your Steak! Browse the menu of your nearest Outback location to help narrow down your steak cravings.
Save Money. Receive exclusive coupons and offers, store for future visits in the app's Offer Pouch and apply them directly to the bill, so you don't have to print coupons at home.  In addition to storing customers' coupons and rewards, the app's Offer Pouch lets guests view all of the restaurant's latest specials.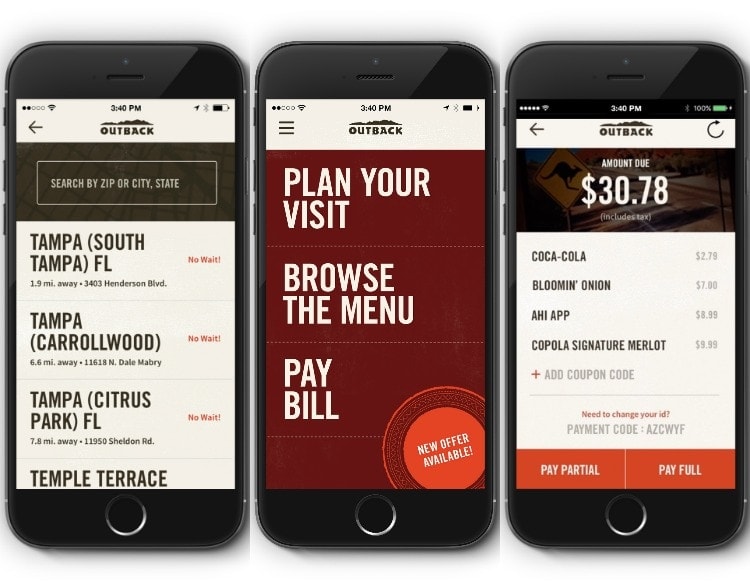 Even with all these awesome changes, one thing has remained the same: Outback is a go-to for delicious appetizers and mouthwatering steak!
I know I'll be using the Outback mobile app the next time we dine at Outback Steakhouse, which I promise will be soon. I think the the mobile pay feature is fantastic, especially when dining out with kids!
The Outback app is free for download at www.outback.com/app.
This post is brought to you by Outback Steakhouse. All opinions are my own.