This is a sponsored post written by me on behalf of PERK. All opinions are 100% mine.
PERK is a company dedicated to making your car smell fresh and clean without being a total eyesore. Their low profile products are perfect for combating the odors of everyday life without being obvious about it. Their designs are discreet and unobtrusive, which I love.
About PERK
PERK is a different way to keep your car smelling fresh. Unlike other products which are big and clunky, or hang in conspicuous parts or your care, PERK products are designed to do their job without being in your face. That's nice, because I absolutely hate a product that screams, "LOOK AT ME!"
The PERK Vent Wrap
I recently received a PERK Vent Wrap, and I have to say, I was just as impressed by it as their other products that I've used.
Design
First and foremost, I want to talk about the design of the PERK vent wrap. It is absolutely wonderful. This vent mounted air freshener has a design so discreet, it's almost invisible. When I connected it to my vent, I almost couldn't see it— It has the lowest profile of any vent mounted freshener I've ever used.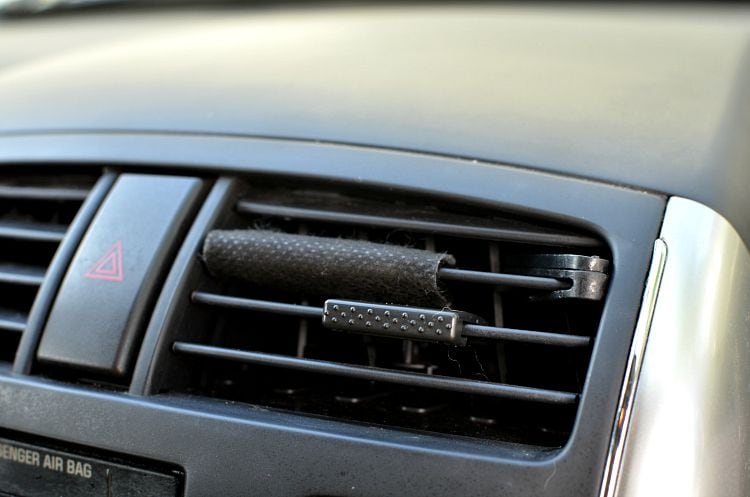 Staying Power
Another point that I love is the StediScent technology used by PERK. All of their products use this technology to ensure that your car is a fresh on the day you change out your vent wrap as it was on the day you installed it. StediScent delivers consistent, high-quality fragrance that doesn't degrade or fade over time. Each vent wrap lasts 15 days, so when you buy a 4-pack, you get 60 days of fragrance that is almost impossible to detect. Yay!
The Perks of PERK
I just want to take a moment and give you a run down of all the things that make the PERK vent wrap so great. There's more to it than just uniform scent and a low profile - although those are two of my favorite parts.
Low Profile - Wonderful scents from a device that is significantly more discreet than vent sticks, clips, oil diffusers and other in-your-face products
Easy to Use - Just wrap it around your vent blade
Always On - The vent wrap works whether your vent is on or off
You Can USE Your Vent - Doesn't impede air flow or vent positioning like other products
No Mess - It won't spill or leak
StediScent Technology - Your car smells great from day 1 to day 15
Easy to Find - You can find PERK products at Walmart, Target, Advance Auto Parts, AutoZone, Meijer, Kroger, Pep Boys, Publix, CVS, and pretty much anywhere else products like it are sold.
I Love PERK
I am a huge fan of PERK products. I've never been disappointed with any of them. I have to say that so far, the vent wrap is my favorite. Like all PERK products, it's easy to install, almost impossible to see and smells great. That's a fantastic combo.