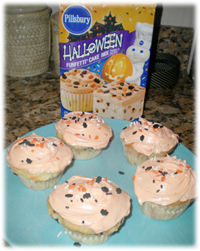 I really try to limit the amount of cakes and cupcakes we bake in our household. The truth is if I bake it, I will eat it and that is not a good thing for my waistline.
Holidays are my weakness though and I gave in to my daughter wanting to bake Halloween Cupcakes.
Pillsbury Halloween Funfetti Cake Mix and Funfetti Frosting totally caught our eyes, who can resist Holiday themed goodies?
We baked the cupcakes together using the box of cake mix and special frosting. The frosting was vanilla flavored, but orange in color which we especially liked. There were also plenty of Halloween shaped sprinkles for the top of our cupcakes.
I don't know what it was about this particular box of cake mix, but these were the best cupcakes I have ever made from a box. I was so surprised at how moist they were.The bad news is that these cupcakes were so good, we ate them all within 2 days!
We end up getting 16 cupcakes out of the box mix and frosting, I think we made them a little larger than directed.
Halloween Funfetti Cake mix and frosting is available now for Halloween. If you happen to miss out on finding these in time, Pillsbury has a Holiday Cake mix and frosting coming out in time for Christmas.
[rating:5/5]