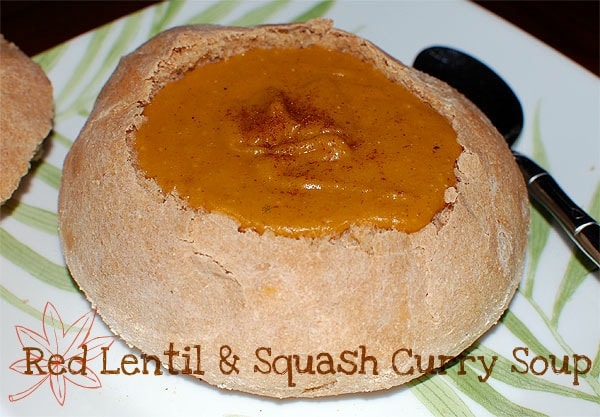 I have been on a fresh vegetable kick lately since I discovered I could buy organic produce at the farmers market for less than conventional at our local grocery store. I've made it my mission to make a trip downtown (every Saturday) to pick up a basket of fruit and vegetables and plan a week's worth of meals around them. So far, it has been pretty successful and I have only heard a few complaints, mostly from my daughter, about the lack of meat in our diet.
This week's haul included a little butternut squash and some red lentils that I picked up from Whole Foods. I had never cooked red lentils (always green), but they looked so pretty and I figured it would be good to try something new. A little Googling brought me to a recipe from Martha Stewart using both of these ingredients and it looked pretty painless to make: Red Lentil and Squash Curry Soup.
I adapted the recipe slightly and the soup was delicious! A perfect warm-you-up meal for fall and winter.
And yes, I did make a homemade bread bowl that I will be sharing later.
Red Lentil & Butternut Squash Curry Soup
Ingredients

2 teaspoons coarse salt
2 tablespoons Curry Powder
12 ounces red lentils
2 tablespoons unsalted butter
1 onion, cut into ½-inch dice
4 cloves garlic, minced
1 butternut squash (about 1 ½ pounds), peeled, seeded, and cut in ½-inch pieces
Two 14 ½-ounce cans low-sodium canned, or homemade, chicken stock, skimmed of fat
2 cups water

Directions

Combine salt and curry powder.
Heat butter in a large saucepan over medium heat. Add curry mixture; stir until fragrant, about 1 minute.
Add onion and garlic; cook until translucent, about 4 minutes.
Add squash; cook until just beginning to soften, about 5 minutes.
Add stock and water. Bring to a boil; reduce to a simmer. Cook until squash is tender, about 10 minutes.
Stir in lentils; cook until soft, 10 to 15 minutes.
For a smoother consistency, puree in Vita Mix or Blender, add more stock if mixture becomes to thick.
Season as desired. I topped my soup with cinnamon!