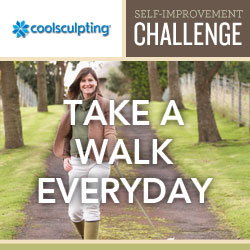 Did you know that September is Self-Improvement Month? 
While the month is almost over, it's never to late to start improving your health and fitness.
Since I've turned 30, I have felt kind of  just "blah". It's been a huge turning point in my life, and for the first time, I really feel like an adult -- no fun, right? I've been working on turning the stigma with this milestone around, focusing more on my health and fitness, with a goal to look better, now, than I did in my twenties. Some of the recent changes that I have made include eating less processed foods, with a focus on fresh and local, and running/walking 3 miles per day. I've purchased a Fitbit to track my daily steps, and slowly, I'm beginning to see progress.
I expect to reach a point in my self-improvement journey where I will get "stuck". I know my body pretty well, and there's always a plateau -- where the weight doesn't come off as easily, yet I know something more needs to be done.
I'm not against plastic surgery for a little nip/tuck, but I'd rather not go under if I can help it.

CoolSculpting, however, is a procedure that I would definitely consider. CoolSculpting is an FDA-cleared, non-invasive procedure that gently and effectively reduces fat in problem areas of the body. There are no needles, surgery or down-time, and results can be seen in as little as four weeks! Typically, patients see a 20% reduction of fat in the treated area after CoolSculpting.
I'v struggled with extra fat in my tummy for years, and I really think it might take a procedure like CoolSculpting to make it go away. Since I'm on a path to self-improvement, I'm going to take it as far as I can go, before reevaluating my options.
CoolSculpting Self-Improvement Instant-Win Challenge
In honor of Self-Improvement Month, CoolSculpting is hosting a Self-Improvement Instant-Win Challenge asking participants to make one small pledge on how they will improve their health and fitness routine this month for a chance to win one of 10 instant win $50 Amazon e-cards or the grand prize of a $500 American Express Gift Card. Entries are being accepted until October 8, 2012 at http://on.fb.me/UfHbaD.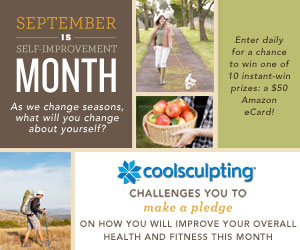 For more information, follow CoolSculpting on Facebook, Twitter, or find a CoolSculpting provider in your area.
What are you doing to improve yourself this month? 
This is a sponsored post for CoolSculpting by ZELTIQ. All opinions are my own.