It's hard to believe that I have been using the Shaklee 180 Turnaround kit for three months now -- that's halfway though the entire Shaklee 180 program!
This past month has had its ups and downs. Unfortunately my weight has increased, but not by much (though even a pound or two is too much). For whatever reason my body just LOVES this extra weight, and it has been a serious struggle to get it off. Unlike last month, I really amped up my workout routine and even completed by first 5K!!!
Here's me after the Color Me Rad 5K in Tampa -- it was AWESOME: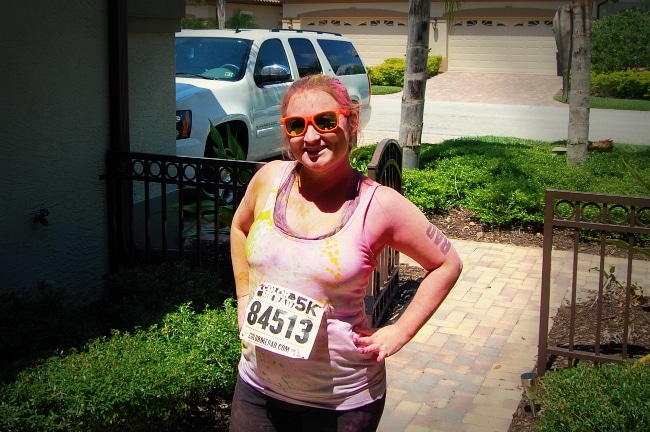 On top of that I've been doing Jillian Michael's 30 day Shred and I signed up for Zumba classes three days a week. You would think with all that working out I would drop a couple of pounds.
I'm still drinking/eating my Shaklee Smoothies and Meal Bars every day, as well as taking the Metabolic Boost and drinking the tea.  I've actually found that I am craving the meals bars now versus the shakes, which is interesting because I hardly ever ate them before.
I'm too depressed to post my measurements and weight, especially after last month's success. June is going to be really hard for me because I'm going on two trips. The first is to New Orleans with my family and the second is week long cruise with just my daughter. There will be plenty of temptations -- the only way I can manage is with additional exercise. I plan on bringing the Shaklee bars, snacks and teas with me on each trip.
I feel like this next month is going to be the turning point. I'm determined to lose weight because my sister is getting married in July ... and I have a dress to fit into!
Please tell me I can do this!!
This is a sponsored post as part of the Shaklee Corporation blogger program. I have received free products, online support and incentives for participating.People following the weight-loss portion of the Shaklee 180™ Program can expect to lose 1-2 pounds per week. All opinions are my own.