This post was sponsored by Johnson & Johnson and I received complimentary products to facilitate my post. I am disclosing this in accordance with the Federal Trade Commissions (FTC) guidelines concerning the use of endorsements and testimonials in advertising. All thoughts and opinions are my own.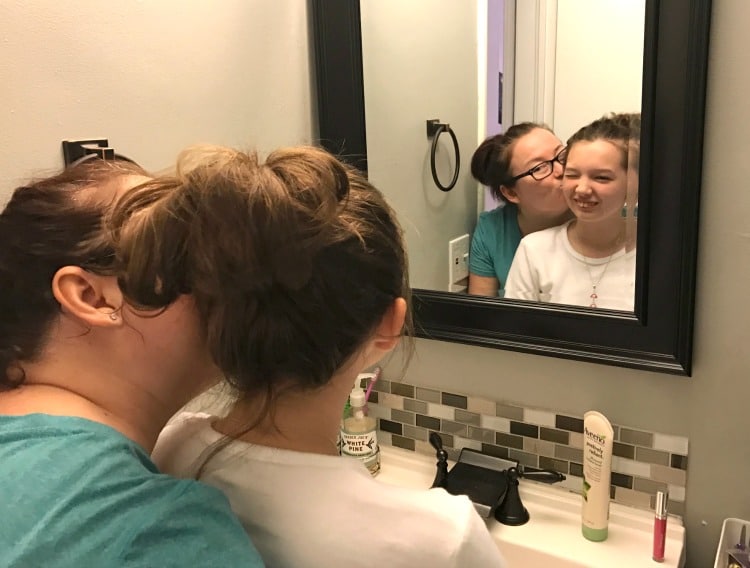 As soon as my daughter turned twelve, her skin began to change. Like almost overnight. While she still has an adorable baby face, spots and acne are now popping up on a regular basis around her forehead. Right when I noticed this, I ran out and bought her a variety of Clean & Clear products, the same brand I used as a teen, to get her on a regular skincare routine.
I remember when I first had to deal with acne and it was not a fun time. My mom wasn't as aware of my needs, and for a long time I tried to hide my blemishes with makeup that I borrowed from her vanity rather than to ask for products to help clear my skin. That's one of the reasons why I have been on top of all the changes she's been going through— I don't ever want her to be embarrassed or feel like she is going through this alone.
Thankfully, she's been super receptive, and just like her mom, loves beauty products and makeup.
To this new adventure in skincare even more enjoyable, I recently took my daughter with me to Target for a mini shopping spree of must-have products from some of my favorite beauty brands, including Neutrogena, Aveeno and Clean & Clear. These are all brands that I have been using for years— decades even— and they've never let me down. I thought this would be a fun mother-daughter bonding time to show her the importance of proper skincare, and pick up a few new products for myself ... win/win!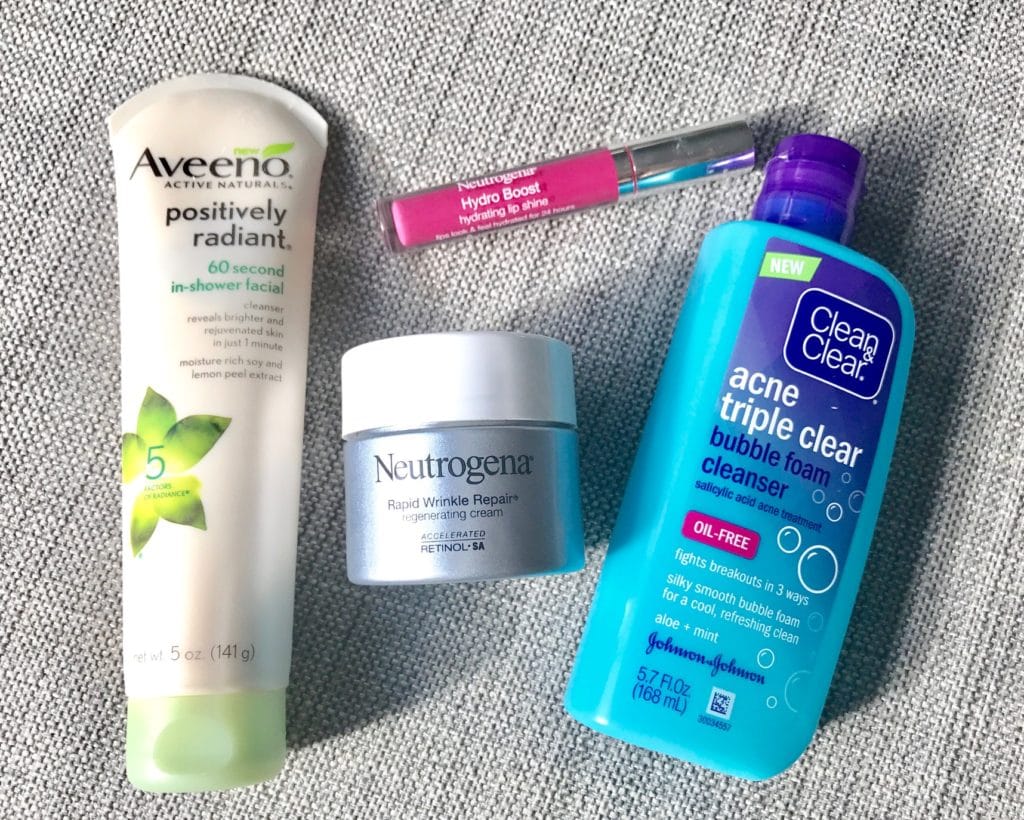 Here's a look at our Target haul:
Clean & Clear Triple Clear Bubble Foam Cleanser  — This daily foam facial cleanser fights pimples in three different ways: it removes pore-clogging oil, treats breakouts while soothing skin with its aloe and mint formula, and helps prevent future breakouts. A unique, upside down squeeze foamer bottle makes Acne Triple Clear Bubble Foam Cleanser easy and fun to use. This product is for my daughter to use in the morning or evening to clean her face.
Aveeno Positively Radiant 60 Second In-Shower Facial Cleanser — This oil-free facial treatment works with the steam of the shower to deeply but gently exfoliate all traces of dirt, oil, and dead skin. Non-comedogenic, hypoallergenic, oil free and dermatologist tested. I will be using this once or twice a week in the shower for healthy, glowing skin.
Neutrogena Rapid Wrinkle Regenerating Cream — This anti-aging face cream moisturizes deeply, delivering results in just one week. Retinol SA works to continuously renew the look of skin by helping smooth wrinkles and diminish the look of age spots. The moisturizing face cream also contains Glucose Complex, a Retinol SA booster that accelerates skin's natural surface activity for rapid improvement in the appearance of fine lines and wrinkles. And thanks to hyaluronic acid, this anti-aging cream also helps hydrate and plump complexion and replenish and rejuvenate the look of dull skin. This is 100% for me— Sadly, I'm already seeing wrinkles at 34 🙁
Neutrogena Hydro Boost Lip Shine in Vibrant Raspberry — This versatile, non-sticky lip shine combines the vibrant color of a lipstick with the shine of a lip gloss and the conditioning effects of a lip balm. Eight shades are available. My daughter instantly claimed this as hers!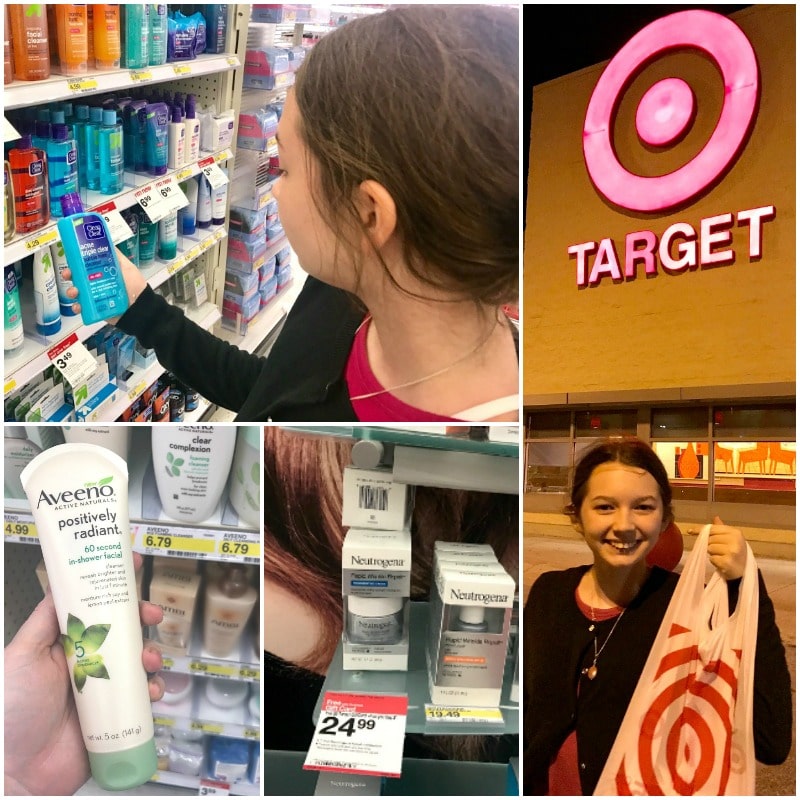 Skincare Routine for Tweens
Once home, I went over the proper skincare routine for a tween. The basics steps for her are to wash her face with Clean & Clear Triple Clear Bubble Foam Cleanser every morning before school and every evening before bed. If she notices additional breakouts she knows she can come to me and we will purchase additional items from the Clean & Clear line at Target.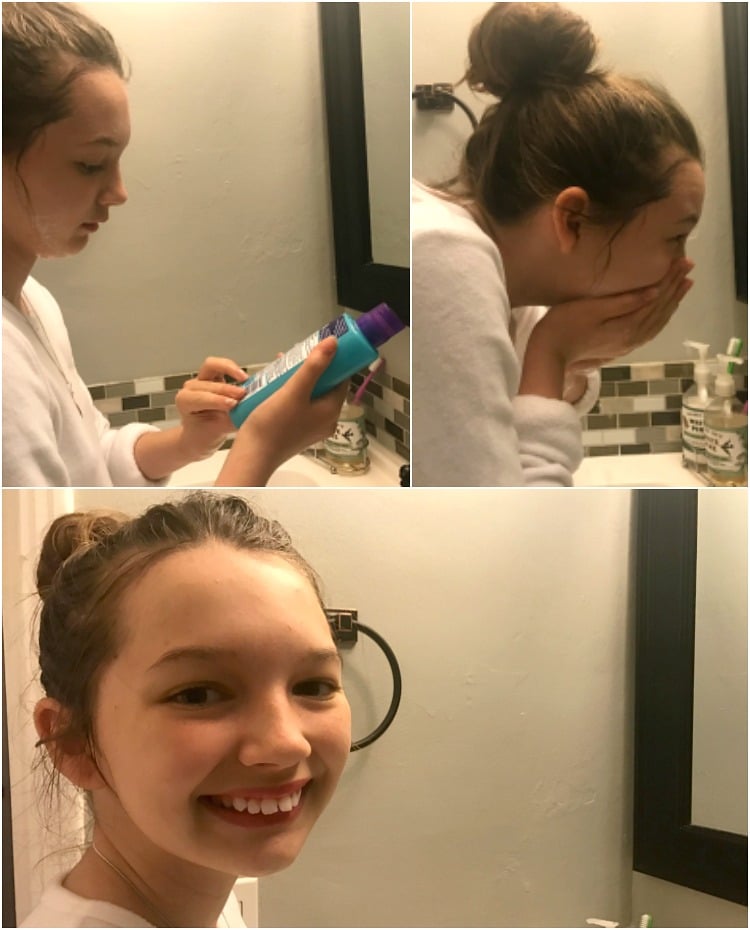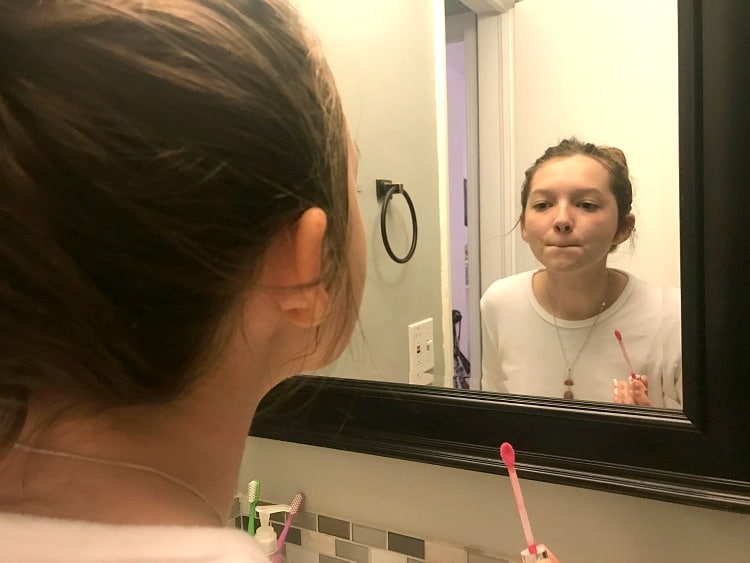 Right now Target has a great in-store promotion on skincare essentials from Neutrogena, Aveeno and Clean & Clear— Meaning we can not only look great, but save money, too! Be sure to download Target's Cartwheel app to take advantage of the Aveeno and Clean & Clear discounts. These offers are good through the end of March.
Neutrogena – Buy 3, get $5 Target gift card
Aveeno – 5% off on Cartwheel
Clean & Clear – 5% off on Cartwheel
This is a sponsored post written by me on behalf of Johnson & Johnson.