It's been a hot summer. With that has come multiple trips to Starbucks to cool down with my favorite iced tea-- Tazo Shaken Iced Passion Tea Lemonade. At around $3 each, they're not the most expensive on Starbucks menu, but I knew I could make them cheaper (and healthier!) at home. Luckily, Tazo Tea is sold at most grocery stores and Passion was not too hard to find. I bought a box of 20 tea bags at Super Target on sale for $2.47. That's less than one Passion Tea at Starbucks!
Amazon also sells Tazo Passion Tea if you can't find it in stores.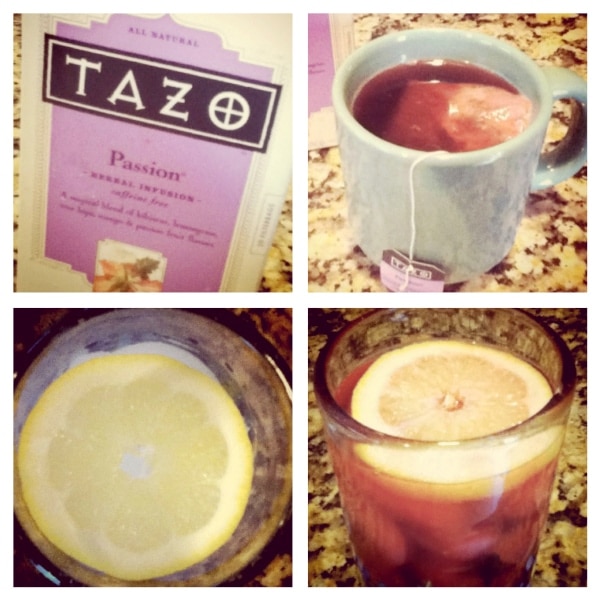 The way I make my Tazo Passion Tea is not a dupe for Starbucks. To do that you need to make a simple syrup, which is just melted sugar and water. I make my passion iced tea with no sugar-- saving a bunch of calories.
I usually make one glass of passion iced tea at a time. Here's how I do it:
1. Microwave 1 Tazo Passion tea bag in a mug of water for 2 minutes...let cool.

2. Fill a LARGE glass with ice to the top.

3. Squeeze fresh lemon (or concentrate) on ice. This is to taste. You could also use lemonade, but I choose to stay away from calories and sugar with this method.

4. Place a slice of fresh lemon on top of ice.

5. Pour passion tea (which is now semi-cooled) over ice.

6. Stir and enjoy!
Since the tea is not totally cooled, it will melt some of the ice and dilute some of the tea flavor. This is OK because Tazo Passion Tea is very strong. When mixed with lemon, it is the perfect combination!
It's amazing how something this delicious can be made without added sugar. AND since this is herbal tea, you can drink as much as you want without worrying about caffeine. It's the perfect summer indulgence!