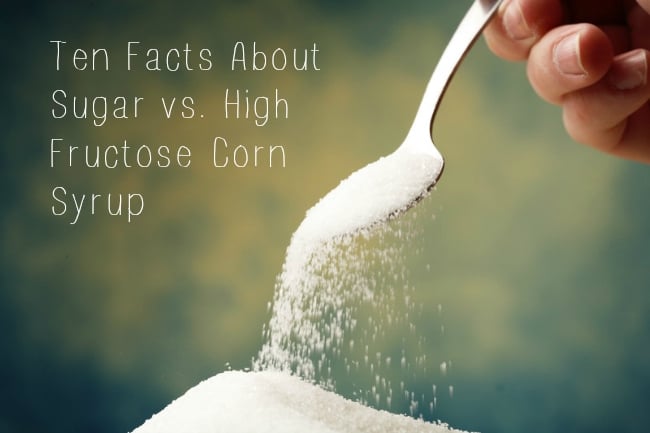 Recently vilified in the media, high-fructose corn syrup (HFCS) is a substance that some health experts have suggested is a bad option for sweetening foods. The best way to determine whether HFCS is an appropriate part of your diet is to understand everything possible about this sugar substitute. These ten facts will help you decide whether choosing foods that contain HFCS is a good idea for you and your family.
1. Sugar and high-fructose corn syrup come from different foods: Sugar comes from sugarcane or sugar beets while HFCS comes from corn.
2. High-fructose corn syrup is a liquid blend of sweetener: HFCS has a different chemical makeup from white sugar and is characterized as a liquid mixture of fructose and glucose. The percentage of fructose within HFCS does vary from just above 42 percent to almost 55 percent, depending upon the food in which it is used.
3. Food industries use high-fructose corn syrup due to cost: The reason why food manufacturers have switched to HFCS over the years is because it's must cheaper to manufacture than regular sugar. Sugar refineries often have a higher cost of production.
4. Sugar and high-fructose corn syrup both have calories: The rise in obesity has been blamed upon HFCS by some nutrition experts, and the media jumped upon this issue once the correlation was revealed. Although many health experts consider sugar a healthier substance, care should always be taken with all caloric intake.
5. High-fructose corn syrup is over 50 years old: The discovery of how to make high-fructose corn syrup was made in 1957; however, it did not start appearing in foods for almost two decades when scientists refined the process so that it was appropriate for use in the manufacture of food.
6. Americans eat more high-fructose corn syrup than sugar: Statistics suggest that Americans eat around 39 pounds of sugar a year yet HFCS consumption averages around 45 pounds a year. Finding foods that use regular sugar instead of HFCS isn't hard, however.
7. Not all information sources about high-fructose corn syrup are neutral: Due to the backlash regarding HFCS in the media, the corn industry has created an advertising campaign to fight against negative perceptions about the product. Always confirm the source of information about this sweetener (whether it is positive or negative).
8. Processed foods contain many different sweeteners: HFCS is not the only sugar alternative in use today and food manufacturers may use a number of methods to sweeten foods. If a list of ingredients doesn't include HFCS, look for artificial sweeteners like sorbitol, sucralose, and aspartame.
9. The FDA does not distinguish sugars on labels: Not only are there many different types of sugar used by food makers today, but the FDA doesn't actually distinguish between artificial and real sugar for the total sugar contained in a serving of food. The only way to determine whether HFCS was used in the item is through an examination of the ingredient list.
10. Research cannot confirm danger: In use since the mid-1970s, the backlash against HFCS is recent, yet there are no definitive studies that suggest eating this substance is any more harmful than regular sugar. Until definitive proof is found, the best advice anyone could use would be to use HFCS in moderation.
Eating too much of anything tends to be a bad idea, and HFCS is certainly an ingredient that should be ingested with care as a limited part of a calorie-appropriate diet.