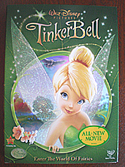 We have been waiting for months now for the release of the new Disney movie, Tinker Bell.
Needless to say, we rushed out on Tuesday morning to get our copy and have been watching it every day since. Tinker Bell is my daughter's new favorite movie; if you have a 4 year old daughter you will completely understand.
Tinker Bell lives in the world of Pixie Hollow where she lives with her friends Rosetta, Silvermist, Fawn and Iridessa. TinkerBell's special talent is a tinker fairy (meaning she fixes things), but she rather be one of the other fairies who get to go to the mainland.
When Tinkerbell tries to change herself it only leads to disaster. Her fairy friends help her learn the key to solving her problems lies in her unique tinker abilities, and discovers that when shes true to herself, magical things can happen.
Tinker Bell's animation is absolutely beautiful and I am somewhat sad to not see it on the big screen. There are 3 more Tinker Bell Movies lines up after this one so be sure to stay tuned!
Pre-Order 3-Pack Peter Pan and Tinker Bell DVD Gift Set
[rating:5/5]