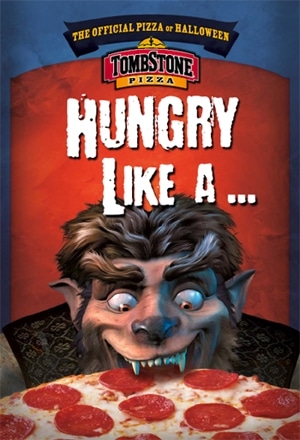 Did you know there is an "Official Pizza of Halloween? Can you guess what it is?
It's Tombstone pizza, of course!
For my family, Halloween is a day of treats. My daughter is still young enough for trick-or-treating, so she will get dressed up in her costume and we will go door-to-door in our neighborhood to fill up her treat bag with yummy sweets. But the Halloween treats don't end there. When we get home, I will pop a Tombstone pizza in the oven for a mini pizza party before we watch a kid-friendly Halloween movie, and then it's off to bed.
My choice of Tombstone pizza is two-fold.
#1: My family loves Tombstone pizza, and it really is a treat for them.
#2: After all that walking around the neighborhood, there is no way I'm cooking-- Tombstone pizza is quick and inexpensive!
This Halloween, treat your family to Tombstone pizza, the "Official Pizza of Halloween. Whether you're hosting a party or simply satisfying hungry ghosts and goblins before they head out for a night of fun, Tombstone pizza is a quick and easy way to serve up a tasty treat your family and friends will love.
Tombstone Pizza Halloween Party Kit
Want to ensure your party is the scariest on the block? After "liking" the Tombstone Facebook page, visit the Tombstone pizza Halloween Party Kit app. With the Tombstone Pizza Party Kit, you have the tools to spookify your Halloween party and scare up lots of Halloween fun for your family and friends. Use the Party Kit to download frightfully delicious recipes to accompany your Tombstone pizza, as well as Halloween decorations, eerie music, ghoulish games and more!
Have you ever wondered how Tombstone pizza got its name?
Tombstone pizza was brought to life in 1962, at a bar called the Tombstone Tap that was located across from a graveyard in Medford, WI.
It all started when Tombstone Tap owner, Joe Simek, broke his leg dancing the "Peppermint Twist." While recuperating, Joe experimented with various pizza recipes in the kitchen in the back of the Tombstone Tap. The tasty pizzas he made were an instant success, creating the Tombstone pizza brand.
50 years later, Tombstone pizza offers eight different crust varieties (including Original, Brick Oven Style and Garlic Bread) and a multitude of tasty topping choices, including new Tombstone Double Top. With so many options to choose from, you're sure to please all your favorite little ghosts and goblins this Halloween season!
I wrote this review while participating in a campaign by Mom Central Consulting on behalf of Tombstone Pizza and received coupons and a promotional item to thank me for taking the time to participate.