This post is brought to you by Top Chef University. All opinions are my own.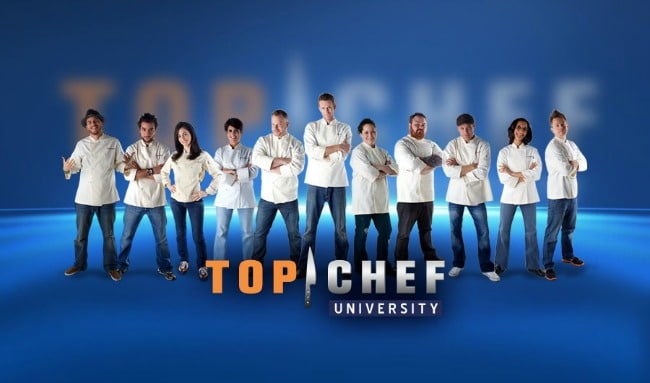 Are you a fan of Top Chef, the reality cooking competition show on Bravo?  I am! I have been watching from the very beginning and I'm still watching — I love that this season is back in NOLA!  Top Chef appeals to me because I love food. I'm always inspired to try new cuisines and trends after I watch the show. I consider myself to be an OK cook, but I've always wanted to learn more... there was even a time that I considered going to culinary school (life, of course, got in the way).
Well, now there's a new app that combines my love of food and cooking, with by some of my favorite Top Chef chef'testants. The app is called Top Chef University To-Go and it can be downloaded for free on iPhone starting today.
Top Chef University To-Go App Features
Cook and learn from the top 11 chef'testants at Top Chef University
Access over 200 lessons organized into 20 courses
Watch lesson videos in high definition
Top Chef University To-Go is for anyone who wants to learn to cook like a Top Chef. I thought I knew some basic cooking skills, but after reviewing the app, I found that my technique is way off. I love that professional chefs are teaching me the basics, from an introduction on knives to how to stock my pantry. Then when I've mastered those techniques, I can go on to more advanced lessons at my own pace.
As soon as you download the app you get access all of the lesson videos which are broken into techniques and courses, including: eggs, dairy, poultry, pork, beef, seafood, pasta, bread and desserts. The best part? ... The app is completely FREE — that's over 200 lessons totaling more than 60 hours of instruction!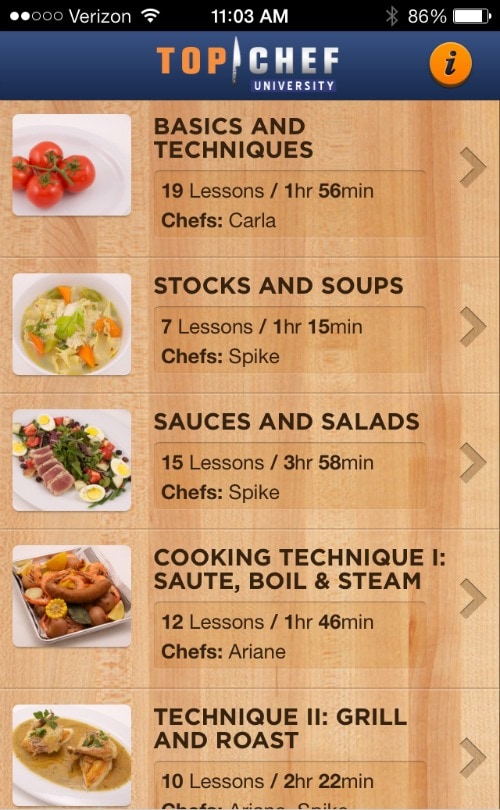 Here's a preview of a cooking lesson with Spike on how to make a Classic Cobb Salad.
I'm starting from the beginning with this app because I want to know how to do things the correctly. One small gem that I picked up right away was how assemble a Mire Poix for soups and stocks. It's a basic tutorial, but it's something that I haven't been doing and I know it's going to add a ton of flavor to my recipes. I also enjoyed an introduction to spices with Carla, which covers 12 essential spices that every kitchen should have. Carla not only tells you what spices you need, but how toast and grind them. The Top Chef University app is FAR more than how to cook xyz ... it's truly what you would learn if you attended a cooking school, starting from the basics and going into advanced techniques.
There's also recipes using the techniques that you learn from the lessons. I'm not that far into the program, but I can't wait to try some of the dishes in the Global Cuisine series, which features Chinese, Indian, Spanish, Mexican, Thai and German cuisines. YUM!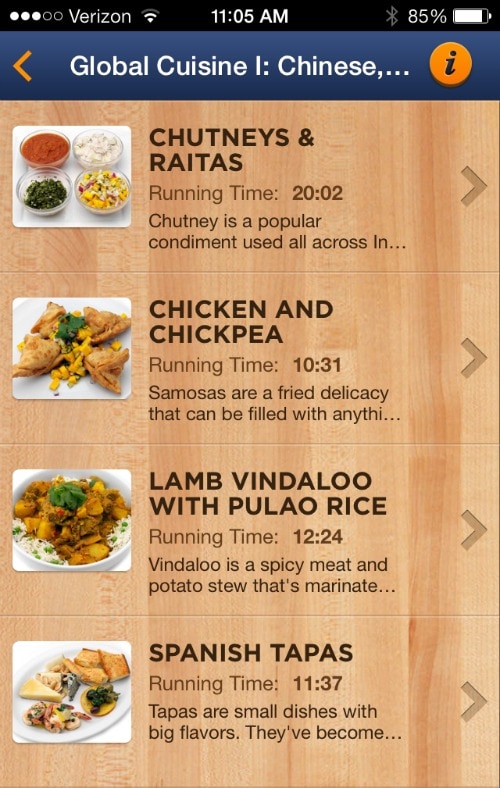 The Top Chef University To-Go website has a great overview of the app with additional videos and features. If you're ready to get started with the Top Chef University app, it can be downloaded for free on iTunes. You can also keep up-to-date with Top Chef University on Twitter and Facebook.
Are you interested in trying the Top Chef University To-G0 App?