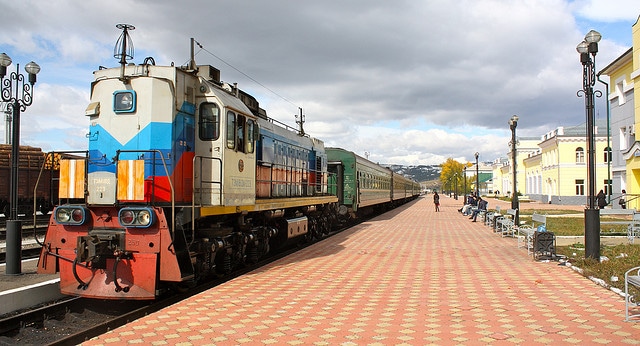 The Trans-Siberian train line is one that has turned up in many films, from James Bond to some of the more classic films that Hollywood has to offer. Yet, still only a small percentage of the world's population have actually been fortunate enough to experience a journey aboard one of the trains themselves.
First Impressions Last
A popular first stop along the Trans-Siberian railway is Moscow. Moscow is usually the first taste of the Russian experience for most travelers who enter the country. People are often very shocked when they arrive and get to mingle with friendly and helpful Russians, an experience which is usually very different than people expect. The food is usually another source of surprise as it is varied and delicious and flies in the face of many of the stereotypes that are commonly associated with Russian food.
Once you get out of the airport, you may be met by friendly local guides who will whisk you off to the train station in record time. This is where the journey really begins.  As you sit at the train station, looking out at the train tracks which seem to go on for as far as the eye can. The journey becomes a metaphor: the figurative endless journey that seems to go on indefinitely with everything still a possibility.
Once on board, you will be shown to your room and, depending on the cabin that you choose, you may be was surprised to have a roommate. Many of the people you will encounter are veterans and may even prove to be an expert guide and confidante.
A Wonderful Experience
Vladimir is usually the first destination where you the train will be boarded by an assortment of characters, each trying to flog his own wares. You may wish to partake in this ad-hoc market and purchase yourself a bottle of fine Russian champagne, priced ridiculously low at less than $10. Once that goes down, you are virtually guaranteed a good night's sleep in a comfortable bed that is unexpectedly soft.
Breakfast is always a buffet, at which you can choose from everything from the safety first approach to the exotic and bewildering. Before long you will arrive at your next destination for the day: Kirov on the Vyatka River. The train stops here for the day, and you can take in the city with the help of a local guide who are always very knowledgeable and speak excellent English. The region has a proud history and is sustained in large part by the fish in the river and the tourists from the train. Your guide will likely shared with you some of the local vodka blend over lunch, at which you should definitely ask for a taste of Russian family caviar – a real treat indeed.
Try to experience as many places as you before business draws you back to more familiar environs. However the train is always there so as soon as many people get chance, they hop back on and start again. Anybody who is in two minds about making the journey should just get on with it and book the ticket today. There is a degree of flexibility which allows for you to plan approximately when and where you will go, just do it and don't look back. The tracks, like life itself, continue to go on and on and there is no point going backwards once motion has got you in its clutches.
There are plenty of travel providers that can book you exciting tours in Moscow and Siberia. You can read about the transsiberiantravelcompany.com and other travel providers.