This post is brought to you by Voortman. All opinions are my own.
I have been enjoying Voortman Wafer Cookies for as long as I can remember. When I was a little girl, I would pull apart each layer and eat them a bit by bit. Now, I like my wafers with a cup of coffee, or whenever I crave a sweet treat. There are eight yummy flavors to choose from, so there's always a Voortman Wafer Cookie to suit my mood-- though traditionally vanilla is my favorite!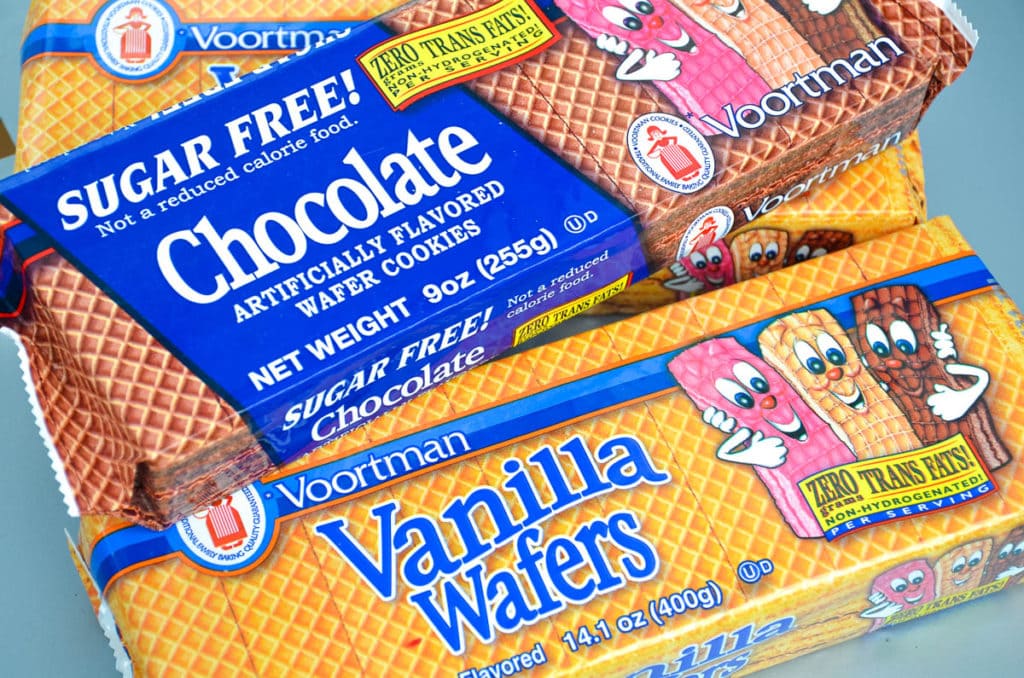 Right now Voortman has a super fun contest that allows your creativity to run wild with Voortman Wafer Cookies! The best part is that you could win $2500 for your submission of either a recipe or structure.
Inspired by Voortman Wafer Contest
The Inspired by Voortman Wafer Contest is all about getting creative with the delicious taste and texture of delicious Voortman Wafer Cookies. Here are the deets for submission:
Contest Rules
Contest begins May 2, 2016 and runs through June 13, 2016 at 12pm EST.
Make or bake a delicious recipe or creative structure with Voortman wafers then submit images online at InspiredbyVoortman.com
Show off your work of art by sharing it with friends and family on Facebook, Twitter and Pinterest!
One entry allowed per day for a chance to win $2,500!
Open to all residents of the US (excludes AZ, CO, MD, NE,ND, and PR) and Canada (excludes Quebec)
See official rules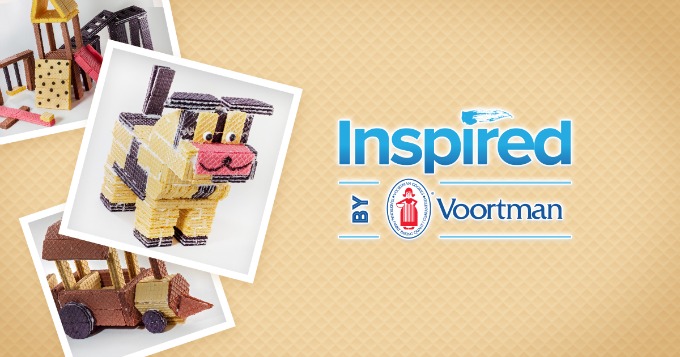 Wafer Creation Categories
Wafer Structure - Object or piece of original artwork (not violating any copyright laws) made of wafers. Wafers must be visible in the creation and ideally make up the majority of the creation.
Wafer Recipe - Wafer-based dish or treat intended to be eaten. Wafers must be primary ingredient and visible in the creation. No need to include ingredients or steps.
Voortman Wafer Cookie Flavors: Vanilla, Strawberry, Chocolate, Lemon, Peanut Butter, Coconut, Mocha, Cookies 'n Creme
Voortman Retailers: Walmart, Target, Publix, Sedano's Supermarket, Kmart, Winn-Dixie
Suggested Material for Voortman Wafer Creations
In addition to any flavor of Voortman Wafer Cookies, you're encouraged to use any of these additional edibles:
Voortman Wafer cookies
Icing
Peanut Butter
Whipped cream
Gum paste
Icing sugar
Candies
Chocolate chips
Marshmallows
Cereal
Food coloring
Fruit
Sauces
Sprinkles
Nuts
Cake batter
Brownie mix
Toothpicks
Tips and Guidelines
Wafer can be easily split apart or cut into shapes
Glue your wafers together with sticky substances like icing
Test small samples when building structures before going all in
When building multiple pieces let them set before attempting to attach them
Think about taste, appeal, and presentation when making Voortman Wafer recipes
Photograph your creation as soon as possible for the best photo
Whew. That's a lot of bullet points, but they're important. Voortman wants to see some amazing creations, and they're giving every contestant the chance to make the best possible structure or recipe by giving all of the info upfront.
When I heard about the Inspired by Voortman Wafer Contest I knew I had to get in on the fun. I have been on a Mediterranean cruise with my family for the past 10 days and have been inspired by the ship -- which, to me, was a natural choice for a structure make of Voortman Wafer Cookies. I brought 4 packages of Voortman Wafers with me (3 Vanilla and 1 Chocolate) and vanilla icing to create this edible cruise ship for the contest... What do you think!?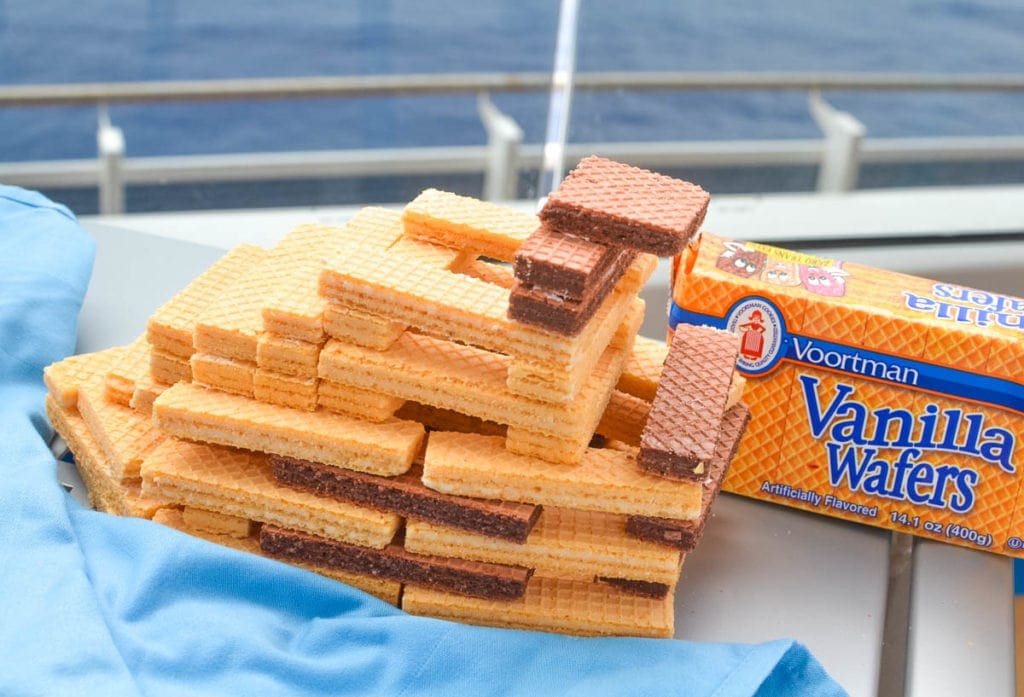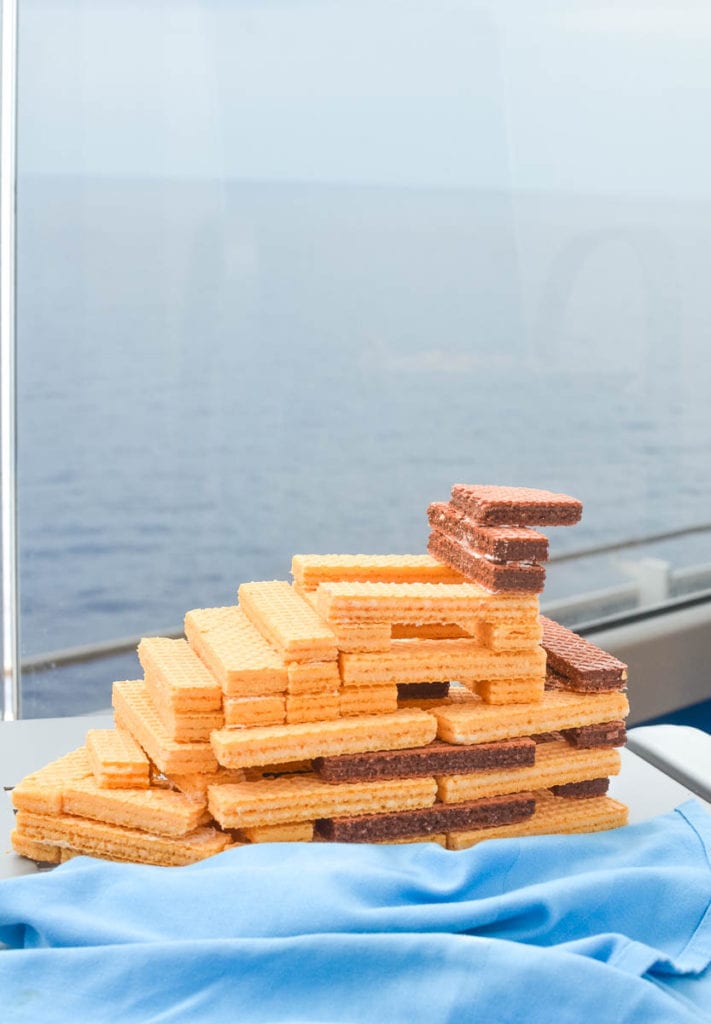 Our cruise steward was very curious of my creation, which I put together on our balcony. I thought it was the perfect backdrop for my Voortman Wafer Cruise Ship -- See that blue napkin? Those are the waves!
Inspired by Voortman - The Most Delicious Contest Ever
I had a blast creating my Voortman cruise ship, so I know this is going to be a super fun contest for a lot of people. With so many flavors and ways to use these wafers, I'm sure there are going to be some fantastic recipes and creations. Be sure to check out all the photo submissions at InspiredbyVoortman.com.