I shopped savvy using Walmart Saving Catcher, as part of a sponsored post for Crowdtap #WMTSavingsCatcher. All opinions are my own.
Walmart has found a new way to secure me as a customer with their new Walmart Savings Catcher online portal and app. I seriously cannot get enough of it! If you're not familiar, pay attention, because I'm going to show you how to save money at Walmart without using a single coupon.
Step 1. Shop at Walmart as you normally do. Buy whatever you need, from groceries to household items, and even health & beauty products. If you have coupons use them — if not, that's OK too.
Step 2. As soon as you can, enter your receipt number online at www.savingscatcher.walmart.com OR scan the barcode into the Wamart app (this is the method I use!). Note: You must do either of these within 7 days of the date on the receipt. I usually scan the barcode into the app when I get back to the car so I don't forget.
Step 3. Wait (results can take up to 72 hours). The Walmart Savings Catcher will do all the work— scanning prices of ads from local competitors. If Savings Catcher finds a lower advertised price, you get the difference!
Step 4. Watch your savings grow! Once you're ready to cash in your savings, you can easily transfer funds to a Walmart eGift Card or Bluebird Card. Plus, if you redeem to a Bluebird card, you can earn double Walmart Buck$ until Feb 28, 2015. See this FAQ for details.
Here's my rewards for a recent Walmart transaction — 1.87 saved!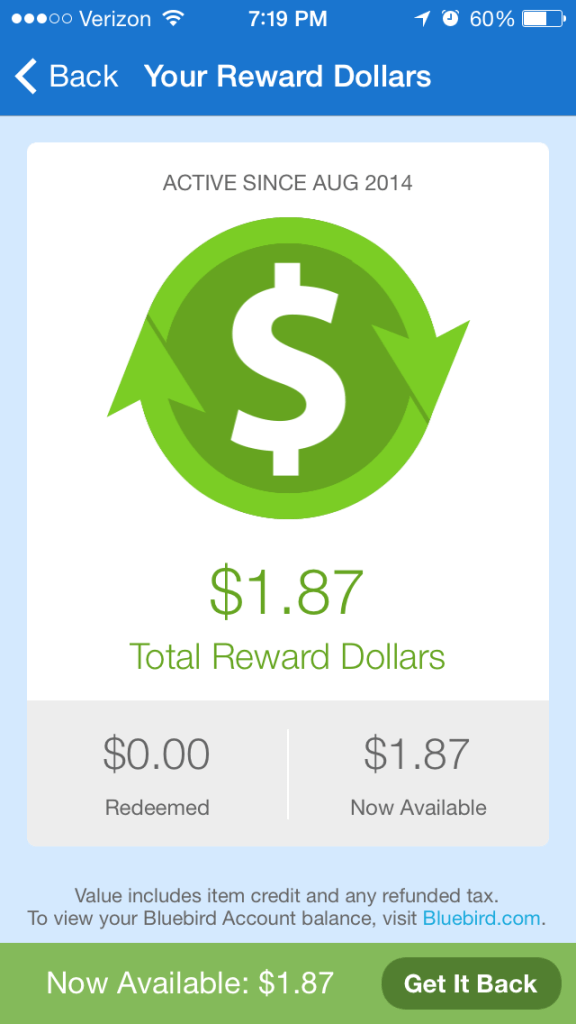 With Walmart Savings Catcher, you can earn a maximum of $599.99 Reward Dollars per calendar year. Imagine what you could do with an extra $600! I know this extra cash is going to be much needed around the holidays. Since using the app, I have found myself wanting to shop at Walmart more frequently. I love that I'm ALWAYS getting the lowest advertised price on all the groceries and household items I buy. I don't typically use coupons, so this is a great way for me to save without doing any extra work. I love it!
Want to win even more cash!? Just for trying the Walmart Savings Catcher trying and sharing the savings, you'll be entered for a chance to win a $2,000 Walmart shopping spree!  Click here for details.
So what are you waiting for — start saving today!