Iceland is a country steeped in culture and history, it's a place where travellers can experience the northern lights, or relax in one of the many natural hot springs. However, there is one thing that always seems to be on every travellers mind, "What's the deal with the elves?".
Yes, the majority of Icelanders believe in elves, but why?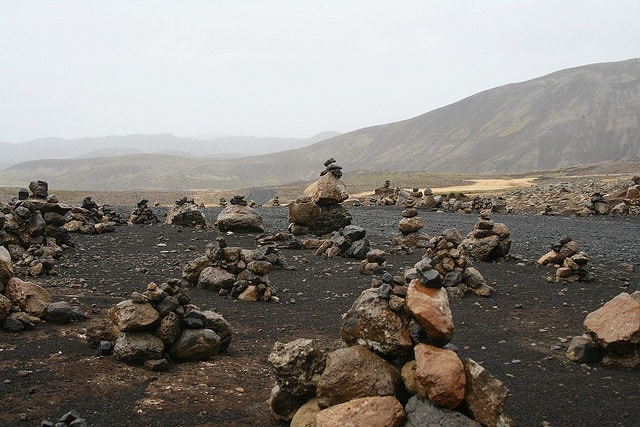 Rock piles, symbolising the location of elves in Iceland, by Jeroen.
Where It Started
Elves have been a part of Icelandic tradition since the beginning of the country. While there isn't a general consensus about the origins of elves, there are a few factors that are generally agreed upon to have contributed to the belief.
First is Iceland's relative isolation from the rest of the world, where the Age of Enlightenment in the 17th century, when rational thinking and intellectual forces found favour over more traditional beliefs, including superstition, arrived much later.
This led to a general disposition towards the supernatural in Iceland, and since winters were so long and cold, storytelling became ingrained in the culture. Furthermore, the scenery, with geysers, waterfalls, volcanoes and springs, seemed to be plucked out of a fairy tale itself.
The Background
The elves that Icelanders believe in, or huldufolk (hidden people), are different from elves portrayed in popular culture. Instead of helping Santa make Christmas gifts, the elves Icelanders believe in look and act very much like humans. They have an economy, farm, and raise livestock, just like humans do. They are even said to have sheriffs and churches!
As far as sizes go, they can range in height, from a few inches to ten feet. They generally mind their own business and they can be quite harmless, but if you disturb them, that's a whole different story.
How It Affects The People Today
Elves do not factor into most people's day to day lives on Iceland, but there are a few instances where infrastructure and road building is halted or changed out of respect for elves. 
Engineers have rerouted roads, at a steep cost, in order to build around a suspected elf habitat. The concerns of citizens over the government building through elven habitat has even lead the Icelandic Road and Coastal Administration to create a five page "standard reply" for press inquiries about elves.
The Icelandic belief in elves continues to affect the country to this day. Whether it's true or not, Iceland is a country that is proud of its past, and that is something that should be celebrated.