I mentioned earlier this month that I was participating in a 3 month weight loss challenge sponsored by Your Shape for Wii (featuring Jenny McCarthy) and Collective Bias.
The challenge officially began yesterday and my goal for the next 3 months is to lose 20 lbs.
I might as well just say it, I currently weight 141 lbs and I want to get down to 120. I would be more than happy at 125, which was my weight after I first had my daughter.
Blogging sure does put on the pounds.
I just finished my first 15 minute workout and I feel great. I probably could have done 30 minutes today but just wanted to test it out to see how I would like it.
My expectations were actually pretty low for this "game". I was thinking that this was just going to be a low impact workout that wouldn't brake a sweat. Well, I was wrong. Virtual Jenny really kicked my butt and my arms are feeling it.
I have no other Wii workout games to compare this too, but I love the set up and how easy it is to get started. The game is controller free, so when you are working out you don't have to hold anything in your hand. The little camera fits neatly on top of the TV and follows your every move. I didn't think I would like looking at myself on the screen as much as I do.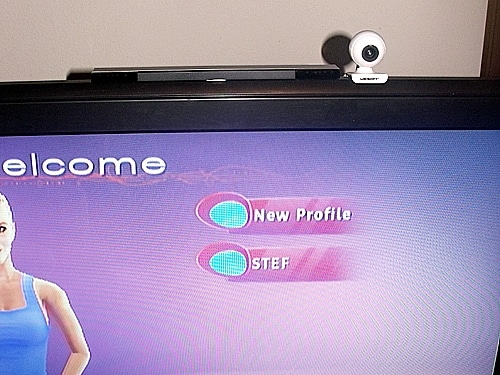 There is a calendar feature that keeps track of your workouts and mixes things up everyday so you are not just working arms or legs or core. There is also a burn or tone option as well as some yoga. Supposedly the game has over 400 exercises. So far I have done about 15.
I really am hoping to stick with this program and lose the weight once and for all. I am planning on doing a modified weight watchers counting points program which is basically me counting points without actually joining weigh watchers. More on that later.
Until next week, please help me cheer on the other 9 challenger:
You can follow us all on twitter with the hashtag #yourshape & follow @YourShapeGame to win your own copy of Your Shape for Wii.
This challenge is sponsored by Collective Bias and Your Shape Ubisoft.  I was given a gift card to purchase Your Shape for Wii. In no way does this influence my personal opinion of the product.