As we're getting closer to the opening of Disney-Pixar's Inside Out, in theaters everywhere June 19, I thought it would be fun to share some cool facts I learned at a filmmaker round-table at Pixar Studios with Director Pete Docter & Producer Jonas Rivera.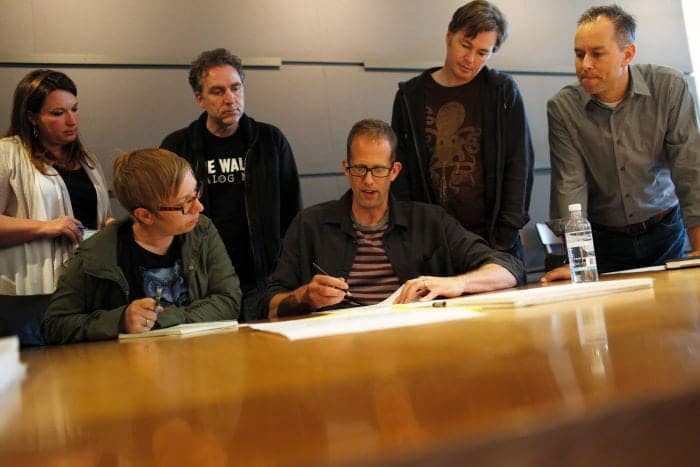 A day in the life of "Inside Out" Director Pete Docter (center) with (left to right) Angelique Reisch, Tasha Sounart, Shawn Krause, Victor Navone and Producer Jonas Rivera (Photo by Deborah Coleman / Pixar)
An Inside Look at INSIDE OUT: The Minds Behind the Movie
According to Pete Docter, Inside Out will break new stylistic ground. Animation that expresses feelings is new territory, which broke rules in their medium.
Joy is the most colorful character – there is a connection between Joy and Sadness.
All emotions want Joy to be happy.
Each character is modeled after a specific shape. Sadness looks like a teardrop and Anger like a brick.
The first draft of the film included the character "logic" as the lead.
Pete is one of the original members of the Pixar Brain Trust.
Emotion characters are energy, not humans.
Another emotion, Pride, was cut -- a combination of Joy and Disgust. Surprise emotion was also cut.
The film is based on Pete's daughter growing up.
Headquarters in Inside Out is a cross between Small World and an Apple Store.
A few Easter Eggs: Haunted Mansion sung in movie and an appearance by Figment. There are others if you look closely!
Each emotion has a job. They each think they know what's best.
Pete Docter & Jonas Rivera feel lucky doing what they're doing – love Disney.
Most rewarding thing for filmmakers is starting to see characters move after years of prep work ... seeing them come to life.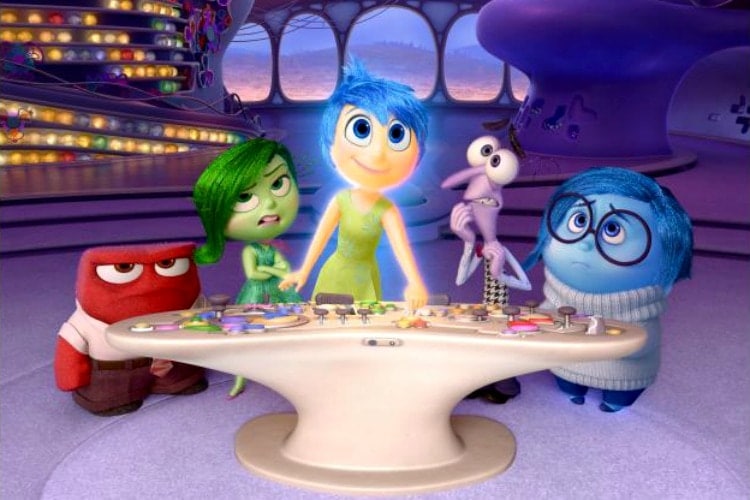 INSIDE OUT opens in theaters June 19th!
Based in Headquarters, the control center inside 11-year-old Riley's mind, five Emotions are hard at work, led by lighthearted optimist Joy (voice of Amy Poehler), whose mission is to make sure Riley stays happy. Fear (voice of Bill Hader) heads up safety, Anger (voice of Lewis Black) ensures all is fair and Disgust (voice of Mindy Kaling) prevents Riley from getting poisoned—both physically and socially. Sadness (voice of Phyllis Smith) isn't exactly sure what her role is, and frankly, neither is anyone else.
When Riley's family relocates to a scary new city, the Emotions are on the job, eager to help guide her through the difficult transition. But when Joy and Sadness are inadvertently swept into the far reaches of Riley's mind— taking some of her core memories with them—Fear, Anger and Disgust are left reluctantly in charge. Joy and Sadness must venture through unfamiliar places—Long Term Memory, Imagination Land, Abstract Thought and Dream Productions—in a desperate effort to get back to Headquarters, and Riley.
Special thanks to Disney-Pixar for hosting me. All opinions are my own.