Love Hallmark holiday movies? Then you're in for a treat with Hallmark Publishing and their latest release "Wrapped Up In Christmas". This post is brought to you by Hallmark Publishing. All opinions are my own.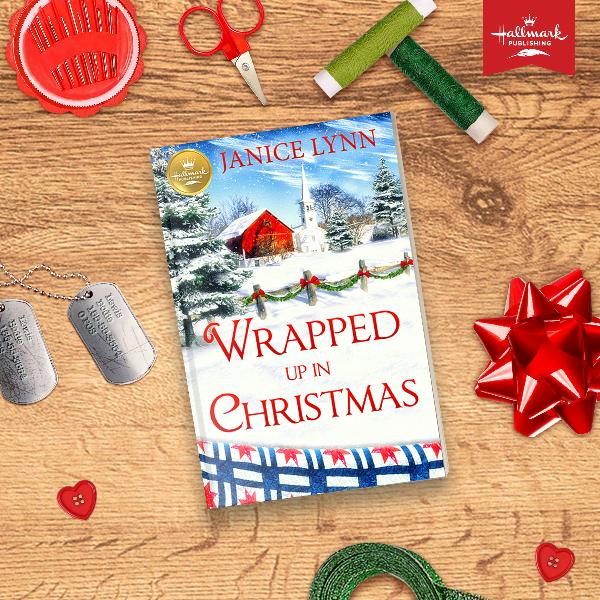 If you're a Hallmark holiday movie buff, like me, then you're going to want to get in on the newest release from Hallmark Publishing, Wrapped Up In Christmas! — The book makes a fantastic holiday gift!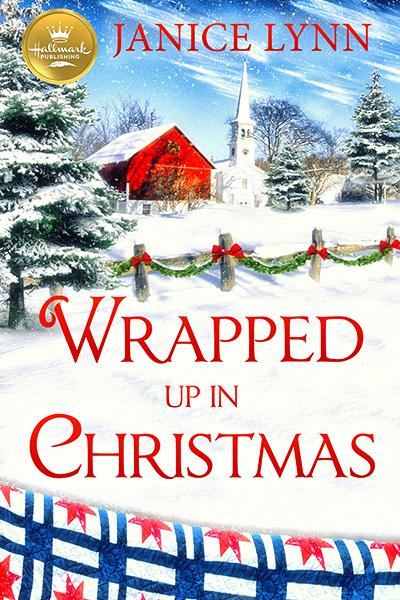 Wrapped Up In Christmas
Sarah Smith in Pine Hill, Kentucky has had her heart broken in the past. She pours herself into her work at church and into special projects—like making a quilt for a wounded warrior.
Bodie Lewis is lost. All he's ever wanted was his career as an Army Ranger, but he was injured in an explosion that killed his brothers in arms. In the hospital, he receives a handmade quilt. Later, he sets out on his final mission: to find and thank its maker.
Bodie expected Sarah to be an elderly lady, not a lovely young woman. When she mistakes him for a handyman, he doesn't immediately set her straight. Instead, he sets about repairing the home she's turning into a bed and breakfast. Sarah's presence and the spirit of the small town bring Bodie something he thought he'd left far behind on the battlefield: hope.
Based on a Hallmark Original Movie, Wrapped in Christmas is now available in Paperback, e-book. This heartwarming sweet romance includes a free quilt pattern from the Quilts of Valor Foundation and a new original Hallmark recipe for Cinnamon Swirl Bread.
A Recipe with Every Book
One of my favorite features of the Hallmark Publishing book series is that each book includes an original recipe inspired by the story — How cool is that?
Not only do you get a delicious read filled with new characters, relationships, romances, and intriguing mysteries, but you also get a recipe to keep and share with your family and friends. This perk is especially fun for book clubs!
Cinnamon Bread Recipe
In Wrapped Up In Christmas, one of the ladies at Sarah's church is famous for her Cinnamon Bread recipe. Others attempt to copy it without success. Here's that secret recipe, filled with cinnamon and covered with yummy icing!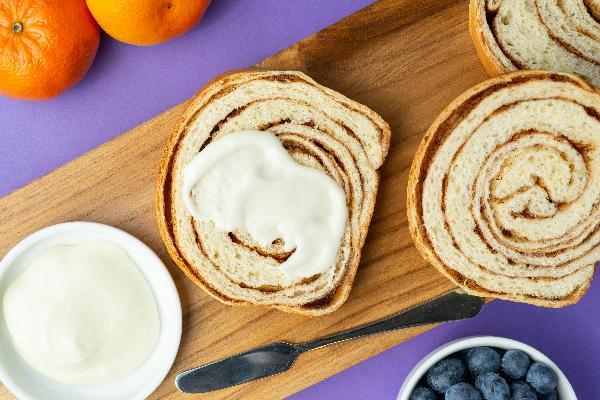 Yield: 16 servings
Cinnamon Bread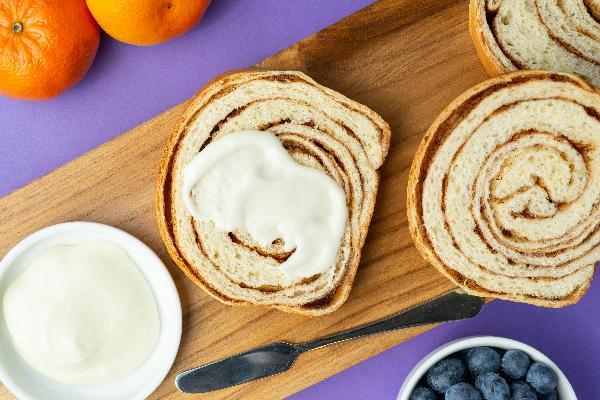 This Cinnamon bread is filled with cinnamon and covered with yummy icing. The trick to beautiful swirls is in folding the dough into thirds so you get an extra layer of the delicious cinnamon-sugar blend. This cinnamon swirl bread is perfect for a Christmas celebration
Total Time
3 hours
45 minutes
Ingredients
Dough:
- 1⁄4 cup warm water
- 1⁄2 teaspoon granulated sugar
- 1 envelope active dry yeast
- 1 cup whole milk
- 3 tablespoons unsalted butter, room temperature - 4 cups bread flour
- 1⁄4 cup granulated sugar
- 1 teaspoon kosher salt
- 1 large egg, beaten
Cinnamon Sugar:
- 1⁄2 cup brown sugar
- 1⁄4 cup granulated white sugar
- 11⁄2 tablespoons ground cinnamon - 4 tablespoons unsalted butter
Vanilla Cream Cheese Spread:
- 2 ounces cream cheese, room temperature - 1 cup powdered sugar
- 1⁄4 teaspoon vanilla extract
- 1 to 2 tablespoons whole milk
Instructions
To prepare dough: combine warm water, 1⁄2 teaspoon sugar, and yeast in a large bowl. Let stand at room temperature for 10 minutes or until foamy.
While yeast is activating, combine milk and butter in small saucepan and heat briefly to melt butter. Remove from heat; cool.
Combine flour, 1⁄4 cup sugar, and salt in mixing bowl fitted with a paddle attachment and beat until fully blended.
Add milk/butter mixture and egg to yeast mixture and gently stir to blend. Slowly add to flour mixture and beat until dough pulls away from sides of the bowl.
Turn dough out on a lightly floured surface; knead the dough for 1 minute. Transfer to a bowl that's either buttered or sprayed with cooking spray, cover loosely and set in a warm, draft-free spot to rise for about 60 to 75 minutes, or until the dough has doubled in size.
Gently punch dough down and turn out onto a lightly floured surface. Fold in the two outer sides of dough to meet in the middle, then fold in the upper and lower sides of dough to meet in the middle, forming the dough into a square shape. Cover loosely and let stand for 10 minutes.
To prepare cinnamon sugar: while the dough is resting, combine brown sugar, white sugar and cinnamon in a small bowl and mix to blend. Heat butter in a microwave-safe measuring cup for 30 to 45 seconds, or until melted. Reserve.
Grease two 9x5-inch loaf pans with butter or cooking spray.
With a floured rolling pin, roll the dough into a 26x12-inch rectangle on a lightly floured surface. Brush top of dough with melted butter; sprinkle ⅔ of cinnamon sugar blend evenly over dough. Slice dough in half, forming two 13x12-inch halves.
For each half: fold the dough into thirds, forming a 4x12-inch rectangle. Pinch outer edges of dough gently to seal seams.
Roll dough out into a 7x13-inch rectangle. Brush top of dough lightly with butter and sprinkle half of remaining cinnamon-sugar blend evenly over the top. Starting at the long end of dough, roll up jelly roll-style. Place, seam side down, in the buttered loaf pan. Repeat with remaining dough.
Cover loaf pans loosely with film wrap; let rise in a warm draft-free place for 1 hour, or until almost doubled in size.
Preheat oven to 400 degrees F.
Bake for 45 minutes, or until golden brown. Cover each loaf pan loosely with aluminum foil during the last 20 minutes to prevent over-browning.
Remove loaf pans from oven; cool for 5 minutes, gently remove bread from loaf pans.
To prepare vanilla cream cheese spread: combine cream cheese, powdered sugar, vanilla, and 1 tablespoon milk in a bowl and whisk until smooth. Add additional milk, as needed, to form a spread-like consistency.
Serve cinnamon bread warm with cream cheese spread.
Nutrition Information:
Yield:
16
Serving Size:
1 grams
Amount Per Serving:
Calories:

271
Total Fat:

8g
Saturated Fat:

4g
Trans Fat:

0g
Unsaturated Fat:

3g
Cholesterol:

30mg
Sodium:

159mg
Carbohydrates:

45g
Fiber:

1g
Sugar:

20g
Protein:

5g
Wrapped Up In Christmas from Hallmark Publishing makes a great gift for the holidays!
About Hallmark Publishing
Now, you have even more ways to relax and indulge in a Hallmark story. The kinds of heartwarming romances and intriguing mysteries you love are now available as books!
In addition to companion novels to beloved Hallmark movies, you'll discover brand-new novels to brighten your day and leave you feeling good about life. With the same attention to storytelling that goes into every Hallmark movie, we'll bring you new characters, relationships, romances, and intriguing mysteries. And each book includes an original recipe inspired by the story!
We're thrilled to announce that in addition to being available in paperback and eBook, Hallmark books are now available in audiobook! Starting in 2019, all new books will be published in paperback, eBook and audiobook.