For the first time ever, Busch Gardens in Tampa Bay is hosting Christmas Town -- a separate-ticketed, nighttime holiday wonderland from 6 to 11 p.m. every Friday, Saturday and Sunday night through December 23.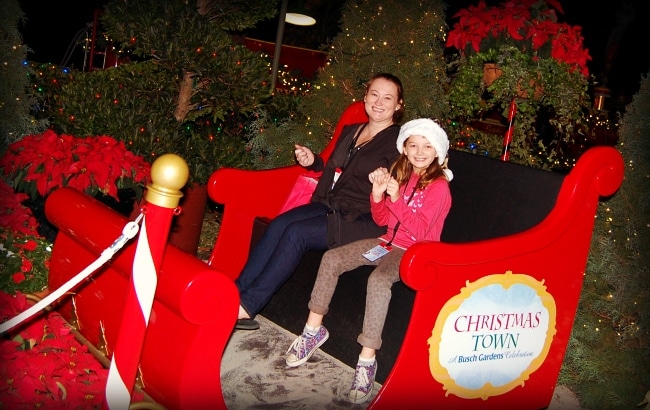 My family decided to attend the first night of Christmas Town at Busch Gardens to see what it was all about. The moment we walked through the gates we knew it was going to be a fun night. There were lights everywhere! Christmas Town had more lights and Christmas decorations than I've ever seen at any other theme park for the holidays.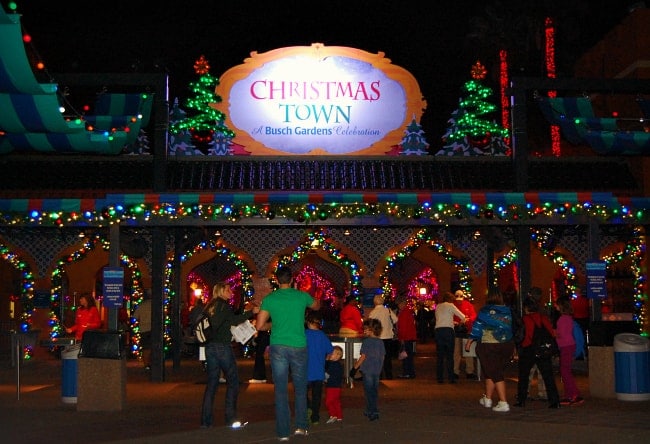 It was hard not to get in the mood for Christmas with all of the lights and music.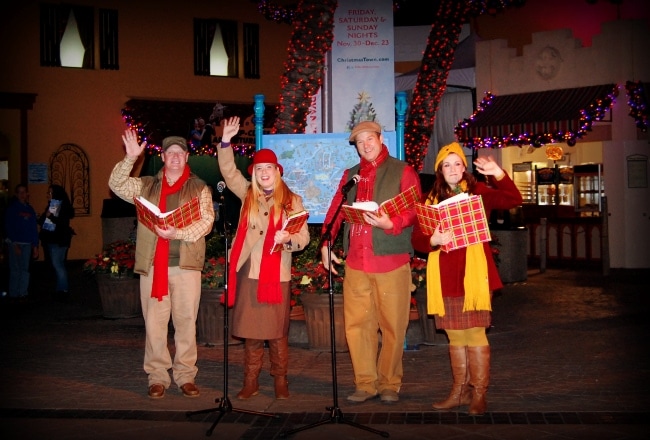 Busch Gardens is a fairly large park; To their credit, they managed this special event very well by keeping it to just a few small sections. Most rides and exhibits are not open during Christmas Town-- but if you like roller coasters, Cheetah Hunt, SheiKra and Gwazi are running during the event. I was VERY happy to see that Cheetah Hunt was open with no wait -- I visited Busch Gardens a few month earlier and couldn't ride then because the line was unbearably long. Now, Cheetah Hunt is my new favorite coaster!
Most guests, especially those with small children, will want to attend Christmas Town for all of the special attractions exclusive to the experience.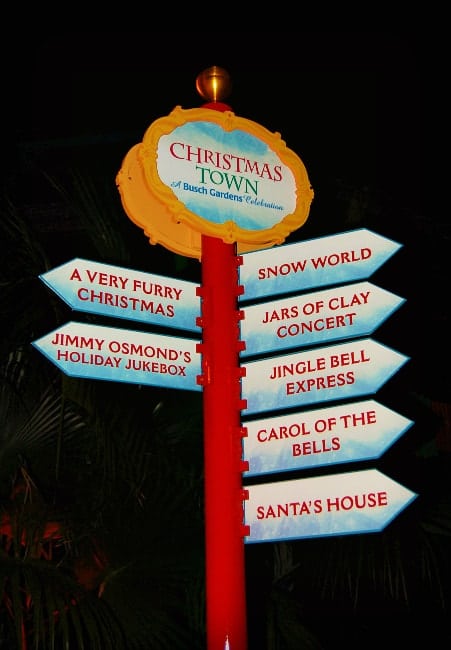 The most exciting thing for my daughter was Snow World Presented by Coca-Cola. Since she has yet to experience snow in a natural setting, it was a fun treat for her to race down an ice slide and make snow angels. The area is capacity controlled so it doesn't get overrun with children/parents. We only waited about 15-20 minutes to have our turn in the snow, which was a lot of fun.
TIP: Don't wear flip-flops to Christmas Town if you want to visit Snow World ... I learned the hard way!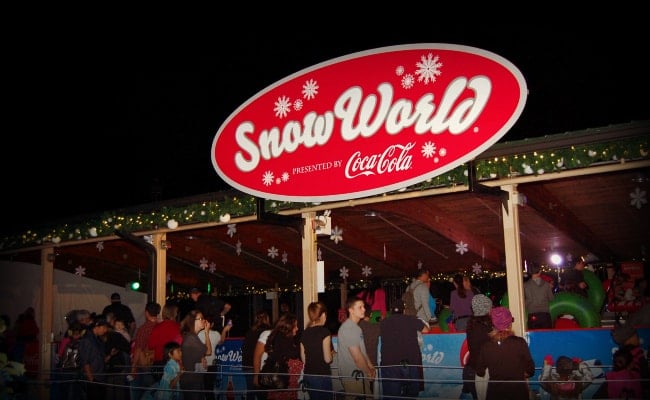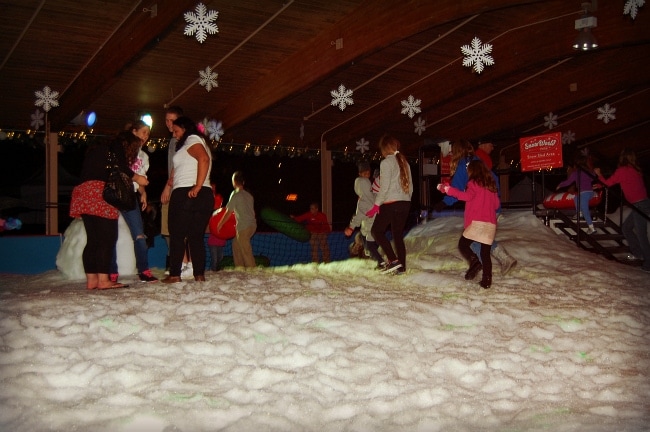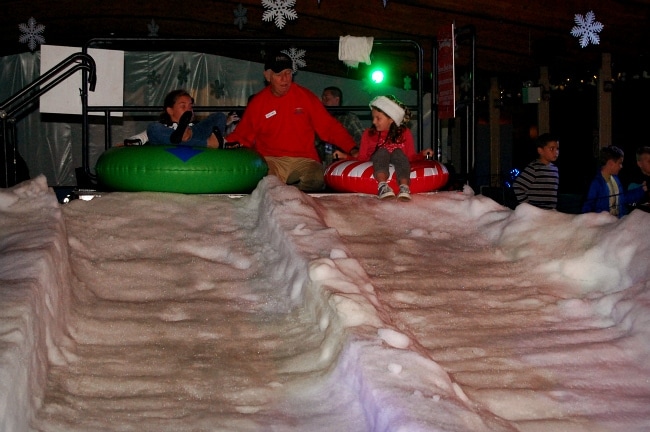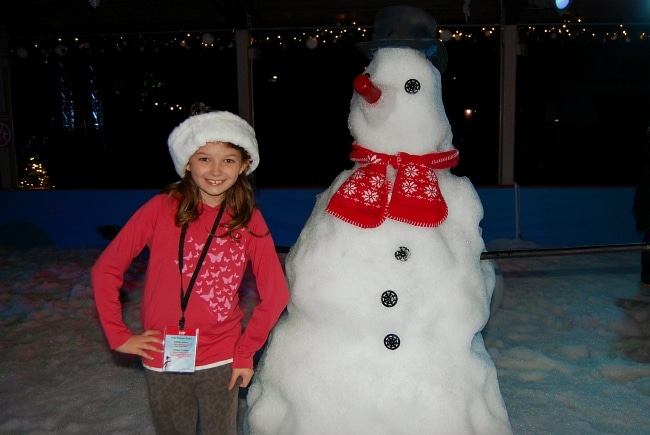 One of the areas that I most enjoyed was Christmas Town Village.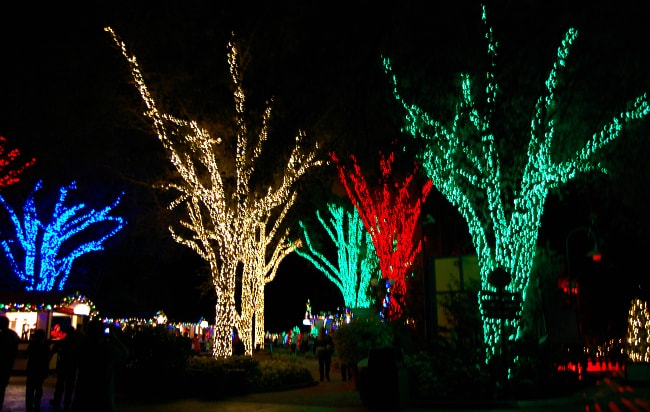 Set along the Gwazi Park walkway, tiny Christmas cabins scented the air with seasonal treats like apple pies, gingerbread cookies and eggnog, as well as a delicious array of flavored popcorn, roasted nuts, waffles with ice cream, fruit-filled crepes, rustic sandwiches and coffees and hot chocolate.
It was yumminess overload!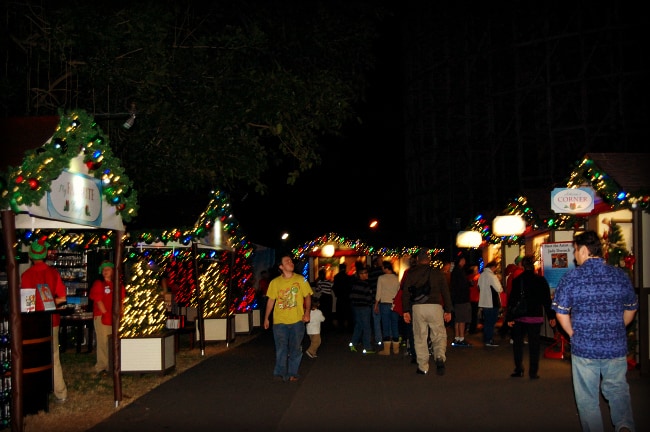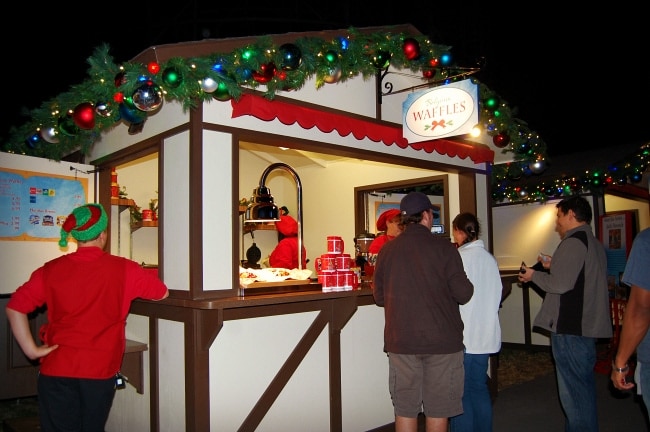 I decided to try the Cranberry-Orange Glazed Smoked Turkey Leg with Homemade Potato Chips. This mammoth meal was only $7.99 ... quite a bargain! I couldn't finish the turkey leg or the chips, but they were both delicious.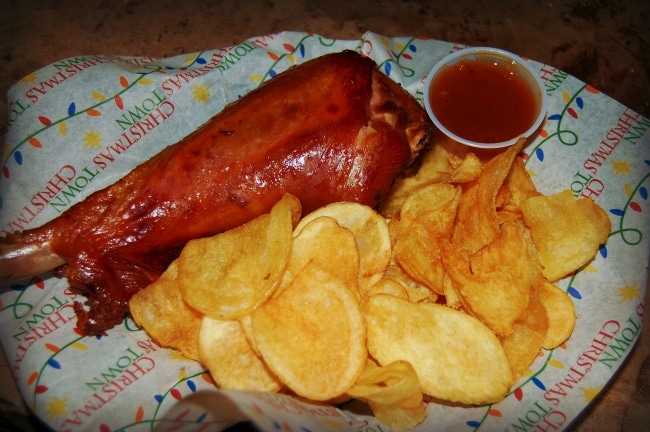 And you can't visit Christmas Town without seeing Santa Claus! Welcome to Santa's House has the longest line at the event, so plan accordingly.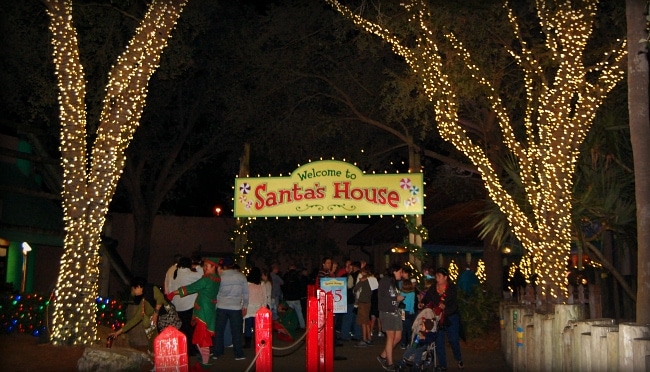 There's a lot going on in Christmas Town. My family was there for the full 5 hours and we didn't see everything. I think Christmas Town is a fun event for families as everything is decorated for Christmas and it's a totally different experience from a day at Busch Gardens. Ticket prices are extremely responsible, with kids 3-9 only $9.99 with advanced ticket purchase.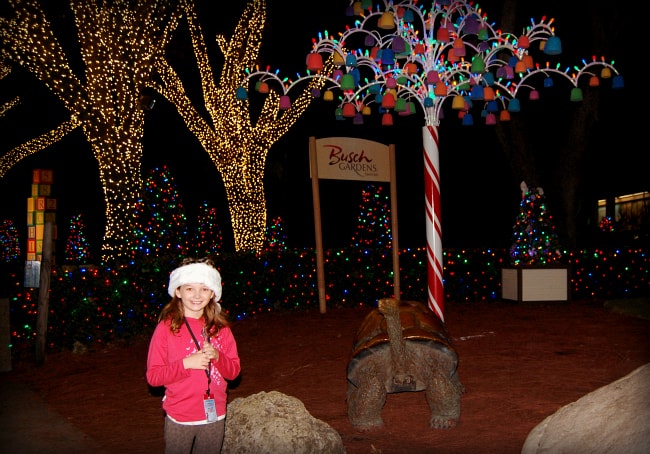 Here are some of the additional entertainment and attractions exclusively at Christmas Town:
All aboard the Christmas Town Express for the biggest Christmas carol sing-a-long on wheels. Friends and family are invited join in singing traditional songs of the season like "Jingle Bells," "Frosty the Snowman" and "Rudolph the Red-Nosed Reindeer" while circling the park on a beautifully lit vintage-style steam locomotive.
Straight from the South Pole, Penguin Point has brought a bit of ice and snow all the way to Florida! Come chill with these dapper little creatures and marvel at their underwater antics at the penguin habitat, located near Candy Cane Lane in the Nairobi area.
Experience the humble magnificence of that first Christmas night and remember the real "reason for the season" and along Miracle Way.Guests will marvel at a topiary representation of the Holy Nativity and illuminated angels, set along the Stanleyville Bridge in the warm glow of Christmas lights and sacred holiday music.
Christmas has come to Sesame Street! Elmo and his friends are all dressed up in their holiday best at Sesame Street Season of Fun, ready to pose for pictures and plenty of hugs with kids of all ages who stop by to wish them a funny, furry Christmas.
On your way to play in the snow, stop by Jingle Bell Junction and climb aboard a pint-sized train for a holly-jolly ride designed especially for young guests, located at the crossroads of Christmas Town in Gwazi Plaza.
Guests who have come to love Busch Gardens' traditional holiday shows will still be able to see Christmas on Ice, Christmas from the Heart and Christmas Celebration during the day. But at Christmas Town, new shows and surprise guests who will provide a very special evening of family-friendly entertainment:
Grammy Award-winning contemporary Christian artists Jars of Clay will provide an uplifting finale each evening with an exclusive concert in Gwazi Park. Performing both original hits and holiday favorites, the group will send guests on their way with music in their hearts and the spirit of Christmas in their souls.
Jimmy Osmond's Christmas Jukebox 

features Jimmy Osmond and his family singing favorite Christmas tunes and sharing special holiday memories each night in the Stanleyville Theater. In the true spirit of Christmas, Busch Gardens is joining Jimmy in his work with the Children's Miracle Network, and will be making a donation to local Tampa Bay-area kids in need at All Children's Hospital.

World-class skaters will bring to life favorite Christmas songs both traditional and contemporary, in a cool, all-new angel-inspired ice show, Angels of Peace: A Christmas Journey on Ice, produced especially for Christmas Town by the creators of Christmas on Ice and Iceploration.
Busch Gardens' Crown Colony House restaurant sets the stage for a stunning ballet of music and light each night under the stars. The Carol of the Bells features tens of thousands of Christmas lights covering the façade of the stately building, set in motion to a choreographed presentation of stirring seasonal songs.
Christmas Town is a separate-ticketed night event, and regular daytime admission is not required or included. General admission for Christmas Town is $39.99 plus tax. Busch Gardens annual pass members will receive the deepest discounts with advance online priced at $24.99 for adults and $9.99 for children, and special offers are available for guests wishing to upgrade their paid daily admission to Busch Gardens. Gift cards are available at Bay area Publix locations and additional discounts are offered through promotional codes from Chik Fil-A, Coca-Cola at Wal-Mart and Fantastic Sam's.
Special thanks to Busch Gardens for providing my family media tickets to Christmas Town. All opinions are my own.