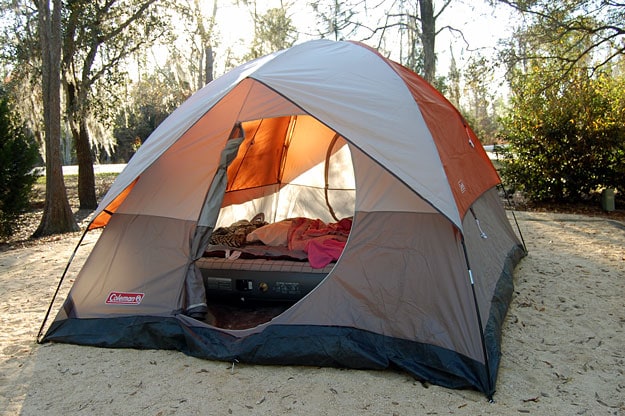 I never thought of my family as "campers". I just couldn't see us roughing it in the woods, cooking food over a campfire and sitting around singing Kumbaya. And I still don't foresee that happening.
I did, however, want to try camping at Disney's Fort Wilderness Resort and Campground ... which I consider to be "camping lite".
In addition to booking cabins, you can also reserve a campsite at Ft. Wilderness for either an RV or a tent. On a whim, I booked the latter for 1-night, just to see how we would like it. At first, I was the only one on board, but I enticed both my husband and my daughter with S'MORES and FRIED CHICKEN. Yes, my family is easy to please.
Here's how it all went down.
Two days prior to our stay, I reserved a campsite at Ft. Wilderness for $57 (with tax). This was for a Friday-Saturday stay. I think if I booked farther in advance I could have gotten a better rate with a Florida resident discount.
We arrived at Fort Wilderness around 2:30pm and checked in. The process is a lot different than the other Disney resorts because it is drive-thru style, meaning you never have to get out of your vehicle. This style of check- in has pros and cons. If there are a lot of RV's in front of you, the wait can be substantial. Once you get to the attendant the process is very quick. We received our rooms keys (for the comfort station) and were directed to our campsite in the 2000 loop.
The Campsite
Our tent/pop-up campsite included water, electricity, cable, a charcoal grill, picnic table and parking space.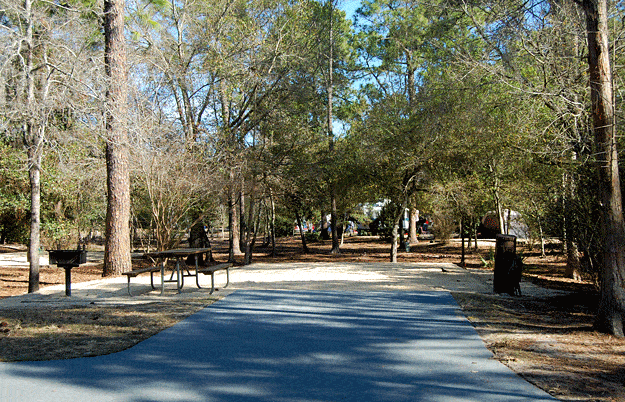 Thanks to a campaign I worked on with Coleman, we already had the essentials we needed for camping. This included a Coleman  Sundome 6 Tent, Willow Creek Sleeping Bag, Extra High Queen Airbed, Quad Lantern and a 50qt Extreme Cooler. We used every item.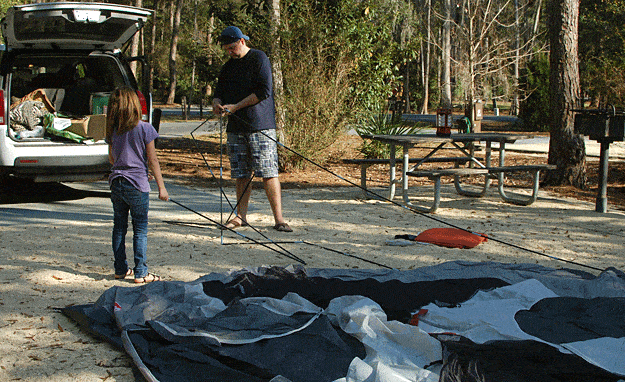 For first-timers, I think we did pretty well. It only took my husband 45 minutes to put up the tent.
I was very proud of his accomplishment  🙂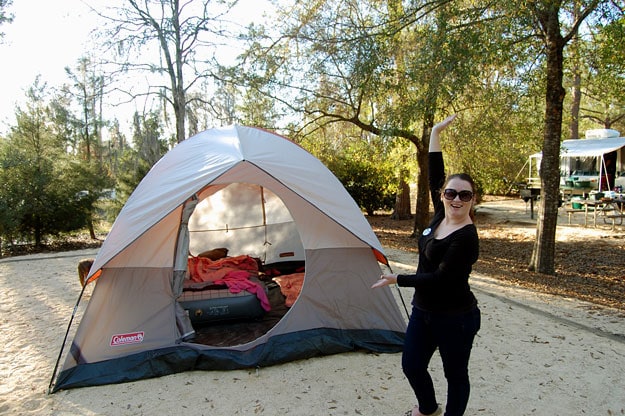 Bathrooms and showers are located at nearby Comfort Stations. I was really impressed with how clean these were. You need to use your resort key after a certain hour to enter. Washers, Dryers and ice machines are also available for a fee.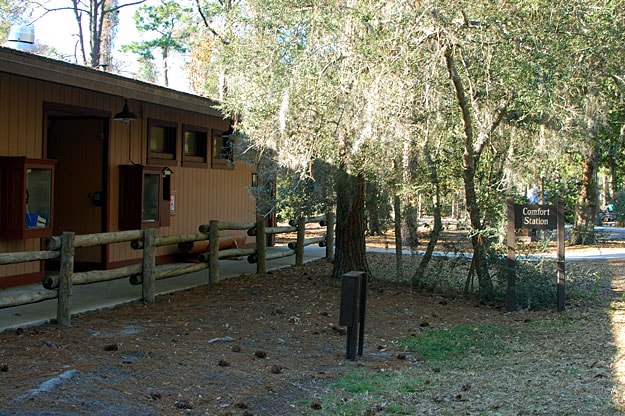 The Settlement
Once our tent was up and we had things together, we decided to check out Pioneer Hall before the fire lighting at 6:30pm. There is an internal bus system that takes you around the grounds of Fort Wilderness. Alternatively, you can rent a golf cart to get around, but I think they are a little pricey.
The Settlement area is where you will find most of the dining options, including the Hoop-Dee-Do0 Musical Review and Trail's End Restaurant.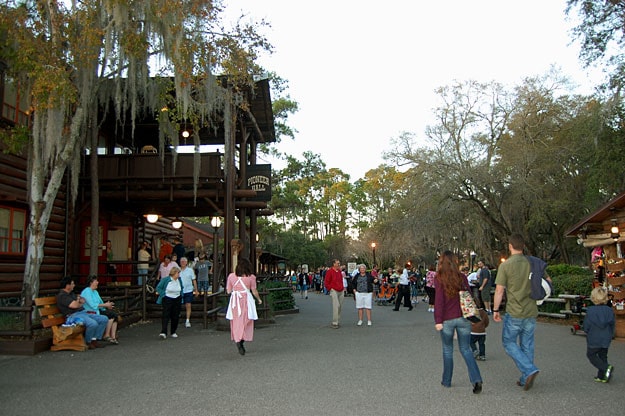 Our main objective was to see the take out menu at Trail's End. Sure enough, there was a 10-piece fried chicken bucket with sides for $23.39. Can you guess what we had for dinner?
A note about the fried chicken: It's really good! I'm convinced it's the same as Hoop-Dee-Doo, which is considerably more expensive. For around $25, it's one of the best meal deals at Disney for a family.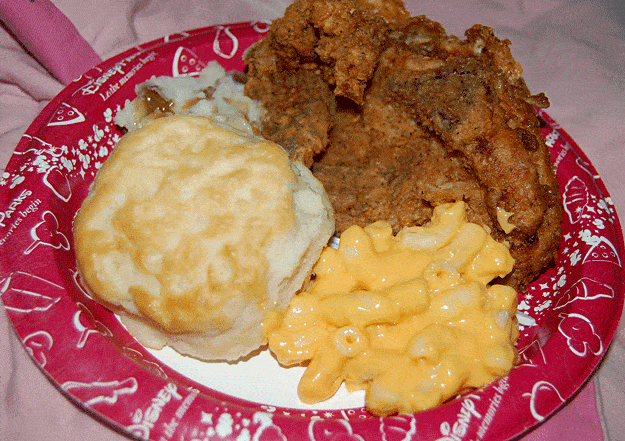 The settlement  is also where you will find the boat launch to the Magic Kingdom and viewing of the fireworks/water pageant.
It's really beautiful at sunset.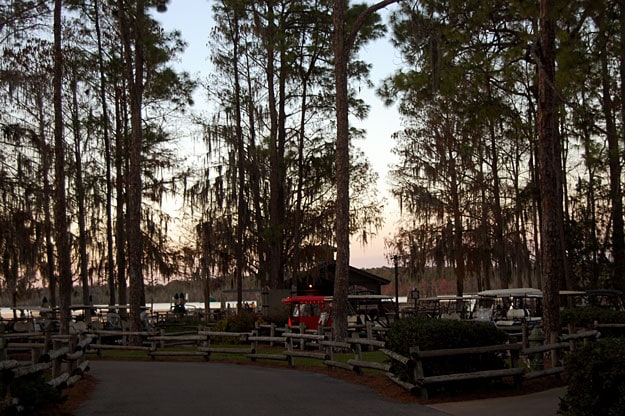 Campfire, Chip N' Dale Sing-A-Long & Movie
The one thing that excited my daughter most about camping was making s'mores. Before we left home, we purchased marshmallows, graham crackers and chocolate bars and took them with us. This saved us a few bucks because s'mores kits at Fort Wilderness are $8.99 (sold at the Chuckwagon snack bar). We did buy marshmallow roasting sticks on site for $.59 each, which were a great deal.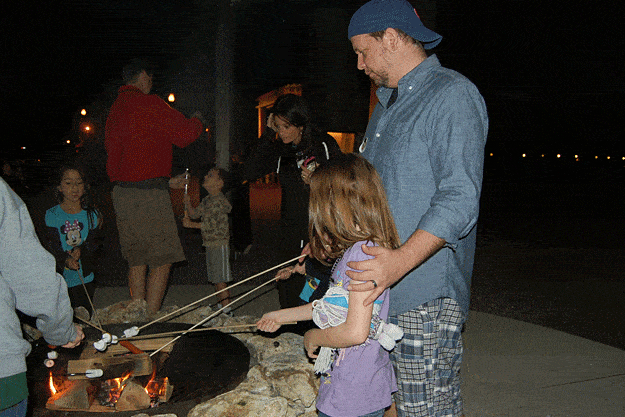 The campfires are lit at 6:30pm and guests are free to use them until they are put out ofter the nightly movie. At 7:00pm, Chip N' Dale came out for a campfire sing-a-long and dance party, which the kids really enjoyed. Afterwards, Chip N' Dale come around for a photo opp.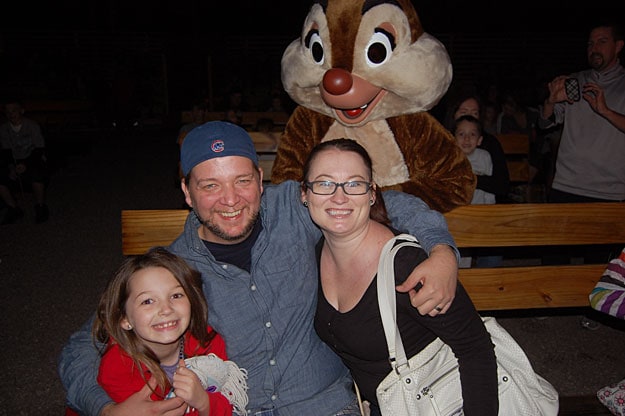 Finally, at 7:40pm the Disney movie started. We stayed for about ½ of Brother Bear before returning to our tent -- it was getting very cold!
A little tip: the campfire, sing-a-long and movie are available for free to ANY Disney Resort guest. The Disney movie changes nightly and there is a schedule posted online.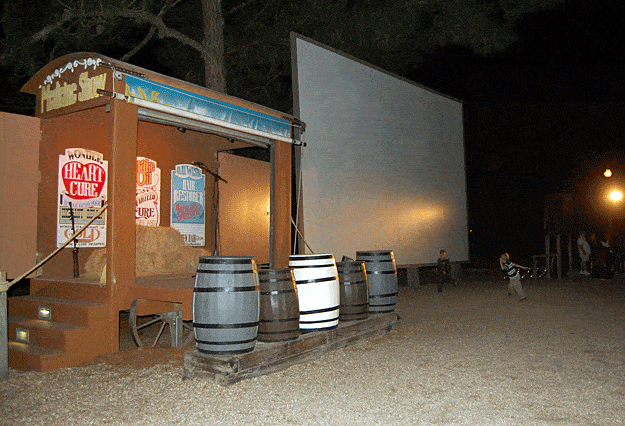 Once we were back to the tent that was basically it for the night. Wi-Fi isn't available at the campsites, but it is FREE at the Settlement, Meadow and Outpost. Our first night camping was a success and we decided as a family that it was something we definitely wanted to do again at Fort Wilderness ... next time we will stay for 2-nights 🙂